Employee Training and Career Development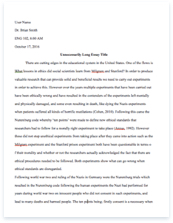 The whole doc is available only for registered users
A limited time offer! Get a custom sample essay written according to your requirements urgent 3h delivery guaranteed
Order Now
Within any organization, it is vital to provide solid employee training and career development plans for employees. Incorporating this into the process for every new employee will ensure the growth and success of an organization. That very success lies with the contribution that each employee makes within the organization and allows strength to ensue to promote excellent productivity among all levels of the company. Explain the role of training in an organization's development. Training is an important part of an organization's overall strategy. The advantages of training in an organization can benefit not only the employee but the organization as well. It provides the needed skills for the employees and in turn provides them with the confidence they need to successfully complete their job. When a company has skilled employees, it will allows smooth operations and that can lead to customer satisfaction. Customer satisfaction will lead to repeat business, making the organization more profitable.
When a company is more profitable, they are able to reward their employees more and offer added benefits. When an employee knows their employers care for them and their success, this will further motivate them and promote great results (Ansar, 2009). Describe different employee development methods and their benefits. Employee development is another important piece of the success of an organization. "Employee development is designed to help the organization ensure that it has the necessary talent internally for meeting future human resource needs. The focus of employee development is on a future position within the organization for which the employee requires additional competencies" (DeCenzo & Robbins, 2007, p. 36).
There are several methods of employee development. One is the on-the-job training, also known as OJT. During OJT, employees will experience development that is obtained at their organization. Job instruction is something that is provided by the manager or supervisor of an employee and they basically instruct the employee as to how to perform their job. This will allow the employee to train, learn and understand their position within the organization and how to do it properly. Another OJT that an employee may experience is the job rotation experience. This is when several employees rotate among their jobs and learn the roles and functions of those particular positions. An advantage to this is always having a backup for a position in case someone leaves, goes on short term disability or takes a vacation and would require someone to fill in for that position.
External employee development consists of outside lectures and seminars. The benefit to this is that the employee is able to be outside of their job and able to focus strictly on the lecture or seminar that they are attending. The advantage to this type of employee development is that in some careers, the person is required to obtain CEUs (Continuing Education Units) and these seminars are sometimes offered as a CEU. The disadvantage of this type of employee development is that the employee will be offsite for the event and it can be timely and expensive. Analyze the relationship between employee development and organizational development. Employee development is mainly focused on the employee and the skills that they can achieve and can be somewhat immediate; however, organizational development is the development of the entire organization as a whole and can be a more timely process.
This can be in the form of company-wide training events with topics such as teamwork, communicating in the workplace, customer service training and time management. The advantage to organizational development is that all employees will experience the same seminar simultaneously and in this it might make implementation of the process easier and successful. The results do not generate overnight, but can be highly successful. Describe the role of human resource management in career development. Human Resource management plays a major role within an organization.
They contribute to the development and success of the strategic plan and objectives. In order to do this, human resources needs to understand what it takes to create a positive atmosphere and culture for the employees. They need to know what it takes to create environment that promotes success and contribution from all employees. Human resource management needs to be able to be an advocate for the employee, which consists of being supportive and fostering growth, communication, and responsibility among the employees. "The HR professional helps establish the organizational culture and climate in which people have the competency, concern and commitment to serve customers well" (Healthfield, n.d.). Reflect on your personal career development.
I feel I have always had great opportunities. Whether I worked in the city or in a suburb near my home, I have had great experiences at previous and current employers. I feel that when I worked in the city of Chicago, I learned a lot about cultural differences and professionalism. Not only did I have the opportunity to experience growth through seminars, webinars, and lectures, but I had great experience just learning from my team within my own organization. Each opportunity I was able to experience contributed to my employee development which continues to benefit me today. Now that I am currently furthering my education, I have the upper hand of experience with an education to back it up. Where do you see your career in 5 years?
In five years, I hope to be in a role similar to the one I am in now. I work in an administrative capacity at a college and I very much enjoy what I do. I envision having more managerial roles within the organization and decision-making opportunities. I feel I have a lot to offer co-workers by bringing in my ability to organize and get results. I am a multi-tasker that is normally undertakes many tasks, but I am willing to share the load with others and effectively manage them. I have learned a great deal while being enrolled in this business program and I expect to apply that knowledge in my every day job and career.
How can your company or your future company assist you with your career development? Will your company's career development opportunities be sufficient for your needs? In my current role, employee development is not only encouraged, it is required. We take great pride in our offerings of employee development. It also contributes to the success of the organization by offering some of the training sessions at the school. As we grow, these events will continue to grow as well, providing each and every employee with the opportunities to impact their growth and development. Conclusion
Training and development plays an important role in the world of business. Whether it is internal or external, it allows employees to be able to expand skills and knowledge, not only for their own benefit, but for the advantage
of the organization. It is important to educate employees in order for organizations to have a successful operation.
References
Ansar, M. (2009, August 2). Benefits of Training for both the Organization and Employees advantages of Training. Insidebusiness360.com. Retrieved from http://www.insidebusiness360.com/index.php/benefits-of-training-for-both-the-organization-and-employeesadvantages-of-training-17982/ DeCenzo, D.A., & Robbins, S.P. (2007). Fundamentals of Human Resource Management (9th ed.). Hoboken, NJ: John Wiley & Sons. Healthfield, S. M. (n.d.). The New Roles of the Human Resources Professional. http://humanresources.about.com. Retrieved from http://humanresources.about.com/od/hrbasicsfaq/a/hr_role.htm
Related Topics