Emerging Standards of Care Paper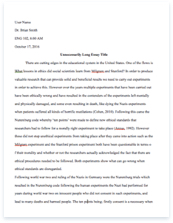 The whole doc is available only for registered users
A limited time offer! Get a custom sample essay written according to your requirements urgent 3h delivery guaranteed
Order Now
The population of diversity continues to grow rapidly and the importance of cultural competence plays a major role in healthcare. According to the National Center for Cultural Competence (2014) " Organizations must have the capacity to value diversity, conduct self assessment, manage the dynamics of difference, institutionalize cultural knowledge and adapt to the diversity and the cultural context of the communities they serve". This paper will discuss and define the appropriateness of competent care in Hospice and palliative care and identify the populations served and issues of population vulnerability. In addition, exploration of standards of cultural competence; the delivery of nursing care and potential impact, and the resolutions of implementation of standards that did not met expectations. According to The office of Minority Health (2014) is defined as ,"Cultural competency helps organizations work effectively in cross-cultural situations and provide the best possible service to clients from various racial and ethnic backgrounds who speak different languages".
Cultural competence in hospice is essential to provide and serve a diverse population of patients and families facing terminal illness with cultural values, beliefs and customs. It is important for hospice nurses to expand their cultural awareness, sensitivity and competency to be able to deliver quality care. Cultural awareness demonstrates nurses and other health care provider's knowledge about cultural difference in patients. For example, understanding one's language, religion, food and family ritual. Nurses will be able to have understanding and respect the differences that they may encounter when assessing a dying patient's needs and the dynamics of the family culture. According to Dooerenbos (2005), "Cultural sensitivity describes provider attitudes, values,beliefs, and personal insight". Nurses need to acknowledge and understand the beliefs of other cultures of . Hospice is an very delicate issue for many patient and families , therefore, it is necessary to focus on perception and thoughts of patient and family. For example, a family refuses to discuss the plan of care in front of the end-of-life patient. As a result , the nurse will have to acknowledge and be opened minded that this is how the family wants to coordinate the plan of care.
Therefore, the complexity of each unique situation demands on the need of cultural competence to be able to assess, plan , and evaluate the specific needs of each. ( Doorenbos & Schim , 2004). In the hospice setting assessing a patient's needs plays a major role when developing the plan of care . As a hospice nurse , it is important to understand what is meaningful and essential for a patient and family to have a good experience. There are about 1.5 million people who had received hospice care with an average age of 65 years or older ( NHPC.org, 2013). According to the National Hospice and Palliative Care , about 93.1% of the population of hospice patient are white or non-hispanic . However, Hispanics and African American have the least population . There are about 6.9 % of Hispanics and 8.6% of African American patients and families that use hospice care. This population have barriers that lead to underuse of hospice services that can be offered to a dying patient." The challenge remains to make hospice and palliative care services fully available to diverse communities" ( Schim, Doorenbos & Borse, 2006). The identification of cultural and knowledge issues that affect the vulnerability of the population when hospice and palliative care is not utilized by patient and families can lead to ineffective patient care.
Family dynamics can create a barrier that prevent patients for utilizing hospice care. For example, African American do not take advantage of advance directives because they place trust with their loved one to make the best decisions for the member being cared. Also, spirituality plays a major role with the decision making of hospice care for both populations. Acceptance of death is required for patients and families to choose to use hospice, however other alternatives methods are considered. For example, patient and families may pray to a higher power for a healing miracle rather than accepting terminally illnesses ( Yancu et al, 2010). In the hispanic culture , religion plays a major role in the decisions that are made with the patient and family. In addition, lack of knowledge about hospice services can lead to the underuse in the vulnerable population. There is a misunderstanding of the nature of hospice and palliative care and its benefits.
Healthcare providers need to ensure there is effective education and communication to help patients and families understand the concept of Hospice. Furthermore , language barriers can promote ineffective communication and knowledge deficit of the services offered by healthcare providers. About 48 % of people have low literacy skills in the United States. ( Melhado & Bushy, 2011). As a result, patients that are unable to read and write are more likely to misunderstand the disease process , the plan of care , and medication regimens. In addition, literacy can also be defined when a person is unable to read or write in the english language. Indeed, culturally competent is imperative to understand the current issues and the process to improve within in the population to deliver quality care.
The standards of cultural competence is critical for an organization to provide culturally competent care. According to the National CLAS standards (2014), " Aims to improve healthcare quality and advance health equity by establishing a framework for organizations to serve the nation's increasingly diverse communities". The principal standard is demonstrated and met expectations in the core value of hospice. The organization is very culture sensitive and provide resources that can assist patients and families in the community. The standards of Governance , Leadership , and Workforce have met expectations in the workplace. For example, hospice nurses are require to attend educational classes to understand the importance of cultural diversity and the policies that are set forth for treating patients and families with respect and dignity.
The standards of "Communication and Language Assistance" is an area that the hospice organization has not met expectations to better serve the community. The workplace has the lack of available staff that are able to translate in the patient's native language. For example, there is a small percentage of spanish speaking nurses in my organization. As a result,this creates barriers to educate and manage the care of the patients who are primarily spanish speaking. There is no accessible language line that can be use to help with translation of pertinent information. This can be difficult when explaining the administration of medications and plan of care without the use of an appropriate translation method. Last, the "Standards of Engagement, Continuous Improvement and Accountability", within the organization have met expectations to improve and close the gap of cultural differences in the community. Hospice nurses continue to assess the needs of the patients and families and communicate with the multi-disciplinary team to obtain the resources that is necessary for the plan of care. The standards of CLAS exhibits the need for health care organizations and services to deliver care with cultural competency to be able to ensure the best outcome .
The delivery of nursing care can be affected when the standards do or do not meet expectations. Communication is the most essential source of providing the most optimal care. It is imperative to accept one's culture and understand what is important to a patient when facing complex decisions of end- of- life. In the hospice setting nurses encounter ethnical and cultural issues and differences that can determine the outcome of care. If the standards of cultural competent care are met , the nurse is able to assess needs without judgement and stereotype when building a nurse-patient relationship. For example, a nurse assisting a family who may be in denial of the terminally ill patient because of specific values and beliefs will be able to effectively educate the family. In addition, if a nurse has knowledge of the patient and families culture and ethnic background, he or she will be more prepared to take care and build trust with the family. On the other hand , if standards of competent care are not met, there will be an negative impact on the delivery of nursing care. If the communication is blocked due to a language barrier, the patient care outcome will be poor.
It is essential to have resources for translation and accurate bilingual nurses to provide the proper care for the patient. For example, how can a english speaking nurse educate a patient and family who primarily speaks spanish with not literature , lack of interpreters for language translation and resources to ensure education has been effective? Furthermore, the lack of trust will become a factor which may lead to non compliance to medical and medication management of the dying patient. To prevent these complex issues of competent care, the organization must adhere to the standards to ensure the maximum of quality of care is delivered by the nurses and physicians. To improve on the expectations that have not been met , there needs to be solutions in place to create implementations to promote better outcomes to deliver quality care. First, it is important for nurses to understand cultural competencies in order to be able to provide care to a diverse group. To improve on a more efficient method for language barriers there have to be abundance of resources to ensure accessibility to translation.
The organization should look into hiring more bilingual nurses that can provide service to the spanish populations. There can be attractive incentives for employees who serve as a translator. In addition, having a contract with an outside language translation company can be beneficial when communicating with patient and families with a different language. It is imperative to have all literature and educational information be written in the language of the patient to ensure understanding of the plan of care and the level of hospice services provided. " Resources must be dedicated for achieving organizational cultures competencies" ( Purnell et al , 2011). The implementation of change have to be recognized by the key healthcare providers that can deliver the interventions to have a successful outcome to improve standards that have not been met.
For example, physicians and nurses taking the time to communicate and explain the benefits of hospice with knowledge of the cultural understanding of the patient and family. Indeed, the impact of culturally competent is an importance in healthcare with the expansion of a diverse population. There have been group populations that were identified to have the lowest participation in hospice care . There is a need for organizations to provided resources that can better educate on hospice services and benefits. The discussion of improvement of communication and accessible language interpreters and translation resources in order to deliver quality care. To be culturally competent is to understand and be cognizant of the cultural differences, beliefs and behaviors. Hospice care requires nurses to have compassion and cultural awareness to provide quality and meaningful patient care.
References
Cultural and Linguistic Competency. (2014). Retrieved from http://minorityhealth.hhs.gov/omh Conceptual Frameworks / Models, Guiding Values and Principles. (2014). Retrieved from http://nccc.georgetown.edu/foundations/frameworks.html
Doorenbos, A. Z., & Schim Myers, S. (2004). Cultural Competence in Hospice. American Journal of Hospice & Palliative Care, 21(1), 28-32.
Melhado, L., & Bushy, A. (2011). Exploring uncertainty in advance care planning in African Americans: Does low health literacy influence decision making preference at end of life,. American Journal of Hospice &
Palliative Care, 28(), 495-500. National Standards for Culturally and Linguistically Appropriate Services in Health and Health Care (The National CLAS Standards). (2014). Retrieved from http://minorityhealth.hhs.gov/omh NHPCO's Facts and Figures Hospice Care in America. (2013). Retrieved from http://www.nhpco.org/sites/default/files/public/Statistics_Research/2013_Facts_Figures.pdf Purnell, et. al. (2011). A Guide to Developing a Culturally Competent Organization. Journal Of Transcultural Nursing, 22(1), 7-14.
Schim Myers, S., Doorenbos, A. Z., & Borse, N.N. (2006). Enhancing Cultural Competence Among Hospice Staff. American Journal of Hospice & Palliative Care, 23(5), 404-411. Yancu, C., Farmer, D., & Leahman, D. (2010). Barriers to hospice use and Palliative care services used by African American adults.American Journal of Hospice & Palliative Care, 27(), 248-253.
Related Topics