Electoral Circumstances and Their Effect in Congressional District VA-2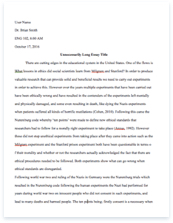 The whole doc is available only for registered users
Pages: 4
Word count: 757
Category: Veterans
A limited time offer! Get a custom sample essay written according to your requirements urgent 3h delivery guaranteed
Order Now
There are many factors that influence the outcome of elections and the range from complex theories to simple facts. In the Congressional district VA-2, there were two main candidates, Elaine Luria, a Democrat, and Scott Taylor, a Republican. Scott Taylor was the incumbent going into this election and polling showed he would most likely win. The New York Times polled Scott Taylor at a +3% lead with a margin of error of +/- 4.5%. Most polls either reported Scott Taylor winning or the election being a toss-up. The three main factors that lead to Elaine Luria taking the congressional seat from Scott Taylor were minor party candidates, advertising, and public opinion.
Minor party candidates played a major role in this election in an unusual way. Minor party candidates often split the vote of one party, and this causes a collective action problem for the parties and therefore benefits the opposing party. When voters of similar ideals cannot agree or organize behind one candidate, their vote is split and they cannot reach the majority of votes needed to win. However, the third party candidate on the ballot was not the issue for Scott Taylor or Elaine Luria in this election. One of Scott Taylor's hopes for this election is that the independent candidate Shaun Brown would get enough petition signatures to get on this year's ballot. This would split the vote in the Democratic party and give Taylor an easier election to win and keep his seat. In this attempt, his staff was caught forging signatures. There were at least 146 forged signatures and some of those were even by dead people. His staff was caught and Brown's camp claims to have no knowledge of this going on before they were caught. This scandal not only ensured that Elaine Luria would be Scott Taylor's main contestant but it also affected Scott Taylor's image. While a third party candidate is a strategic tactic that Taylor could've used to his advantage, he did not follow the rules and it backfired on him. The third party candidate also says that her staff had enough petitions to get on the ballot without the forgery and this actually cost her a spot. Taylor's grasp at splitting the vote backfired and likely lead to the demise of his campaign.
With this scandal breaking two months before the election, Scott's positive outlook weakened. This minor party candidate scandal lead to the importance of public opinion. The narrative of the candidates was very important. In his last race, Taylor won by a margin of 23 points. Suddenly, a heavily red district became undecided. VA-2, home of the Norfolk Naval Base, and many veterans, had to question the honor and honesty of their incumbent representative. Both candidates being veterans and living in a district that is heavily populated by veterans, the military code of honor and veteran voters were very important things to appeal to. While there is a debate whether public opinion, it mattered more in this election than any in recent history. With large jumps in voter registration and republicans turning on Trump ideals, Scott Taylor could clearly not afford another negative scar on his campaign. His support of repealing the Affordable Care Act but failure of the actual act of repealing tarnished his campaign as well. In his previous election, he rode on the back of Trump and the hopes of Republican voters. In the last year many Republicans and especially Veterans turned to new alternatives. The best option for VA-2 was Elaine Luria. She appealed to veterans with her 20 years of service in the military and her strong democratic views and sense of change in the Virginia Beach and Norfolk district of Virginia. In very close elections like this, public opinion can be the tipping point for a candidate. Elaine Luria, a personable mother, small business owner, and veteran appealed to many different demographics and was humanized by her traits and stories run about her and her child. The article about her roller skating with her daughter shows is humanizing while Scott Taylor's power was through strength and getting things done, a way of thought that resonated with veterans and those in the military.
Another aspect of public opinion that Scott Taylor tried to control is his image. Fully aware that Trump was becoming more unpopular in Virginia, Scott Taylor managed to distance himself ,despite his track record of almost always voting along with what the president wanted, and surged back into the lead in the polls.  
Related Topics