Effects of WWII & Civil Rights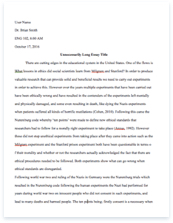 The whole doc is available only for registered users
A limited time offer! Get a custom sample essay written according to your requirements urgent 3h delivery guaranteed
Order Now
World War II had a minute effect on the civil rights movement in the United States during the war, however, created a movement for change once the war was over.  With a changing economy and the threat of another war, African Americans began to stand up for their rights, yet this did not get them far.  After the war, segregation and discrimination began to be challenged as many blacks were not willing to go back to the life that they had led before World War II.
The war was a way for African American's to move out of poor rural areas and into cities, working in factories and joining the army, yet segregation and discrimination against African Americans did not slow down during this time.  The United States had never mobilized troops to the extent they did during World War II. Although there was high demand for soldiers, blacks found themselves segregated even within the army.  Jobs on the home front were granted to blacks, however, they were not utilized to the extent they should have been.
It was not until the attack on Pearl Harbor that African Americans were recognized as being willing and able to fight for their country, a country that did not grant them full rights of citizenship.  During the attack an African American, Dorie Miller, fought the Japanese until the stray weapon he had picked up was out of ammunition, only then did he jump ship.  The army was not willing to state who this person was until months after the event as they did not want to promote or admit that an untrained cook aboard the ship could actually fire a gun and fight for his country.  What was worse was during training, when white's received actual guns to train on, black's were given sticks, only being offered real guns after their training.
After the war was over those same blacks who had fought for freedom, shed blood and lost friends and family for the sake of freedom came home to white communities that were more than willing to ensure that these black "negroes" were put in their place.  These white communities did this via terrorization, humiliation and discrimination.  African Americans had been allowed to spread their wings, showing the world that they were capable, smart and willing to get the job done, yet those who believed in discrimination did not want to be involved in the ending of segregation.
Whites wanted their jobs back. Black's did not want to go back to their old lifestyle.  This set the stage for the advancement of the Civil Rights Movement after World War II.  Although it would be years before the Civil Rights Movement would produce the changes leaders wanted, the end of World War II was the moment where Civil Rights in the United States shifted.
Works Cited
Ambrose, Stephen E., et al. War Comes Again:  Comparative Vistas on the Civil War and World War II. Ed. Gabor Boritt. New York: Oxford University Press, 1995.
Astor, Gerald. The Greatest War: Americans in Combat, 1941-1945. Novato, CA: Presidio Press, 1999.
Brandt, Nat. Harlem at War: The Black Experience in WWII. 1st ed. Syracuse, NY: Syracuse University Press, 1997.
Curran, Laura. "The Culture of Race, Class, and Poverty: The Emergence of a Cultural Discourse in Early Cold War Social Work." Journal of Sociology & Social Welfare 30.3 (2003): 15+.
Encyclopedia of African-American Civil Rights: From Emancipation to the Present. Ed. Charles D. Lowery and John F. Marszalek. New York: Greenwood Press, 1992.
Fink, Leon. "When Community Comes Home to Roost: The Southern Milltown as Lost Cause." Journal of Social History 40.1 (2006): 119+.
Fratantuono, Michael J. "Arsenal of World War II: The Political Economy of American Warfare 1940-1945." Parameters 35.3 (2005): 163+.
Honey, Maureen, ed. Bitter Fruit:  African American Women in World War II.  Columbia, MO: University of Missouri Press, 1999.
Janken, Kenneth Robert. Rayford W. Logan and the Dilemma of the African-American Intellectual. Amherst   : University of Massachusetts Press, 1993.
Rampersad, Arnold. The Life of Langston Hughes. Vol. 2. New York: Oxford
University Press, 2002.
Related Topics