Effects of Mass Media Worksheet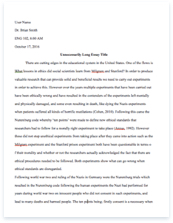 The whole doc is available only for registered users
Pages: 3
Word count: 585
Category: Radio
A limited time offer! Get a custom sample essay written according to your requirements urgent 3h delivery guaranteed
Order Now
What were the major developments in the The radio, television, computer, and internet are development of mass media over the last evolution of mass media during the 20th century with media convergence they had their own influence on American culture. Radio was century? the first form of wireless mass communication, television giving sight and sound to the current events and then computer and internet making everything at your fingertips. Along with that, you have media coming together that gives us choices on what to watch and how to watch the story. Even with the development of television radio did not go away. All three of these developments have been intertwined with each other. Even though there are years between the invention of each they did not simply just replace one another. The development of the television did take some of the aspects of radio away such as old radio shows with them being replaced by television shows. However there are still news programs and other forms of mass notifications on the radio besides just music. The internet has allowed people to start watching television online and listen to radio stations online as well.
This means that even if you are not in the area where a particular station is available you are still able to listen or watch it. I personally like a radio station that is played down in Washington D.C. I have an internet application that allows me to still listen to it and hear my favorite morning show. The developments I believe have led to one another in some way or form that without the one that came before there would not have been the later breakthroughs that lead to the others. How did each development influence American culture? The development of the radio, television and the internet has great influenced American culture in their own ways. The radio had given Americans a new form of both entrainment as well as a way to have information passed easily over a large amount of people. With that development print while still important was not the only way to have information and entrainment move throughout large amounts of people. Today the radio is still present in most people's lives as they go through out their day.
I personally like to listen to music on the way to work or when I work out. The development of the television may have taken some of the things away from radio such as radio shows but for the most part radio has remained unchanged. I think that television has played a huge roll in people's lives. People have their favorite tv shows as well as networks. I personally like to watch tv shows that are on food network. Television has made it easier to get the news. Television has made its way from needing an antenna to being able to have satellite tv or through cable which has given us the option to record or tv digitally so that we can watch our favorite shows and movies on our own time. The internet has made its way into almost every part of our lives as a country. We have the internet on our cellular phones, on video game systems, at work and school. Places from restaurants to grociery stores now offer free wifi internet for people to use while at their business. The internet aslo offers people a way to get the same information and entertainment from tv and radio in one place.
Related Topics