Effective Ways to Prepare Inmates for Community Reintegration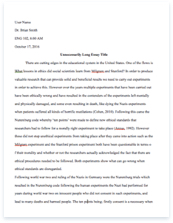 The whole doc is available only for registered users
A limited time offer! Get a custom sample essay written according to your requirements urgent 3h delivery guaranteed
Order Now
The mind of a criminal can sometimes be hard to understand. However, one thing that all criminals have in common is their choice to go against what is required of them as an honest member of society. The U.S. has developed many programs that have proven to help inmates with becoming working members of society. Federal Prison Industries (FPI) factories provide inmates with jobs that help them gain marketable job skills while working in factory operations, such as metals, furniture, electronics, textiles, and graphic arts.
While many of these programs are beneficial to helping inmates learn new skills, in many cases learning new skills may not be enough. The mind of the criminal really needs to be assessed. The thought processes of what caused a criminal to commit the crime in which they committed needs to be looked at on a deeper psychological level. In addition to teaching inmates new skills, they should also be taught entrepreneur skills, and how to start a business of their own.
A criminal mind is one that would prefer to do things their own way, and not to have strict guidelines that they need to follow. Because of this, as part of the preparation for an inmate to be placed back into society, they should be taught how to focus their negative energy into positive energy through building up a business of their own that they can be proud of.
They should learn that they can still think for themselves and do things outside of the box, but not in a manner that is destructive to society, or themselves. As part of the business entrepreneur training program, inmates should also be given the opportunity to actually start a business of their own, which they can continue to operate after they have been released back into society.
In return for such help for becoming a successful entrepreneur they can have a set percentage of their income that they would donate back into the program to help future inmates with becoming successful entrepreneurs just like themselves. An Inmate Community Reintegration Program such as this would help an inmate realize that using their mind for constructive purposes can actually be very rewarding, and achievable.
References
Robert Melvin Carter, Daniel Glaser; Lippincott, (1977) Inmate Adjustment to Prison and the Transition to Community Life Correctional Institutions (285) New York, N.Y: Copyright © 1985 by Harper & Row, Publishers, Inc.
Margaret Talbot (2003). Catch and Release: The Inevitable Consequence of America's High Incarceration Rate Is a High Prison-Release Rate. The Atlantic Monthly Vol. 291 Pages: 1
Website: U.S. Department of Justice –Office of Justice Programs
URL: http://www.reentry.gov/
Related Topics