Education System in the United States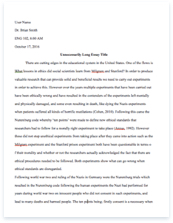 The whole doc is available only for registered users
A limited time offer! Get a custom sample essay written according to your requirements urgent 3h delivery guaranteed
Order Now
I selected to research the education system in The United States to compare to Australia's. I chose this topic because I had talked to a couple of Australian's and they made comments about how they chose not to go to a University. It made me wonder if it was because it wasn't encouraged in grade school as much as it is in the states. At my high school, it seemed almost mandatory to go to college if we wanted to have a professional career. After our visit to the Alice Springs School of Air, I was set on finding out more about their education system and compare it to the United States.
The first American schools date back to the 17th century and started in the thirteen original colonies, specifically Boston Latin School was the first public school opening in 1635. By 1790, there was free public education in Pennsylvania and in 1805 New York Public Society was created to give free education to poor children. While there was some free education, families who were wealthy were required to pay for their children's education. As for race, it took until 1954 for the U.S. Supreme Court to rule that schools could not be segregated by race as it is unconstitutional (The History of American Education). By 1996, 51.7 million students were enrolled in school and nowadays there are over 70 million children enrolled in America's schools (Australian Bureau of Statistics).
Now in Australia, their schools were controlled by government ministers and the first one didn't open until 1830. While boys and girls both took basic subjects, they also made girls take sewing and knitting classes while boys learned geometry and extra on geography. In 1870, it became compulsory to educate your children. The Australian economic depression of 1890 affected their education system so the government decided to abolish fees for high schools (McCreadie). Today, over 3 million students are enrolled across the 9,444 schools in Australia (Australian Bureau of Statistics).
To conduct this research, I used the Penn State library services, Google as well as the knowledge I gained while being in Australia. What I learned at the Alice Springs School of Air and the woman I talked to at our dinner in Cairns as well as one of the crew members on our snorkeling trip all helped me research this topic.
First, I will go over how the American education system operates. American students attend school for 12 years starting in primary school and then moving up to secondary school. It is around 3to 4 when kids will attend preschool and then 6 years old when children begin Kindergarten. During preschool, they will start to develop skills in problem solving, communicating as well as set the stage for more formal learning. Once in Kindergarten, kids begin to learn the four core subjects, Math, Science, Social Studies and Language & Literacy. Throughout their primary years they will advance each grade level in difficulty of those subjects to prepare them for further education and general life. It's around 5th grade where the difficulty picks up and students will start to have separate teachers for each subject rather than just having one to teach all of them. This will help them for their transition into the junior high school and then high school where they will move into a different building to finish up. In junior high school, you will start a block or period schedule to prepare for high school. It is also during this time that you will start taking advanced classes in order to increase your chances of taking some college courses while in 11th and 12th grade. This shows that there is pressure put on to students at a young age to start thinking about if they want to continue on to college after graduation.
Freshman year of high school is when you can start looking into various classes rather than taking only required courses. Sophomore year is when the work load really starts to build up and standardized testing becomes a topic on your mind. In early fall, most high schools offer the PSAT which is a preliminary test that will give you an estimate on what your potential SAT score would be. Now, student's concerns aren't just on the 4 main subjects that they are taking but rather one test that will determine their future. On top of that, students who are accelerated will be taking advanced placement, or AP, classes. At the end of the school year when you have your finals for all of your classes, you also have to take a separate AP exam. If you do not score high enough on the exam, you will not receive the AP credits for it. Then just when you think it's time to put on your swimsuit and relax over the summer, SAT and ACT prep classes start. It is recommended for students to take summer classes in preparation as well as use self-prep books in their downtime.
Now come the toughest year, Junior year of high school or 11th grade. To kick start the year, you have your first opportunity to take your ACT in September and the SAT in October. Students should take both to see which one they score better on as the ACT has science which is completely negated on the SAT. Students will have multiple offerings during the school year to retake and try for a better score. It is possible to do worse the second time since all of the test are different each time. The College Board stated that 35% of students who took the SAT again had a decrease in score but 55% got a higher grade (Understanding the American Education System).
During 11th grade, students are taking challenging courses like Chemistry, AP Biology, Pre-Calculus, AP English and foreign language still. After normal finals and AP testing is over in May, it is back to prepping for their next take on the SAT or ACT during Senior year. Those who are applying to college during Early Decision have to take their final shot at these test in the early fall where December brings the last SAT and ACT. Before wrapping up high school, students will take their AP exams in hopes of bringing their last college credits before arriving on campus. With that being said, 66.7% of high school graduates ages 16-24 enrolled in a college or university in October of 2017 (Understanding the American Education System). As you can see, the education system in America is extremely rigorous and expresses to students how important an education afterwards is.
Now let's take a look at how Australia's education system works. It is not mandatory but students have the opportunity to start preschool at 3-4 years old. Here, they will encourage problem solving with puzzles and read and listen to stories to start developing communication skills. Starting in Kindergarten and up until year 3, students take the core subjects and eventually are introduced to physical education. Once they are in years 3 to 6, students will start to be introduced to foreign language. It is during primary school when they will start being graded on the standard Australian academic scale which differs from the U.S. The highest grade you can receive is HD or high distinction and then below that is D or distinction. Unlike America, their C is considered a 63-72.99 and you can get a 50 and still get a "P" to pass the class (The Australian education system: An overview).
Once they are years 7-10, students will be in secondary school where their social and economic abilities will be enhanced. After completion of senior secondary school, year 11 and 12, students will take their final exams and then receive an official certificate all Australian universities will accept as well as some international institute (studyaustralia). Australian students are struggling once they go to universities as 22.7% of them did not return after the first year of study. The University of Melbourne University of Sydney and the Australian National university were the only universities to have a complete rate above 80% (Martin).
From my research, I found that the United States has a more difficult grade school education but still had more graduates going to a university than Australia did. I believe that it should be of more emphasis that students should continue their studies if Australia wants to increase their University graduation rate. All throughout high school I thought that it was an intense how much work has to be put into a high school diploma but it did encourage me to go to Penn State afterward and I am extremely happy I had that pressure to do so.
Related Topics