"Duh Bor-ing" Joseph Epstein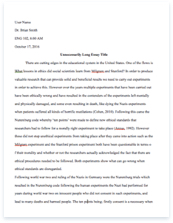 The whole doc is available only for registered users
A limited time offer! Get a custom sample essay written according to your requirements urgent 3h delivery guaranteed
Order Now
Summary:
In "Duh Bor-ing" Joseph Epstein explicitly defines boredom throughout this article. Episten discusses the various psychological tolls that boredom takes on a person. He discusses how boredom affects different aspects of everyday life. Epstein goes into detail in explaining how other authors and philosophers perceive boredom too. He also explains how boredom is a useful tool for us in order to keep our minds in check. Response:
After reading "Duh Bor-ing" by Joseph Epstein, I felt really enlighten. Not only did I learn about many different aspects of boredom but also learning new facts about it. In my opinion, Joseph Epstein did his job. He discussed boredom in such a fashion that he made is readers also bored. Even though his readers were bored, he still got his point across by explaining many different topics such as, effects of boredom on everyday life, how boredom can be used as a tool and also the various psychological tolls it can have. Although he explains his concepts such great detail, Epstein kept jumping from topic from topic.
For example, he goes from telling a drastic story about someone committing suicide to an author's opinion about another concept of boredom. It consequently, made his detailed article look messy and unorganized to me. In addition, Episten adds a great deal of unnecessary information. The story about the painter felt irrelevant because it adds unnecessary information to this article. Ultimately, causing the readers to get confused about the whole topic itself. Even though there were some confusing parts to this article, all in all, Joseph Epstein Wrote an amazing article. I'm sure many of the readers were amazed after they read this and also really bored.
Related Topics