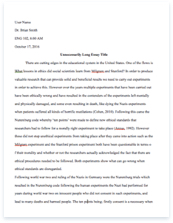 The whole doc is available only for registered users
A limited time offer! Get a custom sample essay written according to your requirements urgent 3h delivery guaranteed
Order Now
Douglas Tilden was born on May 1st, 1860 in Chico, California. At the age of four he lost his hearing due to scarlet fever. His parents wanted him to still have an education so two years later; he was enrolled in the California School for the Deaf which was located in Berkley, California. Douglas graduated from the school in 1879 as an honor student as well as receiving a teaching position. He accepted the position and taught there for eight years.
Throughout the eight years of teaching at the school, he began to create figures by using clay. Other staff members started to notice the talent he had for sculpting and started a fund so he could go to New York and Paris to further his knowledge for sculpting. In 1887 they gathered up enough money, and sent him to New York for eight weeks.
Then in 1888 he received grants from the Durham Fund, administered by the California School for the Deaf. He then took off to Paris to further his education and love for sculpting. He got to study under several famous sculptors, but mostly Paul Chopin who was also deaf. The time in Paris was nothing but success for Douglas. Not only did he gain more knowledge about sculpting, he also won many sculpture design contests and had his work installed all over the world.
After five years of schooling in Paris he returned back to California and continued teaching at the California School for the Deaf. In 1896 he married Elizabeth Cole, and quit his teaching job to be a full time sculptor. The faculty at the school was upset to find out about his resignation. They felt that he owed them by either staying a teacher at the school or reimbursing them for the cost of his education since they had paid for his schooling in Paris. Douglas was under the impression that his education had been a gift, and he felt he shouldn't have to pay them back. The California School for the Deaf decided to confiscate one of his sculptures, "The Bear Hunt", as payment for his tuition. This sculpture to this day still remains on school grounds.
Then in 1924 his wife filed for divorce and he tried getting his job back at the school. By this time they stopped hiring deaf teachers, so he moved to Hollywood to sculpt dinosaurs and other extinct animals for historical and educational films. With the income that he made he was able to set up a studio and tutor students. By 1930, the small amount of work Douglas was getting in Hollywood had dried up. He moved back to Berkley and filed for welfare. Douglas died in Berkley on August 4th, 1934.
Throughout his life he was a well known advocate with the deaf community, he organized and was vice-president of the First International Congress for the Deaf. Douglas Tilden, San Francisco's Father of Sculpture, was a skilled and lucky man who lived in a glorious age. Today, the quality and the significance of his commissions is mostly lost on the crowds of tourists who rush past his most notable public works on their way to hot dog carts and jangling tour trolleys.
When reading and learning about the life of Douglas Tilden in these articles, he wouldn't have been the sculptor that he was if he wasn't deaf. By not being able to use one of the five senses that we all share he was able to show you a different perspective. He showed much more emotion that most people can't see with the naked eye. What he saw was completely different than what hearing people saw, which made his artwork stick out more.
He was more able to be creative with his expressions and see the finer things in life without the distraction of noise. Some people see deafness as a weakness and a disability, but each day that I learn more about the deaf culture and community I see less of a disability but a beauty to it. Yes you might not be able to hear what's going on around your surroundings and talking to people may be a challenge, but you still have four other senses that I would think to be stronger and stand out more.
Works Cited
•Finacom, Steven. "Famed Deaf Sculptor Died 75 Years Ago in Berkeley." The Berkeley Daily Planet. 06 Aug 2010. Web. 05 Sep 2012 •Eastaugh, Ben, and Chris Sternal-Johnson. "If My Hands Could Speak." World Press. 10 Jun 2009. Web. 05 Sep 2012. •Jones, Noa. "Douglas Tilden Monument Sculptor." FoundSF. 1997. Web. 05 Sep 2012.
Related Topics