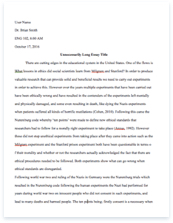 The whole doc is available only for registered users
A limited time offer! Get a custom sample essay written according to your requirements urgent 3h delivery guaranteed
Order Now
Doctor's Without Borders, also known as Medecins Sans Fronteires (MSF) was founded in 1971 as a private non-profit association.  MSF has a long history that starts with the International Committee of the Red Cross (ICRC).  In the 1960's the ICRC started implementing teams of doctors into its relief strategies.  Before this time they had no need to send medical teams into war torn areas; the governments involved took care of the medical care in the areas they were fighting.  Starting in 1960 with a civil war in Katanga all this changed.  Now the ICRC was dealing with brutal civil wars and their aftermath.
According to an article written in 1998, "(The current) configuration provided too little medical assistance and was too differential to international law to be effective in crisis situations." (Brauman)  Obviously, changes in crisis medical care needed to be made.  These changes were implemented in MSF.  "By forming MSF, this core group of doctors intended to change the way humanitarian aid was delivered by providing more medical assistance more rapidly and by being less deterred by national borders at times of crisis."(Brauman)
            MSF's first obstacle, as any non profit can attest to, was establishing status and funding.  Between the years 1971-1976 the organization struggle to find its identity.  The group was primarily a small group of doctors who hired out to the larger international aid foundations and were not yet an independent, functioning group.  With little name recognition, no support from the group for campaigns and a budget of only 200,000 franks, this group would struggle until it found its cause in 1976.
            Refugee camps were the first MSF cause.  The population in refugee camps increased from 2.7 million in 1976 to 11 million in 1982.  (Brauman)  Suddenly, MSF had a tragedy overlooked by other relief agencies.  Additionally, MSF had the doctors; doctors who were looking for a meaningful way to practice their trade.  In the late 1970's MSF helped refugees in Angolan, Somali, and Algeria.  Their biggest relief efforts were in Thailand.  MSF would now face daunting changes that would shape and shake the organization to its core.
            Because of their expanding work, MSF would now have to present a unified and professional front to the world.  This divided the doctors into two camps, those that welcomed the changes and a chance to bring greater recognition to the organization and, "those who longed for the days of purely voluntary emergency medicine." (Brauman)
There were several issues that these two groups disagreed on.  One of the issues was a move toward more efficient means of carrying out their work; another was a focus on media recognition and establishing a name for funding and recognition purposes.  These disagreements caused the two main leaders of the group to go their separate ways.  At the time, this seemed to be the end of the organization; however, the 1980's would see the organization grow at a much faster rate than ever before.
            Much of this growth can be attributed to good decisions and the courage of the leadership at MSF.  These decisions include organizing.  By 1995, MSF, while based in France, had working organizations in fifteen countries including Hong Kong, Belgium, and the United States.  The other decision that had a major impact on growth was an expansion in fund-raising tactics.  Up to the early 1990's, MSF relied on media coverage of disasters that guilted large companies and individuals into giving to the organization.
The organization's first step to financial independence came in 1982 when they incorporated direct mail campaigns into their fund-raising strategy and realized an on-going income stream.  This led to the organization MSF is today which includes paid administrators, organized logistics and medical departments and a strong donor base.  All of this combines to present the picture of a strong, capable, organized group.  Today, according to the MSF website, MSF is an international non-profit with a donor base of "3.1 million individuals, foundations, corporations, and non-profit organizations." (MSF)  This donor base contributed $568 million world wide in 2004.
            Following its charter, MSF puts it's donations to good use.  The charter contains four main points:
"MSF provides assistance to populations in distress."
"MSF observes neutrality and impartiality."
"Members…respect their professional code of ethics."
"Members understand the risks and dangers of the missions."
(MSF)
With these in mind, MSF teams undertake projects that affect millions of people worldwide.
            Projects are initiated in response to a crisis or when the organization is asked to intervene.  A front team is sent out to evaluate the situation, resources, danger, and needs.  A decision is then made and materials and teams organized to meet those needs.  Currently, these projects consist of vaccination campaigns, training locals to carry on programs after MSF has left, monitoring energy sources, diagnosing, tracking, treatment, infant care, supplying medical supplies and drugs, and rehabilitating hospitals and clinics.  International teams of up to 12 along with hundred of local team members make this happen.  "Once the acute emergency phase of a health project is over and the local health care infrastructure has been restored to an acceptable level," the team pulls out and moves on to its next challenge. (MSF)
            With recent worldwide tragedies seemingly striking every continent on the planet, MSF has been put to the test and faced tragedy itself.  In the 2004 Annual Report, MSF President Darin Portnoy and Executive Director Nicolas de Torrente wrote, "Sadly in 2004, the dangers of providing humanitarian assistance became even clearer with the brutal murders of five of our colleagues in Afghanistan." (2004)
Our world is a dangerous place and getting increasingly more so.  In spite of this, MSF uses its reputation to not only cross borders but bust through the barriers.  The impact of their work is evident not only in their successes but even in their awards.  On October 15, 1999 MSF was awarded a Nobel Peace Prize for "its courage in aiding people around the world." (Doctor's)
            In that world MSF is working even harder.  Current projects include nourishing 60,000 children in Niger, helping in Earthquake areas, and responding to tropical storm Stan in Guatamala.  Each of these tragedies comes with its own set of complications and red tape.  In dealing with earthquake ravaged areas teams face difficult terrain making it impossible to transport supplies and basic needs to those who need them most. Hundreds of patients are seen every day in Pakistan by a team of 340 staff members.  They have distributed tents, blankets, sleeping bags, and kits for hygiene.  Even though the team has treated those that were directly affected by the earthquake, because of living conditions the team must also battle infections and diseases.
 On December 2, 2005 the refugee camp in Mazwombe in the Congo was attacked forcing 3,000 displaced people to run for their lives.  According to the press release of December 2, 2005, "MSF suspects that many thousands of civilians are in desperate need of assistance. But without access to areas close to the frontline it is impossible to give a reliable estimate of the population in need.
Civil and military authorities are obstructing efforts by humanitarian organizations to assess the situation." (MSF)  Because they are not a governmental entity and have worked hard to remain unattached to any government, MSF is often hindered in their humanitarian efforts.  This is one of the limitations MSF faces in most of their relief projects.  Non-profit laws do not protect an organization's right to carry out their mission.  Even if there were laws they would be difficult to enforce world wide in countries that do not have like governments.
            Currently, MSF gets its supplies the same way all of us do: buying them with funds received from donors.  Medications are often the hardest to come by especially for AIDS patients.  These medicines could be available at a lower cost; however the World Trade Organization has recently made it even harder for medicines to cross over borders.  Because the newer generations of AIDS drugs are so costly, it often costs the organization five times more money to treat a patient because of the inefficiency of second line medications.  It would be much more cost beneficial for the organization to have access to the newest drugs.  Their funds would go further if they were readily available and affordable.
This is demonstrated daily in the work MSF does with AIDS patients in Africa.  According to a December 8, 2005 press release by MSF, "One example is the antiretroviral (ARV) medicine lopinavir/ritonavir, marketed by the US pharmaceutical firm Abbott as Kaletra. Abbott recently launched a new formulation of the drug, which unlike the old one, does not require refrigeration.
Although this new version would be very useful in most African settings, it is not available on the continent. "  (MSF) Statistics on AIDS in Africa are shocking.  In 2004, three million people were newly infected with the AIDS virus.  2.2 million people died of AIDS in 2004 and currently there are over 25 million people infected.  Without some sort of immediate solutions, more and more people will suffer from this virus.  It is a difficult truth to swallow when there are medications invented to combat this disease.
            One of the frustrations MSF has in treating patients in some countries is user fees.  These are fees that MSF is forced to charge, often by the countries government.  "For example, in poverty- stricken southern Sudan, user fees were introduced in 2003 as part of a US sponsored health program. Health centers supported by MSF were forced by authorities to ask patients for money in exchange for care." (Phillips)
This trend toward government user fees hampers efforts to extend care to those who need it.  One of the issues that Phillips brings up is, "Medical expenses cause poverty. How can we accept the fact that poor people in poor countries are asked to pay a greater share out-of-pocket for health care than people in high-income countries?" There is no easy way around these problems.  Working within the framework of a government means following rules and still trying to help as many people as possible.
            As MSF moves toward the future it will only grow into a brighter star.  The organization will continue to grow and continue to help in times of crisis.  There seems to be no barriers that they cannot overcome.  Their non-profit status seems to only help and not hinder them and their organization is fine tuned for the type of operations that they carry out so well.
  IRS and compliance issues are the same as they are for all non-profits.  They include classification as a non-profit through the 301C process, full disclosure to all donors, and overhead levels under 25% of gross donations.  The non-profits are very closely regulated and must keep excellent records and be able to prove, at a moment's notice, their compliance with all non-profit regulations.  MSF has never been cited or accused of veering from any of these regulations.
AIDS patient in Nairobi
www.doctorswithoutborders.org/news/hiv-aids/wad2005/thumbs/siama.jpg
Works Cited
Brauman, Rony.  A Framework for Survival: Health, Human Rights, and Humanitarian Assistance in Conflicts and Disasters. Edited by Kevin M. Cahill, M.D.  Basic Books: 1993
MSF (Medecins Sans Fronteires)  Information Page. 2005. Dec. 2005.
<http://www.doctorswithoutborders.org>
Doctors Without Borders accepts Nobel Peace Prize. 1999. Dec. 2005.
<http://archives.cnn.com/1999/WORLD/europe/12/10/nobel.prize.02/index.html>
Phillips, Mit. "No cash, no care MSF's confrontation with cash recovery." International Activity Report 2004. Jan. 2005. <http://www.doctorswithoutborders.org>
Related Topics