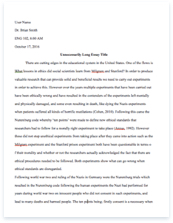 The whole doc is available only for registered users
A limited time offer! Get a custom sample essay written according to your requirements urgent 3h delivery guaranteed
Order Now
The case study I choose is Scenario No. 2: DNR. DNR stands for Do Not Resuscitate. A DNR is a legal document in which health care teams will follow once you are faced with serious health problems or when you are at the end of life. This document lets you choose if you would like CPR or electric shock if your heart stops. Also, this document lets you decline any support if your heart stop or it will let you decide different medical measures that you would like. This document is very important to be looked over carefully by the patient as this piece of paper will try to save your life or it will let you go as you wish. It's very important that the health care team gets your DNR form or that you have some type of medical jewelry on you so the medical team will be able to give you the best quality care possible.
. "Previously physicians were only able to allow patients to die, now they could resuscitate them with relatively simple protocols and procedures" (Bishop, J., Brothers, K., Perry, J., & Ahmad, A. 2010). The history of the DNR started with CPR. CPR was first introduced in the 1960's to save many people lives. CPR stands for Cardiopulmonary resuscitation; it is a lifesaving technique that is used when someone stops breathing. This technique involves chest compressions, mouth to mouth blow or electric shock. Every time someone would stop breathing the medical team would be call to perform CPR. That's when the DNR came into play.
In the 1980's the DNR was introduced. This gave people the choice to not have CPR if they wished to not be saved. "The do-not-resuscitate order was beginning to be perceived as part of the patient's right to claim back self-determination in the face of paternalistic doctors on an implicit quest for technologically mediated immortality" (Bishop, J., Brothers, K., Perry, J., & Ahmad, A. 2010). The DNR came very popular for those who were elderly, in hospice care or who were terminally ill.
Not everyone can get this order; you have to be 18 years of age or older. This order should not be forced upon by anyone as it is a life or death situation. "Do-not-resuscitate orders can be touchy for everyone" (Brooke, P. (2005). The physician and two witnesses need to sign this piece of documentation in order for it to be valid. After getting this form valid you need to make sure that this documentation is accessible at their home and in other areas for other to access it quick. There is also a bracelet that you can purchase that you can wear at all times so if anything does happen that any EMS will know that you do not want to be resuscitated. Just because you have the bracelet on, depending on the laws of the state the EMS may not be able to grant your wishes. This bracelet or any identification jewelry will have your name, "Do Not Resuscitate", and your physician's numbers. This bracelet is another very important piece to have when wanting your wishes granted.
When making the choice about living or dying there are a few steps that need to be taken. "The Department of Public Health is required to make available a uniform advance directive for a do-not-resuscitate order that may be used in all settings" (Illinois Department of Public Health, 2013). In Illinois there is a consent form that needs to be filled out in order to have your wishes granted. Looking over the DNR form very carefully is very important because this form will decide if you medical team will try to save you or let you go. First, you have to mark if you would like to be resuscitated or not if you stop breathing. Secondly, when you are not in cardiopulmonary arrest there are other medical interventions that need to be taken. You have to mark which medical interventions you would like to be taken if you are breathing.
These medical interventions include: comfort measures such as pain reliever, Limited additional interventions such as antibiotics or IV fluids and Intubation, Mechanical Ventilation. Thirdly, you need to check if you want artificially administered nutrition or not. Then after making your decisions and talking with someone you need to check who you discussed this decision with and make sure you both sign this document and make sure that there is a physician in attendance. This form should be looked over frequent by everyone as this form can be revoked or voided by the patient. This form is used wide spread in Illinois.
I have analyzed three hospitals DNR forms and policies in northern Illinois. The hospitals that I analyzed are Good Shepard, Centegra Northern Illinois medical center and Advocate Lutheran General. These hospitals all have the same DNR form as the States DNR form. Good Shepard has policies that most of the other hospitals require when it comes to the DNR form. It is "Required by law to ask our patients if they have advance directives" (Patient information. (n.d.). If the patient already has this form filled out, then the medical team needs copies so they are able to grant the patient's wishes.
If the patient does not have the form filled out or would like to know more information on this documentation than it is the medical team's responsibility to contact a Chaplin so the Chaplin can sit down with the patient and discuss this procedure. "We give all patients written information via the brochure "Your Health Care: Who decides?"" (Patient information. (n.d.). These policies are put in place so the patient is given the best quality care possible and the hospital and doctors won't get sued while going further with saving someone or letting them pass away.
Many people who are in hospice care are terminally ill. Hospice care specializes in the end of life care and work very hard to grant there patient's wishes such as do not resuscitate. Hospice care is only to make you feel comfortable at the end of life. They are not required to perform CPR on their patients and should not force their patients to fill out the DNR order. "The right approach to DNR discussions and decisions varies even within a particular culture, and needs framework balanced upon the specifics of an individual case scenario" (Yang, G. M., Kwee, A. K., & Krishna, L. (2012). Some but not all hospices require that the patient's family call EMS to give their family member CPR. If there is not a DNR and the patient is ready to pass than an EMS may not be able to grant their wishes because by law the EMS may have to give CPR. CPR can be painful and traumatizing for patients who are terminally ill.
There are a few lawful and moral problems of the do not resuscitate order. The DNR came about by the misunderstanding of CPR. When a person is in cardiac arrest the emergency team is called to their home to give them urgent medical attention. The emergency medical team's first response is to give the person CPR to help save their life. If an emergency team doesn't give there patient CPR they could end up dyeing. "During the last decade, the time from cardiac arrest to start of cardiopulmonary resuscitation(CPR) and defibrillation has increased, whereas survival has remained unchanged or even increased" (Hollenberg, J. J., Svensson, L. L., & Rosenqvist, M. M. 2013).
If the emergency medical team does not perform CPR on their patient many will say they let them die unless they have any type of medical jewelry on them that states to not resuscitate them. Many people who suffer cardiac arrest outside of the hospital in which most do not survive. The medical team is always looked to do everything they have to do to save a life but sometimes they can only do their best and the best outcome may not happen. Sometimes a physician has to take their patient off of life support which then people think they only helped there person die. If the patient doesn't have a DNR then sometimes the doctor has to take it into their own hands and do what is best for their patient.
In Conclusion, The Do not resuscitate order is very important to understand in order to have your wishes granted. The DNR order evolved from CPR which has saved many lives and with new technology, laws, cultural and moral values the DNR will change over time. For many the moral issue here is bringing people back from the dead. Many believe once you dead you should not be resuscitated and then you have others that believe otherwise. Many Medical Professionals are faced with trying to make the best choice for their patients.
The Medical team is human just like the rest of us but they are there to try to save our lives if needed and there are rules that they need to follow and grant peoples wishes when they are asked. "DNR decisions are difficult and complex, but can be more so in ICUs because these units have the overriding goal of sustaining the lives of the most critically ill patients" (Yuanmay, C., Chin-Feng, H., & Chia-Chin, L. 2010). The Do not Resuscitate order can be easily misunderstood if not seeking the right people for information. To make sure you get the best quality care my the medical team is to make sure that your DNR is accessible by others and to make sure you get some type of medical jewelry stating to not resuscitate.
Reference
Bishop, J., Brothers, K., Perry, J., & Ahmad, A. (2010). Reviving the conversation around CPR/DNR… do not resuscitate. American Journal Of Bioethics, 10(1), 61-67. doi:10.1080/15265160903469328 Brooke, P. (2005). Bowing to family pressure. Nursing, 35(4), 24-26. Chang, Y., Huang, C., & Lin, C. (2010). Do-not-resuscitate orders for critically ill patients in intensive care. Nursing Ethics, 17(4), 445-455. doi:10.1177/0969733010364893. Goldman, L., Chu, P. W., Osmond, D., & Bindman, A. (2013). Accuracy of Do Not Resuscitate (DNR) in Administrative Data. Medical Care Research & Review, 70(1), 98. doi:10.1177/1077558712458455 Hollenberg, J. J., Svensson, L. L., & Rosenqvist, M. M. (2013). Out-of-hospital cardiac arrest: 10 years of progress in research and treatment. Journal Of Internal Medicine, 273(6), 572-583. doi:10.1111/joim.12064 Illinois Department of Public Health (2013) Statement Of Illinois Law On Advance Directives and DNR Orders retrieved from http://www.idph.state.il.us/public/books/advin.htm Murphy, P.,& Price.D (2007). How to avoid DNR miscommunications. Nursing Management 38,(3) 17-20, Retrieved June 18, 2014 from EBSCOhost database. Patient information. (n.d.). Retrieved September 1, 2014, from http://www.advocatehealth.com/luth/patientinformation Yang, G. M., Kwee, A. K., & Krishna, L. (2012). Should Patients and Family be Involved in "Do Not Resuscitate" Decisions? Views of Oncology and Palliative Care Doctors and Nurses. Indian Journal Of Palliative Care, 18(1), 52-58. doi:10.4103/0973-1075.97474 Yuanmay, C., Chin-Feng, H., & Chia-Chin, L. (2010). Do-not-resuscitate orders for critically ill patients in intensive care. Nursing Ethics, 17(4), 445-455.
Related Topics