Differences and Similarities of Two Majors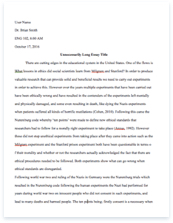 The whole doc is available only for registered users
A limited time offer! Get a custom sample essay written according to your requirements urgent 3h delivery guaranteed
Order Now
When it is time for a college education, the first task most students need to do is choosing a right major. When I have been to college, I haven't gotten any idea which major I should choose because there are plenty. Among many majors that I have examined carefully, only two majors have interested me. These two majors are in Electrical Engineering and Computer Science. They both have differences and similarities in terms of curriculum requirements, degree of difficulties, and technology.
For the curriculum requirements, these two majors require the same courses in general requirements like those in Mathematics, English, and Physics. The students need to finish these courses in order to begin their major required courses which are different from each major. The students who choose Computer Science as their majors will take the courses, such as Assembly, Java, and C Language. On the other hand, the students who choose Electrical Engineering as their majors will take courses in Circuit, Digital Logic and Micro-Current.
Although these two majors have the same courses in general requirements, they will have different degree of difficulties when the students take the major required courses. Usually, the students in Electrical Engineering will have more efforts and time-consuming than those in Computer Science. For example, the instructors of Electrical Engineering will give very hard homework problems that require calculation works which usually take a whole week to finish it. However, the instructors of Computer Science will give easy homework problems like how to make a computer program that plays chess with human for their students that just take a couple of days to finish.
Furthermore, these two majors have the same purposes to bring our technology to a higher level. Computers are now very popularly that every family needs at least one computer at home. They have become the convenience tools in the world that we have used every day. In the same way, electricity has taken important role in our lives since Benjamin J. Franklin invented it. For instance, people can send e-mail and talk long distance with their relatives over the internet free instead of wasting their money talking on the phone. And, almost every thing, such as computers, light, and telephone, will need electricity in order to work. As a result, every college will offer majors in Computer Science and Electrical Engineering for the purpose of taking our technology to the next level.
In short, the two majors are the same in the general requirements courses, but they are different in their major requirement courses. Moreover, the major in Electrical Engineering is more difficult than the major in Computer Science. Technologically, they serve the same purpose in improving our technology to a higher level.
Related Topics