Developing Yourself as an Effective HR Practitioner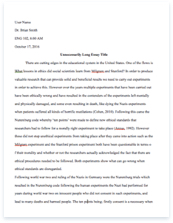 The whole doc is available only for registered users
OPEN DOC
A limited time offer! Get a custom sample essay written according to your requirements urgent 3h delivery guaranteed
Order Now
Introduction
This report gives a brief overview of the CIPD Map and the key functions of a HR Practitioner at a Band 1 level. Brief Summary of the CIPD Profession Map
There are four key elements that make up the CIPD Profession Map. The Two Core Professional Areas
The two Core Professional Areas are 'Insights, Strategy and Solutions' and 'Leading HR'. These are essentially the most important part of any HR department and manage things such as planning for the future, up to date knowledge of laws and management of the HR department. The Specialist Professional Areas
There are eight Specialist Professional Areas in the CIPD Profession Map. Each of these represents a key function to any HR Department. These Specialist Professional Areas symbolize the activities and knowledge required to deliver specialist HR support to both internal and external customers. The Behaviours
There are also eight behaviours which classify how all HR professionals should carry out their day to day tasks within their role, they are: Curious
Decisive thinker
Skilled influencer
Personally credible
Collaborative
Driven to deliver
Courage to challenge
Role model
The Bands
The Bands of the CIPD Profession Map help to measure your current level of service within the organisation and show you what skills you need to develop and how to move up to the next Band. An employee at a Band 1 level carries out general administration tasks within the office and is very customer orientated. Band 2 employees manage HR problems related to a single person or an entire team of people. They are able to evaluate information given to them and provide sensible solutions. Band 3 employees lead a professional area in a Business Partner style role. They address the challenges of organisational change which relate to long term or short term change and other general HR related tasks. A Band 4 employee would lead or manage a specific professional area or part of the organisation. They are accountable for planning for and delivering organisational change and HR strategy. The Activities and Knowledge of Recruiting and Talent Planning There are many activities within the professional area of Recruiting and Talent Planning to ensure that at all times the organisation is fully staffed and prepared for future labour turnover to meet organisational demand.
The activities of a Recruitment and Selection role will cover from the time a vacancy is approved by the Executive Board right up to the point where the appointee is in role. On a day to day basis you would be advertising undertaking activities such as advertising vacancies, writing offer letters, sending shortlisting to recruiting managers, requesting references and completing other pre-employment checks such as processing of DBS applications and sending occupational health questionnaires, vacancy analysis and administration tasks. Within a Recruitment and Selection role it is essential that you can recognize and attract the right applicants for the roles you have within your organisation. At a Band 1 level you would be expected to collate data on talent gaps and report this back to a more senior colleague, perhaps your HR Strategy Manager so that they are able to put a plan of action or campaign together to attract the right candidates to quickly fill the vacancies and reduce the organisational risk.
You would be expected to provide support to your Recruiting Managers by providing them with information on how the recruitment episode is going, general advice on recruitment laws and legislations and advice on a fair selection process. To be a Recruitment Assistant it is essential to have up to date knowledge of laws and legislations surrounding employment. For example, when completing pre-employment checks it is vital that if someone requires a work permit to work in the UK you are aware of the limitations and restrictions that that permit holds e.g. Tier 4 Student Visa, the amount of hours that the student is allowed to work during term time is up to 20 hours. You must have a good general knowledge on the structure of the organisation as a whole for example in the NHS the divisional structure of the organisation.
This will help you to recognise or be aware of any talent gaps in particular areas and be able to start developing ideas and planning on how to recruit to the vacancies and reduce organisational risk of wards/hospital closures which could be catastrophic to the Trust's reputation and possibly attract bad press coverage. At a Band 1 level in Recruitment and Talent Planning you must have a sound knowledge of any systems that you are required to use to fulfil your role. Without this knowledge, when dealing with or answering internal and external customer queries, your response may not be as efficient as they possibly could be leading to the customers being on the phone for a long time and possibly getting irritated with you. This then has a knock on effect as other HR customers may not be able to get through to the department leading to bad customer service all round.
Developing Yourself as an Effective HR Practitioner
Nicole Davey
Task 2
With reference to your own (or other identified) HR/L&D role, outline how an HR/L&D practitioner should ensure the services they provide are timely and effective. You should include: Understanding customer needs (include 3 examples of 3 different customers and one need for each , and explain how you would prioritise conflicting needs) Effective communication (include examples of 3 different communication methods and the advantages and disadvantages of each) Effective service delivery (include: delivering service on time, delivering service on a budget, dealing with difficult customers and handling and resolving complaints)
Understanding Customer Needs
Every organisation has both internal and external customers. In a health care organisation such as the NHS your external customers of HR will be people such as new employees who are going through the recruitment process; they may call HR to check on the progress of their pre-employment checks or to provide you with information that you require such as reference details. Another customer of HR is payroll. Payroll may need to call HR for information on a new employee regarding their salary or information. Without this information Payroll could pay the new employee on the wrong spine point of the pay band or not give the employee their increment on the correct date. Line Managers are HR's biggest customers. Each department within HR deals with them in some way, shape or form whether that is to deal with a disciplinary, grievance, recruitment, training or general queries and support. All HR customers should be dealt with as a priority but prioritising conflicting customer needs can be a difficult task. HR queries from all customers should be prioritised by: Time- Do you have time to do it there and then?
Speed- How long is it likely to take you?
Cost- Is it going to cost you anything? Do you need to gather more information on costing first? Who- Who is asking? If the request comes from high up the chain of command the task is more likely to be urgent than from a colleague. Urgency- When does it need to be done by?
Effective Communication
There are many different types of communication we can use to communicate with our customers and there are benefits and disadvantages to each. Email
One form of communication is email. The benefit of using this style of communication is that it is quick and effective. You are able to send a message instantly to the recipient/s and request a receipt once they have received it so that you know it has been seen. It also provides you with evidence of exactly what has been said and therefore can easily settle a dispute over this.
Telephone
This style of communication is quite often the preferred method. One of the advantages of using the telephone is that it is personal between the two (or more if on a teleconference call) people sharing the conversation. It is usually quick and easy to do. Some of the disadvantages of using the telephone to communicate are: Wrong numbers- if the wrong number is given and this is your only method of communication it makes it impossible to pass on what could be an urgent message Can be time consuming- You may call to have a quick conversation or pass on a message but it could lead to discussions on other topics which are time consuming and therefore interrupting your flow of work Letter
One of the advantages of communicating by letter is that it is a more formal communication method, usually used to give confirmation, such as an offer of employment. This confirms to the recipient that the offer is genuine and correct, this would act as their proof of employment should it come in to doubt at any time. A disadvantage of communicating by letter is that it can take a long time for the recipient to receive it as it relies on the post being on time. It is also possible that the letter could be posted to the wrong address meaning that the intended recipient does not receive it. Effective Service Delivery
There are many factors that can help or hinder your service delivery and how you deliver this. Delivering Service on Time
Managing your time effectively can help improve the effectiveness of your service delivery. Good time management can help you to accomplish tasks in the time frame expected. It gives you the control over the situation at hand and contributes to the efficiency of tasks meaning that you make the optimal use of your time.
Delivering Service on a Budget
As with any organisation budgets play a big part in service delivery. The budget will affect your effectiveness of service delivery by setting restrictions financially for the quarter/year as to what you can and can't do. Budgets that may affect HR are those such as Recruitment & Advertising budgets, which will set restrictions on how much you are allowed to spend per annum on advertising costs. The implications of overspending are that you will have caused a financial loss to the organisation therefore reducing the profit made for the year. Dealing with Difficult Customers
It is important for all employees within a HR Department to know how to deal with difficult customers. You should be polite and professional at all times, keeping an open mind and then come to a mutually agreeable decision for all parties involved where possible. It is important to identify the factors of their grievance, summarising the details so that they know you fully understand the problem and let them tell their side of the story so that they feel they have been listened to. Handling and Resolving Complaints
When dealing with different complaints it is important for HR to remain impartial to the information at hand. They should adhere to related policies and be fair in their decision making. All issues should be dealt with promptly ensuring that the issue does not go on for any longer than necessary and a thorough investigation is carried out to secure the facts before making the final decision. The person making the complaint should be kept up to date with the process whether that is informally (i.e. a telephone conversation) or formally (i.e. a letter) depending on the situation and the process.
Developing Yourself as an Effective HR Practitioner
Nicole Davey
Task 3
Undertake a self-assessment against the CIPD Profession Map at either a Band 1 or Band 2, identifying any areas that you need to develop in order to meet them i.e. the two core professional areas, the specialist professional areas, the bands and behaviours Using a template such as http://www.cipd.co.uk/cpd/guidance/examples-templates.aspx devise a plan to meet your development needs, including those identified above and the achievement of your CIPD qualification. The plan should be for a minimum of 6 months Discuss your plan with (or provide a written note to) your tutor explaining why you believe CPD to be important and explaining at least 2 of the options you considered for meeting your development needs
What do I want/need to learn?
What will I do to achieve this?
What resources or support will I need?
What will my success criteria be?
Target/review date for completion
Gain more knowledge on Disciplinary procedure
Shadow a HR Assistant at work
Read and research our policy & procedure
Support from colleagues & manager
Find a buddy
Policy
Being able to confidently carry out a disciplinary alone and have a sound knowledge of the procedure June 2015
Gain more knowledge on Grievances
Shadow a HR Assistant
Read and research our policy and procedure
Support from colleagues & manager
Find a buddy
Policy
Being able to confidently carry out a grievance alone and have a sound knowledge of the procedure June 2015
Gain more knowledge on sickness absence, both long term and short term Shadow a HR Assistant
Read and research our policy and procedure
Support from colleagues & manager
Find a buddy
Policy
Having a greater understanding of sickness absence and being able to conduct a sickness review alone June 2015
Improve my influencing skills
Listen to colleagues who are good at influencing to see what they do Try it out
Support from mentor
To be able to confidently influence a conversation/situation June 2015
Learn more about the influencing factors affecting my organisation Read/Watch news
Keep up to date with CIPD magazines
People Management magazine
Confident in influencing factors
Ongoing
How I can be more supportive when involved in projects/campaigns Seek feedback from manager
Seek feedback from those involved in project/campaign
Support from all involved in project/campaign
Being able to provide more assistance and have a better understanding of development areas Ongoing
Continuing Professional Development (CPD) is essential for all employees in every organisation. The definition of Continuing Professional Development is "how you use a variety of learning experiences to develop yourself professionally and personally". It is a continuous practice that is in place through a practitioner's working life and each individual practitioner is responsible for making sure that it is managed and up to date at all times. Anything counts towards your CPD providing that you can evidence you have learnt from it e.g. completing CIPD Level 3 will help me have a better understanding of HR as a whole. CPD is important because it adds to any professional's employability, the more skills and related qualifications you have, the more employable you are to an organisation. It is also a requirement for professional bodies such as CIPD, NMC (Nursing & Midwifery Council) and many others to prove that you are still able to practice your chosen profession as your skills and abilities are up to date and relevant.
One of the learning outcomes I have chosen for my personal CPD is to gain more experience on the Disciplinary Procedure. I have chosen to add this to my CPD because it is my goal to become a HR Advisor in the near future. In order to become a HR Advisor I will need a sound knowledge of this procedure prior to taking up the role as it will become part of my everyday work load and will enable me to be confident doing the role. In order to do this I will find a buddy at work who can help me with this and hopefully at least let me shadow a Disciplinary Hearing. I have also chosen to add to my CPD to improve my influencing skills. I have always been aware that this is not one of my strong points as I feel as though I am pressuring people to do things that they do not want to do. However, since starting work in HR for Somerset Partnership NHS Foundation Trust, I can see that this is an essential skill to become a HR Advisor, where it is sometimes essential that people come around to your way of thinking for example, to diffuse a situation where the other person may have different ideas which would make the situation worse.
APPENDIX
MY CPD MAP & DEVELOPMENT AREAS
Insights, Strategy and Solutions Development Actions
Consider who the stakeholders are in the projects you work on, and think about what you can do in your role to best support them. Review recent CIPD survey results (such as Employee Outlook or Learning and Development Survey), and identify any trends or risks which may impact your organisation. Undertake some online research using the CIPD website on the principles of business and HR metrics, and how they can be used to benefit the organisation Seek feedback on the quality of your support to HR projects and programmes, and how they support the HR strategy. Where could you improve? Locate the most recent annual review or report for your organisation, or find out someone who knows about the organisation's performance. Find out what things the organisation measures its performance by (e.g. turnover, profit, production, customer satisfaction etc.).
Compare last year's performance with the previous three years. Participate in regular market / customer / product updates and understand how these affect the organisation. Make time in your week to read the major business and news publications and understand how these external factors can impact your organisation. Plan in time during your working week to regularly update yourself on legislation relevant for your role and organisation. Spend some time shadowing an expert in project management to understand the principles and practice of project management, and any specific approach to projects which is taken in your organisation. Discuss with your manager how your role contributes to the delivery of the people and organisation strategy. Leading HR Development Actions
Build relationships with other HR colleagues outside of your organisation to broaden your knowledge of HR policy and practice. Undertake some online research using the CIPD latest surveys to identify trends in HR thinking and practice. Pick some of these ideas to share with your colleagues, and discuss how your organisation might benefit from these insights. Seek out a mentor and / or buddy in the organisation. Spend time with them to discuss your development plan, and ask for feedback and coaching from them to support you.
Spend time with your manager to understand how budgets are managed and forecasted in the organisation. Ask questions to understand the types of budget data that you're likely to be asked for, and ensure you have that information to hand as and when you're asked for input into people financial planning. Research different methods of data collection and analysis online, and consider how you could adopt one or two specific approaches in your role. Find out how other HR colleagues collate and analyse data, and the advantages and disadvantages of doing it this way. Resourcing and Talent Planning Development Actions
Recommend improvements to recruitment and resourcing processes or practices to make them more effective based on an analysis of recruitment data. Research new approaches to talent and succession planning in a range of organisations using the CIPD website and other online HR resources. Employee Relations Development Actions
Understand what data your organisation collates on employee relations. What opportunities are there to improve the way this is done? Are there any risks to the organisation of the way things are currently done? Share your findings with your manager. Spend time talking with employees to assess the level of awareness, understanding and interpretation of current policies. Identify potential enhancements/improvements and take suggestions to your HR colleagues. Research the background to legislative change. Keep abreast of national consultation on the employment law agenda through sources such as the government website. Review how organisational values and behaviours are integrated in the organisation by talking to managers and employees. Are there gaps?
What suggestions can you make for improvement? Create a positive working environment by spending time talking with managers and employees to assess the level of awareness, understanding and interpretation of current policies. Identify potential enhancements/improvements and take suggestions on training and support to your HR colleagues. Take time to research and understand relevant employment law for your organisation, gaining in-depth knowledge in key employee relations issues areas that will benefit the business. Use your internal network to discuss and surface opportunities regarding employee relations issues. Make recommendations to your HR colleagues. Investigate the level of awareness, understanding and impact of the organisation's existing policies and procedures by talking to managers and employees. Skilled Influencer Development Actions
Reflect on the last time you influenced somebody at work. Consider what was effective about your approach and what could be improved. Think about how you used information and evidence to present your case. Apply your learning to future situations. Observe those around you who are successful at influencing others and reflect on what it is about their approach and style that makes them convincing. Apply your insights to develop your influencing style. Curious Development Actions
Discuss with your manager or a senior stakeholder the current key issues for the organisation and how your role connects or impacts these. Attend external networking events and workshops including those organised by your local CIPD Branch as well as employment law updates and learning seminars. Prioritise those run for your industry / sector and / or your HR specialism or area of interest. Select an HR issue / subject (either within or outside your specialist area) and set aside time each week to find relevant articles and reports. Read them and share points of interest and ideas with colleagues, possibly by forming a discussion group. Discuss the possibility of trying out or trialling a new HR idea or process improvement with your manager.
Related Topics