Developing Measures To Ensure Stable Rates Of Employment Despite The Advancement Of Technology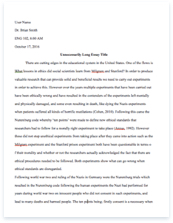 The whole doc is available only for registered users
A limited time offer! Get a custom sample essay written according to your requirements urgent 3h delivery guaranteed
Order Now
Change is imperative. In any form, it is change that helps us transition into new phases filled with tremendous opportunities. Technological advancement is the epitome of "Change" in the 21st century. The United States has spearheaded this advancement for the past few decades. According to the National Science Foundation's (NSF) Science and Engineering Indicators 2018 report released today, the United States is the global leader in science and technology (S&T). However, this technological advancement poses a threat to certain groups of workers. A certain level of factor substitution from labour to capital is inevitable, considering the pace at which the US is improving the efficiency of its machinery. Current studies emphasize the disruptive nature of technological changes, stressing the potentially wide-ranging implications for job destruction (ILO, 2017). Evaluations of the extent of labour market disruption vary widely and range from a low of less than 10 per cent of all jobs to a high of more than 60 per cent. Frey and Osborne (2017) estimate that 47 per cent of US jobs are susceptible to potential technological replacement.
Nonetheless, such assessments tend to overestimate the potential adverse effects of automation by focusing exclusively on the technical feasibility of substituting labour by capital. They ignore economic feasibility, i.e. whether the investment in new technologies is at least as profitable as existing (labour-intensive) alternatives. Research suggests that technological progress and the accumulation of intangible capital have together accounted for well over half of the increase in output per hour in the United States during the past several decades. This means that along with certain levels of unemployment, technology has opened the doors to a whole new world for many workers.
Full employment has been part of the policy discourse in the United States since the early twentieth century. One of the most notable proponents of true full employment—defined as an economy in which any person who seeks a job can secure one—was President Franklin D. Roosevelt; his vision of "economic security" for all is a touchstone for full-employment advocates. Future automation is unlikely to destroy complete occupations but will rather change the types and number of tasks in most occupations. As technological sophistication increases the complexity of work environments, demand is growing for employees who excel at skills that machines cannot replicate, at least currently: empathy, teamwork, collaboration, problem solving, critical thinking, and the ability to draw connections across disciplines. There might well be sufficient job creation to compensate for technological unemployment, but the realization of these opportunities will depend on ensuring that workers can move to newly created jobs.
Fortunately, we already have a federal model that, with some modifications, can prepare us to respond to the challenges of technological unemployment: The federal Trade Adjustment Assistance program (TAA). Created in 1962 at a time when Congress was seeking to bolster public support for trade liberalization, the TAA helps groups of workers that are negatively impacted by trade, to stay afloat during hard times and find new paths to employment. If an individual loses his or her job primarily due to trade, caused by their company moving production overseas for example, they can become eligible for enhanced reemployment services. In fiscal year 2016, the federal agency said that an estimated 45,814 individuals used TAA benefits and services.
Preserving technological leadership remains vital to U.S. national security and economic competitiveness. If the United States loses its technological edge, its standing in the world will be threatened. U.S. rivals understand this clearly; The good news is that the United States is still the world's leader in the development and diffusion of new technologies, with the total U.S. R&D funding reached an all-time high of nearly $500 billion in 2015.
While we can't predict our economic future, we can prepare for it. The United States government is determined to make their country's labour force occupationally mobile and encourages all nations to follow its footsteps, to ensure that humans and technological advancement coherently contribute to a global economic boom.
Related Topics