Develop Procedures And Practice To Respond To ConcernsArgumentative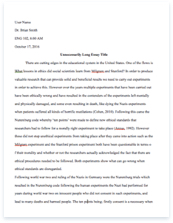 The whole doc is available only for registered users
A limited time offer! Get a custom sample essay written according to your requirements urgent 3h delivery guaranteed
Order Now
Understand the regulatory requirements, codes of practice and relevant guidance for managing concerns and complaints
1.1 Identify the regulatory requirements, codes of practice and relevant guidance for managing concerns and complaints in own area of work
The complaints procedure for my organization outlines the following aims: To ensure that its complaint procedure is properly and effectively implemented and that service users feel confident that their complaints and worries are listened to and acted upon promptly and fairly.
If a service users wishes to make a complaint or register a concern they should find it easy to do so. It is the organisation policy to welcome complaints and look upon them as an opportunity to learn, adapt, improve and provide better service. The policy is intended to ensure that complaints are dealt with properly and that all complaints or comments by service users and their relatives and carers are taken seriously. The policy is not designed to apportion blame, to consider the possibility of negligence or to provide compensation. The Legal considerations followed are Regulation 19 of the Health and Social Care Act (2008) regulated activities Regulations 2009.
1.2 Analyse how regulatory requirements, codes of practice and relevant guidance for managing concerns and complaints affect service provision within own area of work
By ensuring that we have a robust and efficient complaints procedure in the organisation, we are giving the service users and their relatives the confidence that we try and do everything correct the first time and follow codes of practice. If we should not achieve this there are avenues in which relatives or visitors to the home can raise an issue or complain. The guidance this is in place is in line with national guidelines and the local council regarding complaints. The fact that there are regulatory requirements also means that each complaint is dealt with in the same way, but is treated individually, and there are standards for the investigators of a complaint to abide by.
A complaint can feel secure in the knowledge that, in line with guidance, they will not be unnecessarily discriminated against for the fact they have complained and they have clear rights which protect them from any stigma. Having clear set guidelines also enables the investigators and those implicated in the complaint to understand their expectations of the process and feel more comfortable that things are being carried out it a procedural manner. When i myself have had to respond to a complaint, i am able to structure my work following the policy of the organisation, and work the time structions set out in the policy. I have organised my work and setting meetings, gathering information and data and time to write a response of the complaint.
The outcome of the complaint or concern may directly benefit the organisation and a lesson may be learnt from an issue or complaint, this may lead to change in the policies and procedures and working practices, for an individual or a team of workers. It may also identify an additional training that is needed for team members.
Related Topics