Desiree's Baby, by Kate Chopin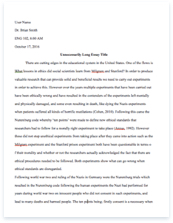 The whole doc is available only for registered users
A limited time offer! Get a custom sample essay written according to your requirements urgent 3h delivery guaranteed
Order Now
The story of Desiree's Baby, by Kate Chopin, is one of bitter irony and leaves you unsure as to which character has reached a happy ending, or indeed if any characters have at all? It can be argued that all the characters come to an unhappy conclusion, but another view is that Armand Aubigny is the `loser' of the tale. It tells the tale of a woman, Desiree, whose origins are unknown, and the scandal and heartbreak that follows when her child is born and is obviously of black descent.
Despite her determined protests her husband, Armand, disowns her, and she drowns herself with the baby in her arms. The bitter irony comes from the discovery at the end, when her husband discovers that it was he that is of black descent, and not Desiree. It is set in the 1800's, before the American civil war; a fact we can learn from the use of slaves on the plantation the story is set in. At this time Black people were regarded as lower class citizens and inter-racial marriages were frowned upon. It is also set in the deep south of America where the slaves were a major factor of every day life.
When the descent of the baby was realized, Armand felt that Desiree had brought shame upon his household and name. From the start of the story, we are given a good impression of Armand as a man who is hopelessly in love with his wife, and `did not care' about her origins. He was from a wealthy well-known family and, when reminded that she was nameless, replied: "What did it matter about a name when he could give her the oldest and proudest in Louisiana? " This implies that he is lovesick, and gives him a noble quality, rather like a prince from the fairy stories of old.
The statement further implies that he is a distinguished gentleman with a large reputation. We learn more about his character in the next paragraph, as his urbulent family history is described, his mother having died young, and his rule on the plantation being a strict one. This statement detracts slightly from the `goodness' of his character and hints at what is to happen later on. The description by Desiree of her husband shows how marriage and the birth has changed him greatly, softening his character and improving his general mood, yet still hints at a darker side.
His aloofness that comes into play at the discovery of the child's descent shows us this darker side, and the vengeance he claims later against God through his wife's heartbreak creates an animosity from he reader towards Armand. It is as if the reader is finally seeing Armand for who he really is. Despite all this bad press against Armand I still feel that he is the real loser at the end of the story. It can be argued that Desiree and the baby have lost the most, as they have lost their lives.
Also Madame Valmonde's viewpoint can be considered, as she lost her adoptive child and grandchild, and cannot conceive he own children. However Armand has lost both his wife, who he loved dearly (although his harsh reaction to her possible descent could dispute this), his hild who would have been his heir, (a very important duty for gentlemen in those times), his dignity (for having fathered a `Negro' child), and his ideal of his mother as a perfect being, as he discovered that she `belonged to the race that is cursed with the brand of slavery. To add to all this, he now has to live with the knowledge that he sent away his wife and child under false accusations, and that he is the cause of their deaths. Under these circumstances I would say that he will have the most to recover from, and is therefore the real `loser'.
Related Topics