Designing a Seamless Hotel Organization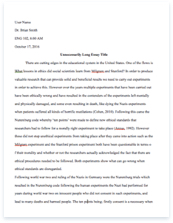 The whole doc is available only for registered users
Pages: 6
Word count: 1466
Category: Hotel
A limited time offer! Get a custom sample essay written according to your requirements urgent 3h delivery guaranteed
Order Now
Born in 1952 Dr. Harsha E. Chacko worked in the hospitality industry in India, Egypt, The Caribbean and finally in the United States.
Dr. Chacko has been a faculty member of the University of New Orleans since 1982 and he is a professor, specializing in Hospitality and Tourism Management & Marketing. He's also a professor at the Lester E. Kabacoff School of Hotel, Restaurant and Tourism Administration in New Orleans.
In his career, he published several articles for the journal « Tourism Management », the journal of Travel and Tourism Marketing and the Cornell Hotel and Restaurant Administration Quarterly.
Dr. Chacko has also been involved in several tourism research projects concerning New Orleans' area for the Louisiana Office of Tourism, the French Quarter Festival and others.
Along with Dr. Richard E. Chambers, Dr Harsha E. Chacko wrote the following book: Marketing Leadership in Hospitality: Foundations and Practices, published in 1995.
He is currently a member of the Hospitality Education and Networking Association, the Travel and Tourism Research Association and the Council on Hotel Restaurant and Institutional Education.
History
The modern hotel industry began in the 1800s. A lot of things have changed in the last 212 years as well as the customers. Nowadays, customers have other needs than before. Because of that the organizational structures had to be changed. Different structures are used (for example: functional structure, divisional structure, matrix structure etc.) The functional hotel organization structure was created during the Industrial Revolution. Important for this structure were for example control while maintaining consistency and efficiency. Organizational structures established from the ancient times of hunters and collectors in tribal organizations through extremely royal and clerical power structures to industrial structures and today's structures. In the last years, these structures and organizations have become very important. The business firm is no longer just a place where people come to work. Most of the employees are more at work than they are at home. They have to identify themselves with their working place. The business firm of the 21st century is not just a hierarchy which guarantees maximum efficiency and profit; it is also the community where people belong to and grow together- where their affective and innovative needs are met.
Issue and Weakness
Over the years, the average hospitality customer has evolved into a more seasoned, quality conscious traveller. His needs are greater than before and, in order to fulfill his expectations, it is now necessary for the Hospitality Industry to change and find a new way to be more efficient. To do so, new strategies must be created and implemented in order to reach higher levels of service quality and therefore allow hotels and other actors of the Hospitality Industry to be competitive.
Explanation
Theory of Chacko:
The pyramid has been the framework of organizational structure for a very long time. This arrangement is a form of a hierarchy. A hierarchical organization is an organizational structure where every person/team in the organization is subordinated to another person/team.
Recent recognition has shown that this traditional pyramid structure doesn't support direct frontline workers. This requires changes and new organizational structure. In 1998 Mr. Chacko proposed a new organizational structure named a seamless organization that divided hotel staff into two circles: The Guest Service and the Internal Service.
This seamless hotel organization structure is designed to be circular, flat and dynamic.
Circular: so that all boundaries of the hotel where employees serve customers are equally accessible. Flat: to reduce the number of hierarchical levels within the hotel Dynamic: to create the flexibility to serve the changing needs of guest.
The seamless hotel organization consists on only two job categories:
The Guest Service GS and the Internal Service IS.
In the Guest Service category will be any employee whose main function is to provide intensive guest contact. This includes the functions of the front office (front desk, communications and uniformed services) as well as food and beverage service and every other service where direct interaction with customers is demanded.
The Internal Service category will include functions in the hotel that support, satisfy and help Guest Service employees so that they are able to serve the guests better. They carry out traditional functional staff like accounting, food and beverage production, housekeeping, maintenance, personal, sales and security.
Guest Service:
One of the main challenges is that every employee in this job must be trained to be multi-skilled and to be prepared to work in cross-functional teams. The first and most important skill must be the ability to satisfy each guest's unique needs. The employees have to be effective communicators so that they can carry out the traditional function of greeting, listening,
handling complaints and problem solving.
The major difference in this new organization is that there is no distinction between the employees even if it is the bell persons, front desk receptionists, food and beverage servers or other GS personnel. That means also that after continuous training, the perfect GS employee will be able to be a door person, bell person, receptionist or a waiter whenever it is necessary. The objective is to create employees who are generalists in hotel procedures but specialists in guest service.
Specifications:
people how can be trained to become multi-skilled
deep commitment to serving guests
learn to be good listeners, effective communicators
willing to solve guest's problems using legal and ethical means. be mature enough to accept the responsibility of empowerment. be trainable in all the procedural aspects of hotel guest service.
The goal for everyone is to be self-directed and capable to move from one team to another depending on organizational needs.
A big problem is to find these types of employees. However there are some companies how succeeded with this organization. A few of them are SouthWest Airlines, Four Seasons Hotels and Nordstrom. These firms believe that effective human resource management gives them a competitive edge even though it is expensive to design service-oriented selection, training and compensation procedures.
Internal Service:
In the category of Internal Service are all the traditionally staff functions included. They need to work in the best interests of their frontline counterpart. In addition to that, they will be divided by technical knowledge into the following areas.
Internal marketing (human resources management)
Financial advising (accounting)
Risk management (security)
Product renewal (housekeeping and maintenance)
Sales and employment security (sales and marketing)
Food production
Specifications:
responsible for preparing operating information
explaining all specialized reports to GS employees
understand their roles as facilitators and not as controllers technical skills
be able to satisfy the Guest Service employees
Very important is that Internal Service people are well and clearly introduced into this new system to understand their new role in the organization.
So that is the seamless hotel organization how now resembles a circle where guests in the center are served by GS employees and where GS employees are supported by Internal Service employees.
This figure shows the principle of circular, flat and dynamic of the seamless organization.
Application of the seamless hotel organization :
HospitalityBiz, a Global Recruitement Company, posted a job offer on the website www.catererglobal.com, on behalf of their client, the Leading Luxury International Hotel Group. They are soon going to open a new hotel in Saudi Arabia and they are looking for a General Manager. The criteria required from the applicants are the following :
Opening Experience
Project Management
Concept Development
Concept Implementation
Rooms Division experience
Revenue Management
Sales and Marketing
Strong Leader
High Standards
Quality Systems
Entreprenerial Flare
Strong Leadership skills
Among many others. As you can see, they are looking for someone who is able to move around and be comfortable in any division. The managers aren't required to be very good, or even the best, in one field anymore , they have to have a diversified experience.
Similarities with the Spider-plant plan
A similar organization is the spider-plant plan. They both are circular, have departments or derivated companies revolving around a central point, they are both made to improve a company's management so they can still be competitive. Moreover, both can be applied not only to a hotel's organization but also to other types of companies.
Conclusion
Dr. Chacko, thanks to his various experiences and a well thought-out theory, came up with an innovative, simple yet effective hotel organization.
The functioning of a hotel is now more efficient, the focus is on the customer's wellness and therefore its satisfactory rate contributes to the hotel's competitiveness.
Sources
Chacko, E.H. (1998) Designing a Seamless Hotel Organization. International Journal of Contemporary Hospitality Management, 10 (4), 133–140. http://dx.doi.org/10.1108/09590119810222096
"Implementing Enterprise Resource Planning in a Hotel"
Minztberg, H. (1979) The Structuring of Organizations. Englewood Cliffs
Goold, M. and Campbell, A. (1987) Strategies and Styles.
Related Topics