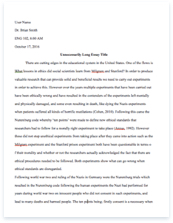 The whole doc is available only for registered users
A limited time offer! Get a custom sample essay written according to your requirements urgent 3h delivery guaranteed
Order Now
It's a mild September afternoon and here I am with my hair pulled up, wearing a white tank top, black shorts and my favorite hiking shoes, enjoying nature at its best. I'm on a trail that I've never hiked before, however I have yet to be disappointed by the views. As I look towards the sun, the few clouds I see floating in the sky are being nudged along by a lazy breeze that is just strong enough to cause my bangs to lightly dance across my forehead. To my left I see a flock birds flying through the air in a v-formation, wings waiving in unison, intuitively flying south for the winter. I continue walking, following the grassy trail as it winds through a field of yucca plants with stiff, pointed leaves resembling pineapple tops. Wild purple flowers with yellow centers grow intermittently around the plants as if to bring a little color to the dryness of the landscape. I pause as a butterfly with large yellow and blue wings flutters from flower to flower, collecting pollen that the colorful flowers so graciously provide.
As I walk further into the field, I find myself under a canopy of trees. The large trunks twist and turn, their thick roots planted firmly into the ground as if playing a never-ending game of Twister. Branches resembling fingers aged by years of arthritis hold leaves that are just beginning to change to autumn colors, a paint pallet of green, red, yellow and brown hues. I watch as a fiery red leaf releases its hold from an almost bare branch and floats down to land in a small, flowing brook that carries the leaf away to its new home. I walk along the edge of the babbling brook as it winds its way downstream through the forest, the shallow water weaving around small rocks and splashing over the occasional twig. Suddenly the trees separate, as if a curtain has been opened, and what I see directly in front of me takes my breath away.
The flowing brook has unexpectedly led me to a waterfall in the most amazing way. The water carried from the brook foams at the edge of an embankment, pushing itself over mossy rocks as it cascades down and crashes into the river below. Mesmerized, I watch as spray from the water blends with the sunlight forming a rainbow across the base of the waterfall and once again, I am one with nature.
Related Topics