Demand Under Perfect Competition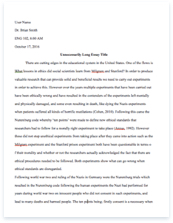 The whole doc is available only for registered users
A limited time offer! Get a custom sample essay written according to your requirements urgent 3h delivery guaranteed
Order Now
1. What type of demand curve does a perfectly competitive firm face? Why? The demand curve for an individual firm is equal to the equilibrium price of the market. The market demand curve is downward-sloping.
2. Explain the different options a firm has to minimize losses in the short run. The firm in a perfectly competitive market can only choose to produce at a loss or temporarily shut down.
3. (The Short-Run Firm Supply Curve) Each of the following situations could exist for a firm in the short run. In each case, indicate whether the firm should produce in the short run or shut down in the short run, or whether additional information is needed to determine what it should do in the short run:
a. Total cost exceeds total revenue at all output levels. Shut down in the short run.
b. Total variable cost exceeds total revenue at all output levels. Produce in the short run.
4. (The Long-Run Industry Supply Curve) A normal good is being produced in a constant-cost, perfectly competitive industry. Initially, each firm is in long-run equilibrium. Briefly explain the short-run adjustments for the market and the firm to a decrease in consumer incomes. What happens to output levels, prices, profits, and the number of firms? There are many factors need to be analyzed to determine how the short-run will be affected. But there is an economy of scales which company will learn how to better produce goods when it stays in business longer.
5. (Long-Run Industry Supply) Why does the long-run industry supply curve for an increasing-cost industry slope upward? What causes the increasing costs in an increasing-cost industry?
Related Topics