Daughters of the American Revolution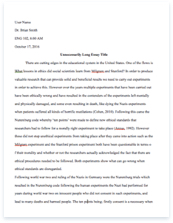 The whole doc is available only for registered users
A limited time offer! Get a custom sample essay written according to your requirements urgent 3h delivery guaranteed
Order Now
"I do not believe that women are better than men. We have not wrecked railroads, nor corrupted legislature, nor done many unholy things that men have done; but then we must remember that we have not had the chance." Now because of the 19th amendment, women will be able to take more chances involving political matters. Pre-1920, women weren't looked at as American citizens, but instead helpers around the house. For many years, women protested, practiced, and preached politics in an effort to gain a political position. As of the coming of World War I, it started to become clear that women were more capable of just cleaning around the house.
After women's inclusion of the right to vote, America began to change direction in different positive directions. Since early ages, women and men's roles had been separated. Women were most commonly given "easier" and more family revolved jobs such as taking care of children, cleaning, cooking, and other various chore-like tasks. These jobs tended to be more secluded from social jobs and political talk. Men however, were typically looked at as stronger, more mature, and smarter than women, so therefore they were given jobs such as hunting, building, and when politics began to rise, government-related jobs. It was commonly thought that because of the men's positions, they had better views on politics. Although it was true that men had more access to political job opportunities, women were very capable and devoted to sharing their ideas. When women were finally given the right to vote, they could share all of their new ideas and views of the government.
Though, like everything else in the world, there were also problems that occurred with the 18th amendment and the journey to obtain it. When the 18th amendment was finally written, it was a big joy for lots of people, but the process of getting it wasn't as merry. Many of the women's protesting styles were violent and inhumane, making America seem like an aggressive place. For a long time, slavery was a very big problem and caused a huge separation between blacks and whites. White people had always been looked at as more important and superior compared to black people. Therefore, white men, especially the rich, had more political representation. However, because of the 15th amendment, African-American men's rights to vote, the government finally began to not be overpowered with white representation. When the women's movement sprung up, most of the leaders were only white females and a lack of African-Americans. When women were finally given the right to vote, it began to unbalance the equality of the two races once again, giving the whites more political power. It was also true for some women that they didn't have much political experience and were too busy taking care of housework to be able to be politically active. However, this most commonly came from anti-suffragists.
The 19th amendment had definitely changed America forever. Women were finally able to see new job opportunities, gain more rights, have political power, representation, and move higher in the social class. Although the journey was hard to get the rights that women have today, it was all worth it. Women's contributions have helped shape America and they continue to do so every day. Despite all of the hate women received from their right to vote, they didn't abuse their new powers, but instead used it in the government to do better and create justice throughout America. It is true today that women and men still may not be equal, but the 19th amendment has helped move all different women to move to help efforts of the growth of women's political representation.
Related Topics