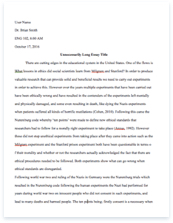 The whole doc is available only for registered users
A limited time offer! Get a custom sample essay written according to your requirements urgent 3h delivery guaranteed
Order Now
Winston, G.C., & Zimmermann D.J. (2000, July). Where Is Aggressive Price Competition Taking Higher Education?
Winston & Zimmermann (2000) examine the effects of price competition on colleges, concluding that this could be a "traumatic thing for higher education" (p.9). The authors find many pitfalls in price competition, searching for corroboration of their conclusions in markets for graduate studies and for-profit organisations. Applying the microeconomic theories to the field of higher education, they strive to arrive at an understanding of consequences price competition of undergraduate programs would lead to.
Pointing to the graduate studies market, the authors find that it has been recently characterized by increasing trend toward "negative tuition" translating into student subsidies instead of tuition fees as a result of fierce competition for student quality (p. 3). Looking at for-profit markets and competition mechanisms, the authors note nevertheless that higher education is very different as colleges combine charitable donations and tuition revenues to cover the costs, in fact giving subsidies to students. Price competition would force them to give even greater subsidies that would eat into their savings – "the excess of total revenues over cost" (p.4).
At this point, the authors argue, highest-ranked and most expensive colleges are the ones that provide their students with the greatest subsidies. This is probably to be expected as they receive the greatest charitable donations. Price competition, it is argued in the article, will cause colleges to increase these subsidies, and the result will be that talented kids will rush to these colleges. This would induce less wealthy colleges to decrease their tuition to stand the competition, and thus further down the line.
The conclusions that students will flock to colleges with the highest subsidies seems correct. Indeed, this would reduce saving at colleges. At the same time, the authors do not explain why these savings are so important and why colleges should hold on to them. Are they the funds used for research? Or are they used to introduce innovative techniques in teaching? Before a thorough understanding of what saving means to colleges and why they are justified in their desire to keep this revenue stream, which the authors equate with "economic profits" at for-profit organisations, the idea that colleges should stick to their saving policies seems dubious.
Some other conclusions appear questionable, too. Thus, the authors conclude that "price competition does appear likely to mean a greater concentration of talented kids at high-resource school" adding that the "social desirability" of this development appears questionable (p.8). However, they do not review the pros and cons in favour of such a concentration. As of now, access to the best educational resources is granted often not to the most talented, but to those whose parents can afford it.
As a result, poor kids remain separated from these resources. This may make the use of educational resources ineffective from the societal point of view: after all, a rich kid who finds Yale's program too above him will not receive much benefit from this arrangement. At the same time, a talented student who graduated from a mediocre institution will have to make a great effort convincing recruiters that he or she has greater capacities than others.
Besides, authors seem to take into account prices and costs for the most part. The article does not consider an important factor that determines college tuition – the subsequent earnings of students. There is no denying the fact that these earnings are yet another reason why renowned institutions may want to improve the quality of the applicant pool by reducing prices. More talented applicants earn more in the long run, some of them returning these earnings to their alma mater through donations.
Thus, Winston and Zimmermann (2000) provide some interesting insights into the possible consequences of price competition for colleges and universities. At the same time, to evaluate the trend, one would need to see it from the point of view of society at large, not just the system of higher education as an isolated entity.
Winston, G.C., & Zimmermann D.J. (2000, July). Where Is Aggressive Price Competition Taking Higher Education?
Related Topics