Culture And Gender Behavior of Mulan From The Movie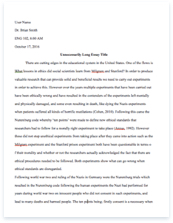 The whole doc is available only for registered users
A limited time offer! Get a custom sample essay written according to your requirements urgent 3h delivery guaranteed
Order Now
I will be dicussing, a girl who disgises her self as being like one of the chinese army man in the movie. Running away and sttealing all of her fathers thing to look apon like the other china's man. Later figures out that's not the way her family pictured her to be. Mulan mother wanted her daguhter to follow in the family traditions of dressing in femininity type clothes and maybe one day being someone's briad, but mulan was not having it she wanted to follow in her fathers foot steps and save him from havng to go battle. Basically mulan is wanting to show that she doesn't have to follow in the same traditios of the family tree bu to follow in her own steps of life and be who she wants tobe. Mulan then gets put into a gender role by eveyone one of feeling like she has to be the typically woman who everyone else sees he as, being from china woman are looked apon by looking and trying to be like a man or wanting to join the army.
Then she goes in cut her hair like a man, changing her self to look and sound like one of the army man, refusing to be what her mother and granmother wants her to be, going to fight her fathers battle because he wasn't fit enough he has already fought most of his life. The culture of the china's army man were co- cultures they all would act and dress the same, sharing the same belifs and wants of fighting for there cultures and learders. The china's leader guy then finds out that mulan is not who she say se was then is cut her off because she lied about who she was and it was also loked apon by a female bei apart of a army, but mulan showed that sociaty shuld nt put you n a box on who you can and ccant be. She then showed some type of masculinity of being dominance, fearless by not letting what the typicallywomen is looked as and contiued on finishing what she started. By coming to fight off the bad guys who wanted to distroy the china's fillages.
Mulan goes in try in worn everyone that the bad guys were still alive, but no one wanted to listen because she was a female and that she did not know what she as talking about. But then mulan proves to everyone that she can handle steping in and taking on instrumental talk by taking charge and getting all the trupus together to save china. Mulan then stops the bad guy accomplishing all t gender steroptypes thy put on women in her cultura by being a womn to step in and save the cjina's head leader, then he honors her with giving he a job to work with him, the other man felt lke mulan was still not a hero for saving china being a women bu that just shows you how mulan didn't let what society pictured her to be stop her from being in doing wha she wants to do.
One of the chines man realized that a women ike her doesn ome by all the time so he goes in visits mulans home and mulan mother and granmther witness a handsome man coming to see there daughter and see's that them both got the best both worlds. T wrap this up, mulan gets to save china and accomplish saving her day to fight and also getting a hndsme man like her mother and granmother pictured he to have, This just showes you that you should not let what your gender in culture blif are top yo from doing and being who you want to be. Mulan over came the steroptype image of women not being able to join army in fight for the culture and she still manage to come out with a man. Her mother maybe thought that being a more mascnity looking wme hat she could end up being someone braid but at the end shows that's not the case.
Related Topics