Critique of ADA and Affirmative Action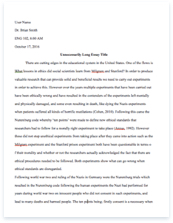 The whole doc is available only for registered users
A limited time offer! Get a custom sample essay written according to your requirements urgent 3h delivery guaranteed
Order Now
In the ever changing workplace of today companies are constantly monitoring to ensure the proper implementation of policies and procedures related to the Americans with Disabilities Act, Affirmative Action, and equal employment opportunities. Throughout modern history incidents of discrimination and matters of civil liberties often initiate changes in laws, statute, or public policies.
In this paper will be presented a critique of ADA and Affirmative Action with pros and cons to determine if they have been effective to overcome past policies, practices, and barriers that affect equal employment opportunities for individuals. The Americans with Disabilities Act
Basically The Americans with Disabilities Act (ADA) makes it unlawful to discriminate against individual with a physical or mental disability in regard to employment opportunities, in state or federal services, transportation, public accommodation, or telecommunication. The ADA was designed to improve conditions in the workplace that would allow individuals with disabilities to participate, contribute, and function in society ("Affirm Able Action Associates," 2012). When the ADA was first implemented there were and still are gaps in the law that allows businesses to ignore ADA compliance policies. Older buildings because of the expense of modification and to equip them they were grandfathered in and allowed to ignore ADA compliance laws.
When businesses or nonprofit organizations are allowed to ignore these laws clients in this vulnerable population are not being served and are being discriminated against. Employers are required to make reasonable accommodation for employees with disabilities. Reasonable accommodation may include any changes or adjustments made to improve the job or work environment that would enable an individual with a disability that is qualified to participate in a job application process or to obtain employment that affords him or her the same benefits or privileges equal to employees without disabilities. The use of the word "reasonable" is vague and open to interpretation, which also leads to ADA compliance laws being ignored.
The ADA has afforded the opportunity for individual with disabilities to obtain higher education or to seek and obtain employment that enables individuals with disabilities to remain independent. Individuals with disabilities can become contributing members of society because of the passage of this legislation The American with Disabilities Act of 1990 and the modified version in 2009. Yes, The Americans with Disabilities Act has made improvement, but still allows too many exceptions, which permits businesses and organization to avoid full implementation of the laws. Affirmative Action
Affirmative Action means "positive action" that is under taken to overcome the present effects of past practices, policies or other barriers that affect opportunities for equal employment. Affirmative Action also helps to ensure that all programs and services are free from discrimination. Positive steps to ensure that the number of women and minorities are increased in areas that represent employment, education, and business from which these individuals have been historically excluded. The Affirmative Action law makes it illegal to discriminate on the basis of race, color, religious creed, age, sex, gender identity, or expression, marital status, national origin, ancestry, intellectual disability, present or a history of mental disability, learning disability, physical disability, sexual orientation, genetic information, or criminal record (Messerli, 2012).
Some people see Affirmative Action as preferential treatment or reverse discrimination because it places White males in the position of compensation of others, while those more qualified for the position are overlooked in favor of individuals who may have minimal qualifications for the job. When individuals from minority groups, women or Blacks are provided jobs or entry into universities it undervalued the accomplishment because it may be looked at as though they were given the position because of Affirmative Action programs. ("Affirmative Action," 2009).
People are divided on both sides of this debate because some believe that affirmative action has served its purpose and helped even the playing field for minorities like women and Blacks to receive opportunities in employment and accepting admission in universities. Diversity in the workplace is improved because of affirmative action. Some stereotypes may be harder to break without the help of affirmative action ("Affirmative Action," 2009)
Others individuals on the other hand, believe that affirmative action places the burden of blame or compensation on White males to makes up for all the past wrong doings to minorities, women, and blacks. Some also believe that affirmative action lower the standard of accountability that is needed to motivate minorities, women, and Blacks to perform better. Some individuals see affirmative action as demeaning because it may imply that women or minorities cannot achieve goals through hard work and ability. Some believe that once affirmative action programs are set in place it is hard to remove them even when the behaviors that resulted in discrimination have ended (Messerli, 2012). Conclusion
As with any type of controversy the ADA and Affirmative Action programs have brought both positive and negative effects on society. Most people believe that there is a need to eliminate discrimination, racial, and sexist barriers that exclude minorities and women from full participation and being productive members in society.
References
Affirm Able Action Associates. (2012). Retrieved from
http://www.disability-access.org/ada.php
Affirmative Action. (2009). In Stanford Encyclopedia of Philosophy. Retrieved from
http://plato.stanford.edu/entries/affirmative-action/
Messerli, J. (2012). BalancedPolitics.org – Affirmative Action. Retrieved
from http://www.balancedpolitics.org/affirmative_action.htm
Related Topics