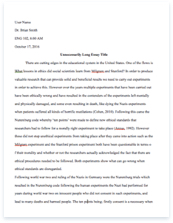 The whole doc is available only for registered users
A limited time offer! Get a custom sample essay written according to your requirements urgent 3h delivery guaranteed
Order Now
Creativity is the use of external stimuli to illicit a concept or idea about an event or situation as well as the production of an art form.  Creativity can be used by artists, dancers, students and employees.  Every facet of life can incorporate the use of creativity.
Most innovations are creations based on a need.  Creativity is used to fill the need or complete the task that has not been completed or filled before.  For instance, the concept of a laptop (portable computer) was not even considered in the 1960s when the mainframe would take a room the size of a gymnasium, but today, the computer can be in the cell phone or blackberry.  These are great examples of technological creativity.
Creativity is being study on many levels from senior citizens to children in elementary school.  Studies of seniors have shown that the use of creativity keeps the brain and body functioning better than those that just retire and stagnate.  Using the mind keeps it strong and when the mind is strong, the body stays healthier (M, & KD, 2007).
Creativity can be broken down to conceptual or self-directed, or experimental or goal directed.  One study by Nielsen, Pickett, and Simonton (2008) showed that students using an experimental type of creativity produced better results than those that use conceptual or self-directed creativity.  Of course the type of creativity, conceptual or experimental depends on the required outcome.  A portrait would be more conceptual, while a maze for the lab rat may be more experimental.
Knowing that creativity is used everyday, some researchers have decided to study the role of creativity in social conflict and job insecurity.  The first study showed that when a person has a social conflict the creativity decreases (CK, & BA, 2008), and the same is true when a person does not feel secure in their job their creative also decreases (Probst, Stewart, Gruys, & Tierney, 2007).  In the situation of the job, the job insecurity does not have to be fact, but can be perceived, in which case the fear actually causes the insecurity and decreased creativity.
One problem that many students have is feeling that they do not have enough hours in a day to study and retain all the information.  One possible creative solution would be to read out loud into a recorder from the text book or questions and answers.  Play the recording while sleeping to help retain the information for exams.  Another creative solution would be to create a study group and each person take a specific section and have them present it to the group.  Not only would the person retain more information but those hearing about it again would also benefit from the presentation.
References
CK, D., & BA, N. (2008, September). Mental set and creative thought in social conflict: threat rigidity versus motivated focus. Journal Of Personality And Social Psychology, 95(3), 648-661. Retrieved January 20, 2009, from MEDLINE database. http://search.ebscohost.com/login.aspx?direct=true&db=cmedm&AN=18729700&site=ehost-live
M, F., & KD, P. (2007, April). Creativity in older adults: a plethora of possibilities. Issues In Mental Health Nursing, 28(4), 389-411. Retrieved January 20, 2009, from MEDLINE database. http://search.ebscohost.com/login.aspx?direct=true&db=cmedm&AN=17454290&site=ehost-live
Nielsen, B., Pickett, C., & Simonton, D. (2008, August). Conceptual versus experimental creativity: Which works best on convergent and divergent thinking tasks?. Psychology of Aesthetics, Creativity, and the Arts, 2(3), 131-138. Retrieved January 20, 2009, doi:10.1037/1931-3896.2.3.131 http://search.ebscohost.com/login.aspx?direct=true&db=pdh&AN=aca-2-3-131&site=ehost-live
Probst, T., Stewart, S., Gruys, M., & Tierney, B. (2007, September). Productivity, counterproductivity and creativity: The ups and downs of job insecurity. Journal of Occupational & Organizational Psychology, 80(3), 479-497. Retrieved January 20, 2009, from Academic Search Premier database. http://search.ebscohost.com/login.aspx?direct=true&db=aph&AN=26978344&site=ehost-live
Related Topics