Convincing own point of view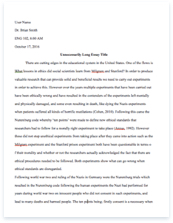 The whole doc is available only for registered users
A limited time offer! Get a custom sample essay written according to your requirements urgent 3h delivery guaranteed
Order Now
There are many times that people make a big mistake when it comes to persuading their audience because some people tend to make speeches or things that are persuasive on their own point of view. However, the audience does not feel comfortable with what the person is doing because of the inability to sympathize that the author has towards the audience. On page 110 it says, "People often pitch an argument that sounds persuasive to themselves, not to the listeners." A good author is going to make something in terms of what is good for the audience, not the author. An author needs to be informed of the audiences that they are trying to persuade.
They need to learn what kind of values, words and gestures the audience expects because if they do not do this they run the risk of persuading themselves, but no one else and that is not the goal. A good tip for when a person is making an argument is that they must persuade the audience that what they are advocating is advantageous to them. However, this method is not going to be easy, it can be difficult to do it because your audience could stonewall and refuse to budge. People refuse to budge when they feel that a persuader is making an appeal that goes against their core beliefs. For example, a problem of logos can be that the audience has made up its mind and would rethink the issue. For example, in the book it talks about how Heinrichs' sister in law, Annie, tried to persuade a friend, Kathy, to vote Democratic but her friend Kathy refused to do this, on the grounds that the Republicans would not raise taxes, and the Democrats would. In other words, what this means is that nothing that Annie said could sway Kathy.
Because the method of persuasion that Annie used did not work, now she can try to sway her friend Kathy by ignoring deliberative rhetoric and instead trying to appeal to Kathy's decision making process which is situated in the future tense and that might be helpful for persuasion. It is important that an author adapts to the common places of an audience. When Annie tried to persuade Kathy to raise taxes, she could have agreed with Kathy's complaints about Democrats and taxes, identifying the commonplace of her audience. Then, she could have argued that Republicans would also raise taxes, and maybe she would have convinced Annie to at least read some articles on politics. Annie advances the argument by accepting Kathy's point about the Democrats but, instead of stopping there, it makes a closely related point which, because she agreed with Kathy, will be much harder to refute.
When a person makes an argument it is important to know that logos can be the most obvious part of an argument, but that is not the only method of persuasion that they can use because there are other methods that can be used to persuade an audience and make them feel comfortable with what they are seeing.
Related Topics