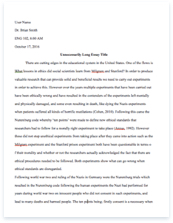 The whole doc is available only for registered users
A limited time offer! Get a custom sample essay written according to your requirements urgent 3h delivery guaranteed
Order Now
Consumers Union is a nonprofit organization that provides information and counsel on consumer goods and services. A major part of its function is testing of different brands of consumer products that are purchased on the open market and then the reporting of results of the tests in Consumer Reports, a monthly publication. Examples of the types of products it tests are middle-sized automobiles, residential dehumidifiers, flat-screen TVs, and boys' jeans. a.) In what ways are the services provided by Consumers Union similar to assurance services provided by CPA firms? The services provided by Consumers Union are very similar to assurance services provided by CA firms. The services provided by Consumers Union and assurance services provided by CPA firms are designed to improve the quality of information for decision makers.
CPAs are valued for their independence and the reports provided by Consumers Union are valued because Consumers Union is independent of the products tested. b.) Compare the concept of information risk in this chapter with the information risk problem faced by a buyer of an automobile. The concepts of information risk for the buyer of an automobile and for the user of financial statements are essentially the same. They are both concerned with the problem of unreliable information being provided. In the case of the auditor, the user is concerned about unreliable information being provided in the financial statements. The buyer of an automobile is likely to be concerned about the manufacturer or dealer providing unreliable information. c.) Compare the four causes of information risk faced by users of financial statements as discussed in this chapter with those faced by a buyer of an automobile.
1. Remoteness of information. It's difficult for a user to obtain much information about either an automobile manufacturer or the automobile itself without incurring considerable cost. The automobile buyer does have the advantage of possibly knowing other users who are satisfied or dissatisfied with a similar automobile.
2. Biases and motives of provider. There's a conflict between the automobile buyer and the manufacturer. The buyer wants to buy a high quality product at minimum cost whereas the seller wants to maximize the selling price and quantity sold.
3. Voluminous data. There's a large amount of available information about automobiles that users might like to have in order to evaluate an automobile. Either that information is not available or too costly to obtain.
4. Complex exchange transactions. The acquisition of an automobile is expensive and certainly a complex decision because of all the components that go into making a good automobile and choosing between a large number of alternatives. d.) The three was users of financial statements and buyers of automobiles reduce information risk are also similar. 1. User verifies information him or herself. That can be obtained by driving different automobiles, examining the specifications of the automobiles, talking to other users and doing research in various magazines. 2. User shares information risk with management. The manufacturer of a product has a responsibility to meet its warranties and to provide a reasonable product.
The buyer of an automobile can return the automobile for correction of defects. In some cases, a refund may be obtained. 3. Examine the information prepared by Consumer Reports. This is similar to an audit in the sense that independent information is provided by an independent party. The information provided by Consumer Reports. This is similar to an audit because independent information is provided by an independent party. The information provided by Consumer Reports is comparable to that provided by a CPA firm that audited financial statements. Chapter 2 Question 2-19
a.) Appropriate accounting and auditing research requires adequate technical reference materials. Each firm professional has online password access through the firm's Internet Website to electronic reference materials on accounting, auditing, tax, SEC and other technical information, including industry data. Engagement performance
b.) Each office of the firm shall be visited at least annually by review persons selected by the director of accounting and auditing. Procedures to be undertaken by the reviewers are illustrated by the office review program. Monitoring
c.) All potential new clients are reviewed before acceptance. The review includes consultation with predecessor auditors and background checks. All new clients are approved by the firm management committee, including assessing whether the firm has the technical competence to complete the engagement. Acceptance and continuation of clients and engagements
d.) Each audit engagement must include a concurring partner review of critical audit decisions. Human resources
e.) Audit engagement team members enter their electronic signatures in the firm's engagement management software to indicate the completion of specific audit program steps. At the end of the audit engagement, the engagement management software will not allow archiving of the engagement file until all audit program steps have been electronically signed. e.) continued
Engagement performance
f.) At all stages of any engagement, an effort is made to involve professional staff at appropriate levels in the accounting and auditing decisions. Various approvals of the manager or senior accountant are obtained throughout the audit. Engagement performance
g.) No employee will have any direct or indirect financial interest, association, or relationship (for example, a close relative serving a client in a decision-making capacity) not otherwise disclosed that might be adverse to the firm's best interest. Relevant ethical requirements
h.) Individual partners submit the nominations of those persons whom they wish to be considered for partner. To become a partner, an individual must have exhibited a high degree of technical competence; must possess integrity, motivation, and judgment; and must have a desire to help the firm progress through the efficient dispatch of the job responsibilities to which he or she is assigned. Relevant ethical requirements
i.) Through our continuing employee evaluation and counseling program and through the quality control review procedures as established by the firm, educational needs are reviewed and formal staff training programs modified to accommodate changing needs. At the conclusion of practice office reviews, apparent accounting and auditing deficiencies are summarized and reported to the firm's director of personnel. Human resources
j.) The firm's mission statement indicates its commitment to quality, and this commitment is emphasized in all staff training programs. Leadership responsibilities for quality within the firm.
a.) The audit firm of Miller and Yancy, CPAs has joined an association of other CPA firms across the country to enhance the types of professional services the firm can provide. Miller and Yancy share resources with other firms in the association, including audit methodologies and audit manuals, and common IT systems for billing and time reporting. One of the partners in Miller and Yancy has a direct financial interest in the audit client of another firm in the association. Yes, it is a violation. 102 violation
b.) Bruce Sullivan, CPA, is the audit partner on the engagement of Xylium Corporation, which is a public company. In structuring the agreement with the audit committee for the audit of Xylium's financial statements, Sullivan included a clause that limits the liability of Sullivan's firm so that shareholders of Xylium are prohibited from suing Sullivan and the firm for performance issues related to the audit. No violation is present.
c.) Jennifer Crowe's audit client has a material investment in Polex, Inc. Jennifer's nondependent parents also own shares in Polex and Polex is not an attest client of Jennifer's firm. The amount of her parent's ownership in Polex is not significant to Jennifer's net worth. No violation is present.
d.) Joe Stokely is a former partner in Bass and Sims, CPAs. Recently, Joe left the firm to become the chief operating officer of Lacy Foods, Inc., which is an audit client of Bass and Sims. In his new role, Joe has no responsibilities for financial reporting. Bass and Sims made significant changes to the audit plan for the upcoming audit. No violation is present.
e.) Odonnel Incorporated has struggled financially and has been unable to pay the audit fee to its auditor, Seale and Seale, CPAs, for the 2009 and 2010 audits. Seale and Seale is currently planning the 2011 audit. 101, no violation.
f.) Connor Bradley is the partner in charge of the audit of Southern Pinnacle
Bank. Bradley is in the process of purchasing a beach condo and has obtained mortgage financing from Southern Pinnacle. Yes, rule 101 violation because he is a partner and it's a new loan. g.) Jessica Alma has been serving as the senior auditor on the audit of Carolina BioHealth, Inc. Because of her outstanding work, the head of internal audit at Carolina BioHealth extended her an offer of employment to join the internal audit department as an audit manager.
When the discussions with Carolina BioHealth began, Jessica informed her office's managing partner and was removed from the audit engagement. No violation because she was removed so there was no cool down period needed. h.) Lorraine Wilcox is a CPA and professor of accounting at a major state university. One of her former students recently sat for the Audit section of the CPA exam. One day, the student dropped by Lorraine's office and told her about many of the questions and simulation content on the exam. Lorraine was grateful for the information, which will be helpful as she prepares the course syllabus for the next semester. Yes, 501 violation
i.) Audrey Glover is a financial analyst in the financial reporting department of Technologies International, a privately held corporation. Audrey was asked to prepare several journal entries for Technologies International related to transactions that have not yet occurred. The entries are reflected in financial statements that the company recently provided to the bank in connection with a loan outstanding due to the bank. Yes, 203 & 102 violation
j.) Austin and Houston, CPAs, is performing consulting services to help management of McAlister Global Services streamline it production operations. Austin and Houston structured the fee for this engagement to be a fixed percentage of costs savings that result once the new processes are implemented. Austin and Houston perform no other services for McAlister Global. 503 no violation.
Related Topics