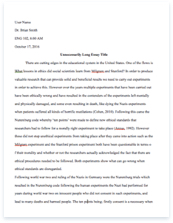 The whole doc is available only for registered users
A limited time offer! Get a custom sample essay written according to your requirements urgent 3h delivery guaranteed
Order Now
As a person of keen interest and enthusiasm towards the field of Computer Engineering fascinated by the inventions and discoveries in this field, I have always wanted to participate in this journey towards technical excellence and be a cog, albeit small, but significant in the wheel of technical evolution. With this sublime goal, I have always strived to excel in my studies and acquire knowledge in the field of Computer Engineering.
Although I gained some knowledge about the basic concepts, my subsequent exposure to Electronics Application in Computer Engineering in my daily life left me with a deep sense of inadequacy and need to know more about it. I am aiming for a comprehensive foundation and understanding of new perspectives in Computer Engineering. I got to observe very closely how rapid advances in the field of Computer Engineering have been constantly changing the lives of so many people. "Where there is no remedy, there is no cure". Cure is the key of lengthy and healthy life. This has led many a great people to invent things to make "cure" a child's play. Computer Engineering has come a long way to enable this happen. I have kept myself update of the new trends coming up in this field.
Interactions with your theoretical & technical expertise of the faculty and the environment in the University will add to my vision. Understanding this quest needs considerable persistence & an infinite capacity to learn. And if at all I can assure you of anything, it is my desire to learn, evinced by the fact, that I have always tried learning, whenever an opportunity presented itself at all points of my life
· I stood among top 3% in the whole state in my secondary education.(Number of students appeared for the examination were approximately 10 lakhs) · I was ranked among top 5% in my higher secondary education i.e., at my Intermediate level in the whole state. · My position in the state wide competitive examination was among top 1% of about 1,75,000 students . · Received second prize in elocution held at school level . · I was rated as the most sincere, hardworking and the disciplined student since my school level.
My alacrity and zeal are not confined to the academic curriculum. As a schoolboy I always took the opportunity to participate in extra curricular activities whenever it presented itself in my way. I had also enjoyed the privilege of being the cultural event manager and student pupil leader at my school level. This helped me nurture organizational and inter personal skills. This tempo I carried along with me for the rest of my student life. I had also been a part of all the college fetes and youth festivals as a volunteer
A thorough browsing through the web pages of your university helped me discover that your university is an ensemble of excellent faculty and innovative research facilities. An environment replete with extensive academic activity and a Master's program at the cutting edge of every other sub-field further enticed me and motivated me to choose your university.
Hence, I am forwarding my application for admission into your esteemed university and request you to give me an opportunity to pursue my agenda for life at your prestigious university. I am aware that your university sets high standards and expects the same from its students but at the same time I am very confident that with my sincerity and dedication, I will be able to meet the high expectations of your university. I would be gratified if you can consider my candidature positively for admission with financial support.
An assistantship besides providing financial support would give me an invaluable research/ teaching experience. I am keen to be a part of the student community at your esteemed university with suitable financial assistance.
Related Topics