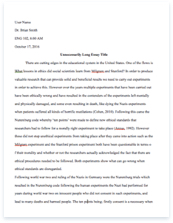 The whole doc is available only for registered users
Pages: 3
Word count: 599
Category: Soldiers
A limited time offer! Get a custom sample essay written according to your requirements urgent 3h delivery guaranteed
Order Now
There are approxitmatley 44 soldiers in a platoon. A platoon is led by a leutinent and it takes three to five platoons to form a company according to the United States Army: Chains of Command. This means that there are approxitmatley 190 soldiers withtin one company that risk their lives for this country- our country. That is almost 200 soldiers that have left their homes with no promise of coming back. However, this is only the mentality that a typical American has because to a soldier combat is a completly different story. It's more than just fighting; to them it is exciting. The author of Combat High;Sebastian Junger, wants to give us a different perspective on combat. He wants us to know how the soliders themself view combat.To most of us combat is losing those we love; while to the soldiers themselves "Combat isn't where you might die- though it does happen- it's where you find out whether you get to keep living" (Junger 65).
A platoon of soldiers were stationed in the Korengal Valley of Afghanistan. They lived amongst eachother not knowing what the day had in store for them. These soldiers lived not knowing if they would fulfill a complete day of life. It was a hot day and there wasn't much fighting. The soldiers were out of uniform laughing and smoking cigarrettes when all of a sudden a group of enemies arrived, and the firefighting began. No one knew what would be the results from this combat. "At some point a call came in over the radio that the Scouts were watching a guy crawl around on the mountainside without a leg. They watched until he stopped moving, and then they called in that he had died. Everyone at Restrepo cheered" (Junger 63).The fact that the soldiers cheered because the man died sounds disturbing. Why would they cheer? That man was just as human as we are or the soldiers that had cheered.
That same night Junger couldn't sleep after what he had witnessed. He couldn't stop thinking about the cheering of the other soldiers. He felt that the cheering was in fact more disturbing than the killing that was going on. "The cheering comes from knowing that that's someone we'll never have to fight again" Steiner- another soldier, said to Junger (Junger 63). Steiner also explained to Junger that "Fighting another human being is not as hard as you think when they're trying to kill you" (Junger 64). Lastly Steiner tells Junger that " People think we were cheering because we just shot someone, but we were cheering because we just stopped someone from killing us" (Junger 64). It's obious that to us none of this will make sense, but to the soldiers it's perfectly justified.
They're the ones that live this everyday reality of having to fight for their lives even if it means taking someone else's. To the soldiers combat is "the only game in town" (Junger 65). It's the only sense of purpose and excitement that they have while being stationed. " I like the firefights" (Junger 65) O'Byrne admitted to Junger once. As you can see these soldiers will continue to risk their lives to keep playing the "game". Like Junger said, "Combat isn't where you might die- though it does happen- it's where you find out whether you get to keep living" (Junger 65). To the soldiers combat is much more than killing or dying; it is living. Combat is being able to survive another day, and being one day closer to reuniting with their families.
Related Topics