Colonnade Crisis Action Plan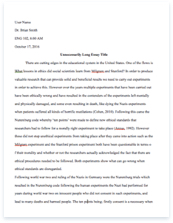 The whole doc is available only for registered users
Pages: 3
Word count: 646
Category: Policy
A limited time offer! Get a custom sample essay written according to your requirements urgent 3h delivery guaranteed
Order Now
Don't panic. Gather all relevant materials and information. Assess the situation by speaking with Kathy, reviewing the email, assessing the Trip Advisor Review, looking at the Tweet and watching the video on You Tube. Additionally, speak with the employees at the hotel Mr. Ward and his wife stayed at to see if anything occurred during his stay there. Might reach out to seek legal advice. Might reach out to get an outside PR Agency involved and informed of the situation. Ask the following questions, were we right? Or were we wrong? Or to what extent were we right? Or which were we wrong? Is this policy a good policy to have? Does the negative outweigh the positive? Understand what is essential to being protected such as reputation, etc. Step three: Course of Action Development
Draft email communication to Mr. Ward and send a personal note to all 13 of the other guests in his party's home address clearly articulating the problem with two to three key message and next steps. Draft email communication to faculty and staff to hold a meeting. Hold meeting to discuss policies and procedures on overbooking policies. During this meeting, discuss different ways the hotel can help manage this process and if there is a solution to the problem.
Step four: Course of Action Selection
Based on the meeting with employees and research of the best way to handle overbookings, Colonnade will implement new policies. Step five: Execution Planning
Communicate with all employees new policies and how to handle situations that arise with overbookings based on new policies. Ensure all employees are up to date on new policies. Inform Mr. Ward as a result of his stay and his situation, we have implemented a new policy. Step six: Execution
Execute on new polices. Respond back to Mr. Ward's twitter message and You
Tube video the new policies in place. Ask for customer feedback to be posted on TripAdvisor upon stay.
Email to Mr. Ward
Mr. Ward,
Thank you for your email. I want to sincerely apologize for the situation that occurred with you and your family during your parent's 50th anniversary celebration. The Colonnade has an overbooking policy that is in place to protect ourselves against no-shows. We attempt to predict the number of rooms we overbook depending on how many no-shoes we are expecting each night and while this is usually 100% accurate, there are times where we are mistaken and unfortunately, you were the guest that was affected. I understand you are upset and had to spend unexpected and unnecessary time making additional travel plans. We would like all our guests to receive the best service possible and would like to help make your next stay as pleasurable as possible.
Please accept a free 3 day stay on us. We would like to show you what we pride ourselves on; exceptional customer service in the confines of a beautifully remodeled 4 start resort. It is our hope you will re-rate us a 4 star on TripAdvisor after you upcoming stay. Additionally, we would like to offer your family a discounted stay at the Colonnade as well. We would like to offer them 50% off their upcoming stay. In order to book, please call our customer service team and provide them the code Z89RTx2 for yourself and P32CaT2 for your family. In addition, I think you have brought to light a policy, while it doesn't occur very often, that needs to be reassessed. I will be holding a meeting with management to discuss the best course of action for our overbooking policy and will share those changes with you after they are implemented. If you would like to call me personally to discuss further, I will happily take your call. You can reach me at 1-866-XXX-XXXX. Again, my apologies for the inconvenience to you and your family.
Related Topics