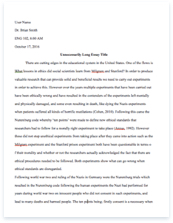 The whole doc is available only for registered users
A limited time offer! Get a custom sample essay written according to your requirements urgent 3h delivery guaranteed
Order Now
Colgate trying to once again be ahead of the competition and inventive decided to develop a new product, a one of a kind in the disposable toothbrush market, the Wisp. This new Wisp would make cleaning teeth and freshening breath while on the go a simple as 1-2-3. The Wisp is a toothbrush that is small and contains bead that is a breath freshener that dissolves while brushing and no need for rinsing. In Colgate's opinion it could not fail and would be an easy hit, no need for water, rinsing or even toothpaste. Plus marketing for this new product in thought should be very simple. However this product needs to gross sales over $62 million in the beginning this is the major problem facing Colgate.
Colgate now has some tough decision facing them because of this Wisp product. One decision the company has is how to market this new product in a way that will not affect the sales of their toothbrush, toothpaste and mouthwash products. The Wisp actually takes the place of these three money making items. The next decision is how to find the right price for this item. The company decided on $2.39 for a four pack of wisp and $7.99 for a sixteen pack. The question is, is it cheaper for a customer to buy a regular toothbrush and toothpaste and just keep them with them at the office, in the car or in their purse than to buy the Wisp. One has to admit they would get more uses out of the regular products for the money. This makes marketing this new Wisp product very important actually critical to the success of the product.
In order for this new product to be a success Colgate has to get the product out to the public especially the target audience. The Wisp actually made a new product category because for once the marketing focus was urban 18-25 -year-old men and women a marketing area that Colgate does not usually campaign marketing plan around. Colgate needs to find a way to introduce the product where college kids and young urban adults hang out.
Related Topics