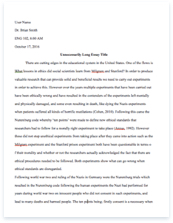 The whole doc is available only for registered users
A limited time offer! Get a custom sample essay written according to your requirements urgent 3h delivery guaranteed
Order Now
While there are many risks that are involved with any product launch of a company, there are also many opportunities to seize. Cole and Parker's business idea is a solid foundation to market to their target market. The biggest opportunity that would need to be identified as their trademark is "Cole and Parker: Socks that Start Businesses" since there isn't another sock company that would aid entrepreneurs to start their own business. This is the key driver in selling their product and gaining market share over other rivals. Other opportunities are to sell in an area where other competitors aren't present or where the market is unsaturated, offer a uniquely priced item, and to capitalize on a unique style of sock, and helping other build their businesses by selling their item(s). There are many risks associated with the startup of a business, but in this case it seems to be worth them.
Cole and Parker has to worry about other competition in the area(s) they choose to market their product, the price point of their product, the design and cost it will take to produce the product vs other competition, which will impact profit margins. In order to get a better idea of the company opportunities and risks, Cole and Parker will have to go out and do a market analysis of other competitors in the USA, since this will be their target market area. The analysis will include surveys of current similar products, physically going to customers and asking their likes and dislikes (of competitors and shoppers in general). From the information gathered there will be a better direction on what opportunities and risks will be exposed for Cole and Parker to execute on. Cole and Parker have all the necessary educational and sales experience that would complement them to succeed with the launch of their sock business plan. It appears that they have done enough research to see what it will take to succeed. Both partners have extensive entrepreneurial skills and experience in order to create a product and market it to the target audience through superior marketing.
Their target market should start with men and if you want to pin an age group I would say 18-35 to start with. It would be smart to start in a region where competition hasn't appeared or where the competition is limited even though this is a product that is unique and could overtake market share from others. Similar to the Marketplace game you would want to see how results end up after the first quarter or so and evaluate after the results. This could end up meaning that you target a completely different market or expand to multiple countries depending on the feedback from customers. Also, different products can be derived from customer feedback that steers away from the common business work sock. Again, this is will be explained through market analysis and sales from the initial product of a business work sock which will hopefully drive sales in order to build capital to expend in other areas of the business. The value proposition is definitely the opportunity to help others with a microfinance loan to help entrepreneurs achieve their dream and make a difference.
With the opportunity to infiltrate the sock market as well as help others this will attract buyers to come to Cole and Parker and make a difference in building the American economy. The biggest driver that will differentiate Cole and Parker from their competition is the pitch of the microfinance organization, Kiva, to help other entrepreneurs to achieve their goals through microfinance loans derived by sales of their product. After market analysis and putting a single product out there in one specific area, then there will be a general idea from solid figures where the company should expand to geographic and product wise. The middle aged man will be persuaded to buy Cole and Parker's socks after the marketing plan is introduced to consumers. All P's are necessary in the marketing plan but Promotion and Place should be their main focus. Starting with the product, which is the sock, will need to be identified as what the sock will look like. Also, the type of style, quality, and colors will need to be addressed.
The biggest opportunity for this product is the ability to help others and grow their own companies in order to have a good economy effect. Customers will use this product because it is starting to be a label item as opposed to a mandatory item that people buy. The product will be used by middle aged men that want to be bold, make a statement, and wear a high quality sock all at the same time. The customers will be based in USA so the funds will go towards helping other Americans start their businesses in the country the items are bought. This will incentivize customers even more to buy the socks that Cole and Parker offer. It will be a secure purchase for customers knowing that a percent of proceeds from their purchase will go towards fellow Americans to help better their life and make an impact on the USA economy. The product will be most beneficial by going with an expensive style in order to capitalize on bigger returns to pass along to the entrepreneur to help out in the loan process.
The differentiation between this sock and competitors will be the high quality sock priced slightly below the competitors in the same market, but the bonus is to help the economy and others to achieve the American Dream. The should be placed in an area after the market analysis is done, but I would suggest doing a combination of the three in order to figure out which is most productive for sales. From my perspective it should refrain from a low end store since the customer base will be more of a need type of buy. Word of mouth, e-commerce, email, and other active channels of marketing will be a key driver of putting the product out there to sell.
Related Topics