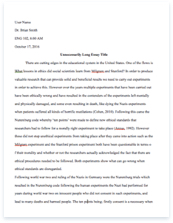 The whole doc is available only for registered users
A limited time offer! Get a custom sample essay written according to your requirements urgent 3h delivery guaranteed
Order Now
Compose a 200-300 word analysis of whether or not the NASW Code of Ethics presented in Appendix C of Ethical Leadership in Human Services is adequate in guiding a social worker through your chosen dilemma. Include the following elements in your analysis:
Resources you would better explore to reach a better understanding of the issue Specific principles or standards from the code, using correct APA citations Examples of how the code guides conduct or fails to guide conduct in regards to this particular issue Explain whether or not the code adequately guides the service provider Evaluate whether the code is adequate for intended use
Make recommendations to amend the NASW Code of Ethics to provide more guidance in this circumstance.
As stated by, Susan Manning, The NASW Code of Ethics is intended to serve as a guide to the everyday professional conduct of social workers. It is to ensure to social work professionals use make the adequate choices for clients through the proper ethical procedures. There are resources that I feel will reach a better understanding of the issue involving me being a tax professional and my potential client wanting to fraudulently commit improper tax preparations. Such resources, would involve other code of ethics displayed by the tax administrative office and the code or ethics that are set by each social work profession could be a helpful resource, too. There are specific principles and standards that can be used from the code such as; "commitment to clients, self-determination, inform of consent, privacy and confidentiality and so forth, as stated by, Susan Manning.
The code does adequately guide the service provider through values and ethical principles of initiative codes. Code of ethics set forth values, ethical principles, ethical standards, to which professional aspire, and by which their actions can be judged (Manning, 2003). These codes of ethics ensure that the service provider is guided the appropriate way. The code is adequate for intended use because it set for ethical values, ethical principle and standards that can be generally used.
Related Topics