Civilization and Savagery in Lord of the Flies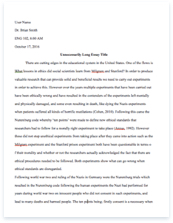 The whole doc is available only for registered users
A limited time offer! Get a custom sample essay written according to your requirements urgent 3h delivery guaranteed
Order Now
The war between civilization and savagery has been a conflict in the human mind since the beginning, but no work of literature illustrates this battle better than Lord of the Flies by William Golding. The novel is a beautifully and tragically written tale of the collapse of social order within a group of young British castaways. Golding continually challenges the reader's perception of human psychology and moral code. As things fall to pieces, we are left to wonder why the attitudes of the boys become so evil, so quickly. As with many things, an explanation of the ultimate tragedy is best given by studying events of the past.
The origin of the conflict is the natural evil in the psychology of the boys. "In each of [Golding's] novels, there is the effort of bridgebuilding between the physical world which contemporary man accepts and the spiritual world which he ignores but which – in Goldin's view- does not ignore him." (Tiger 16) Golding was a believer in original sin, and the fall of man. (Bloom 57) The book as a whole is an exploration of the fall of man, or decay of social order. From losing sight of the first littlun, to the mob killing Simon, eventually giving way to the deliberate murder of Piggy. Everyone takes the pressure or savagery differently. Simon is considered to be on the 'good' side, Roger on the 'bad' side, and with Ralph and Jack being placed around the middle, Jack being more evil-minded than Ralph.
The main conflict in the Lord of the Flies is not the beastie, or the pressing need to find a way to survive. Rather, it is the inherit evil of the boys. Golding is quoted as saying, "Man is a fallen being. He is gripped by original sin. His nature is sinful and his state perilous." (Bloom 57) Golding was a firm believer in the concept that man is evil by nature. The notion that the only conflict was they themselves is first introduced by Simon. Amongst the arguing and speculating of who the beast is, Simon speaks up and says perhaps the most profound line in the novel: "Maybe there is a beast […], maybe it's only us" (89). He has figured this out on his own, which shows us a glimmer of the maturity and wisdom inside him. The other boys do not understand what his suggestion entirely implies, and appear shocked that he would suggest such an idea. He backs down, Golding stating that "Simon became inarticulate in his effort to express mankind's essential illness" (89).
Several small events over the next few chapters show us that Simon's suggestion is in fact, correct. Roger is taking a walk on the beach, and finds a littlun named Henry playing with bugs in the sand. After stalking him from the shadows for a little while, an interesting and significant scene takes place. Golding writes, "Roger gathered a handful of stones and began to throw them. Yet there was a space round Henry, perhaps six yards in diameter, into which he dare not throw. Here, invisible yet strong, was the taboo of the old life. Round the squatting child was the protection of parents and school and policemen and the law. Roger's arm was conditioned by a civilization that knew nothing of him and was in ruins" (62).
Golding shows us in this incident that Roger still feels bound by his old civilized ways. He has a desire to cause mayhem, but cannot allow himself to break the invisible social barrier around Henry. However, a mere couple paragraphs later, we are shown one of the first signs of savagery. Roger is called by Jack to come into the jungle. Once there, Jack reveals to him and some other boys that he has found colored clays and a stick of charcoal. Despite the confused and reluctant faces of the boys, Jack begins forming the clay into his own mask. Golding writes, "Beside the pool his sinewy body held up a mask that drew their eyes and appalled them. He began to dance and his laughter became a bloodthirsty snarling. He capered toward Bill, and the mask was a thing on its own, behind which Jack hid, liberated from shame and self-consciousness" (64).
Now that he is free to hide behind a mask, he does not have to follow societal rules. As Epstein explains, "In this book, as in a few other a the present time, are findings of psychoanalysts of all schools, anthropologists, social psychologists, and philosophical historians mobilized into an attack upon the central problem of modern thought: the nature of the human personality and the reflection of personality on society." (Epstein 205) Now that they can shed their former civilized selves, the evil within their minds begins taking over. They have a fresh identity.
Much like the crumbling of social order, the loss of innocence portrayed in the novel is swift and unforgiving. In the beginning, the boys quickly come to terms with the fact that they are alone and stranded. In the first section of chapter 1, Ralph and Piggy discuss the fate of the plane. They realize that other children had perished in the crash and quickly change the subject. They simply push the shocked feelings and realization of death out of their mind. This is the first of their many painful encounters with adult situations. Near the end of chapter 2, they create their first fire. This fire is not properly contained, and the fire consumes half the island and causes large amounts of damage. The boys realize that a littlun with a very recognizable scar on his face is missing. Piggy presses the issue, saying "That little 'un that had a mark on his face–where is–he now? I tell you I don't see him" (47). The group responds incredulously to the events that had just shaken their new world. (Bloom 24) It is a shock to them, so much so that they do not know how to handle it.
Their young minds simply try to push away the situation, such as they did earlier with the plane crash. They believe that perhaps the situation will not hold as much gravity if they do not answer the looming question. Soon, the children are faced with the task of murdering a pig in order to have a good meal and proper nourishment. Jack seems to be the most strong-willed of the children, and gets the idea stuck in his mind that he needs to be the person to kill a pig. The first time Jack attempts to kill a piglet he fails, recoiling at the thought of spilling blood on himself. However he does go so far as to withdraw his knife and attempt to cut its throat, though he cannot go through with it – "because of the enormity of the knife descending and cutting into living flesh; because of the unbearable blood" (31). His innocence is keeping him from murdering the pig. Jack does not give up on his obsession to kill a pig, and fails yet again after the pig runs off in a stampede, sensing his presence. He insists to Ralph that before they are rescued, he needs to kill a pig (74).
He is slowly losing his fear of taking another being's life. Finally, after painting his face and recruiting his hunters to join him, he slaughters a pig. In the process, he lets the signal fire go out, unknowingly losing an opportunity for them to be rescued. This does not bother him, even after Ralph informs him of the situation. "I cut the pig's throat," said Jack, proudly, and yet twitched as he said it" (69). Nothing about the situation had changed for Jack. It was still purely a matter of him physically taking the life from a living creature. He has just lost his innocence, and was able to do it with less of a guilty conscience.
The main conflict of civilization versus savagery is brought to light in four main events within the novel. These events are choosing a leader, the division of tribes, and the two character murders. They are almost visual steps downwards, each taking the reader to a more complete and inclusive view of their social decline. Golding paces these events out with just enough story between them for us to gather a greater understanding of the boys themselves. We can see Jack's struggle with assumed authority, and feel why Simon needs time to himself.
As Ralph states in chapter one, "Seems to me we ought to have a chief to decide things" (22). The boys become aware of how they are alone almost immediately, and need to implement some sort of social order. This begins with the choosing of a leader, or temporary authority figure. The new group debate who is best suited for the job. "I ought to be chief," said Jack with simple arrogance, "because I'm chapter chorister and head boy. I can sing C sharp" (22). Jack's demanding proposal is turned down, primarily because they see Ralph as more suitable leader. While Jack is the obvious choice, "there was a stillness about Ralph as he sat that marked him out: there was his size, and attractive appearance; and most obscurely, yet most powerfully, there was the conch" (29).
The conch shell is the item that attracts almost all of the votes from the boys, when they decide to take a vote on their new leader. It is because the conch shell brought them together for the first time. It holds an invisible power so, "Ralph possesses the conch shell (a symbol of his "poetic power), which attracts some of the boys to his side, but even that piece of magic is eventually destroyed when the hungers become violent. Physical, force comes to smother magic, religion, creativity, humanity itself." (Bloom 60). Although the conch shell is symbolic of authority and has a heavy influence on the boys, their reversion to savagery is symbolized in part by the breaking of it.
The second main event showing their reversion to savagery is the division of the tribes. Sam and Eric are in charge of tending the fire, which they accidentally let go out while they sleep. They hear noises from fifteen yards away, and get a quick peek of the "beast," who they do not know at the time is only a dead parachutist (98). In the course of roughly the next two chapters, the relationships between the boys quickly unravel. Upon hearing news of the "beast," Jack plans to leap into action, and proposes that him and his hunters go to kill it. Ralph is more logical, saying that the hunters do not stand a chance, with their wooden spears and lack of experience (100). After much heated arguing and accusations of unfairness from Jack to Ralph, the boys decide that they will have a meal, and then set out to find the beast. They do catch a glimpse of the massive creature, but do not stick around long enough to realize that it is only a corpse with a parachute. After running to what they consider safe ground, back at the beach, Jack assembles with children with the conch. He confirms the beast's existence to them, which leads to Jack accusing Ralph of saying his hunters were "no good" (126).
Ralph denies the accusations, but does not try to fight back. After telling the assembly that Ralph is an unfit chief, he says, "I'm not going to play any longer. Not with you." (127) and leaves the group. Although none at first, eventually several of the boys join Jack's new tribe, causing a split into two groups. Ralph's group focuses on preserving the signal fire. He is still favored by Simon, Piggy, Samneric, and a few littuns. Jack becomes the chief of his own tribe, which focuses on hunting, while exploiting the iron-clad belief in the beast. Because they were hunters, Jack's tribe offered meat, fun, and protection. Slowly becoming more animalistic, they apply face paint while they hunt. The division of the tribes is a perfect example of a key aspect of savagery; not being able to rationally cooperate with others. When there was an issue, Jack could not peacefully solve it.
Perhaps one of the most important events in the novel is Simon's death. It truly is a clear signal to all the boys that they are losing any remnant of civilization they had. Once the tribes were located at their respective sides of the beach shore, Simon goes off to contemplate the day's happenings. While he is in his secluded forest area, Jack's tribe is deep within the forest. They stalk and brutally murder a sow, leaving her head on a stick as an offering to the beast. Simon finds the head, and has the famous confrontation scene with the Lord of the Flies. "You knew, didn't you? I'm part of you? Close, close, close! I'm the reason why it's no go? Why things are what they are?" (143) .The illusion of the pig's head talking to him further confirms to Simon that the beast does not exist. After he wakes up from fainting, he journeys up the mountain, still alone. Once there, he sees the "beast," whom he acknowledges as a corpse.
Simon decides that he will go and tell the other boys that there is nothing to fear, and heads towards the fire. "[he] rushes off with the good news to the beach, where the maddened boys at their beast-saying ritual mistake Simon himself for the beast and kill him. As Piggy, the dull practical intelligence, is reduced to blindness and futility, so Simon, the visionary, is murdered before her can communicate the comfortable knowledge." (Bloom 63) The boys are so caught up in their savage "dance" that they mistakenly kill Simon. Their feelings of need to survive had overridden their judgement. The beast truly was inside of them.
Soon after Simon's death, the boys are in denial that it was their fault. Piggy goes so far as to suggest that it was Simon's fault, for sneaking up on them (157). They want to avoid talking about it, because they did not believe they were capable of murder. While Ralph's tribe is asleep that night, Jack, Maurice, and Roger invade their hut. In the process they steal Piggy's glasses, for the purpose of making their own fire. When the boys awaken, they decide to journey to Castle Rock and retrieve the glasses. After Ralph confronts Jack, Roger lets loose a rock from the top of the mountain. It intentionally hits Piggy, causing him to fall to his death (181). This tragic scene is written with the purpose of showing the reader just how low the boys have sunk. Golding writes, "The conch exploded into a thousand white fragments and ceased to exist" (181). As said before, the conch symbolized authority and order for the boys. Now, it was shattered. It no longer exists. Piggy, who had been the most intellectual and logical of the group, is gone. They have physically killed the two best links that they had with civilization. Soon after, the boys all turn against Ralph. They give him a head start, and start to hunt him down. Faces painted, and sharpened spears in hand, they have become completely animalistic.
As Michael Ventura wrote in an article titled The True Roots of Littleton, "We are violent creatures subject to spasms of intense irrationality — and we always have been. […] The human psyche is not a problem to be solved but a paradox to be lived." (Ventura 2) .The entire ordeal had a great effect on the personality of the boys. They transformed from respectable English children to sadistic, murderous animals. "[Children,] always a little nearer to raw humanity than adults, they slip into a condition of animality depraved by mind, into the cruelty of hunters with their devil-liturgies and torture.." (Bloom 63) As the novel progresses, the boys become more and more aggressive. They begin with honest intentions to find order and to survive until they are rescued, and end with malicious intentions based purely on survival. They are ruthless and violent, especially within Jack's tribe. When Roger returns to the base of Castle Rock, he is met with news that Jack is going to beat a boy named Wilfred (159). We are led to believe that the boy had been tied up for hours, and was beaten with no reason.
With this aggression comes added contention for one another. They abuse each other with harsh words and do not give one another a break. Golding writes, "Someone was throwing stones: Roger was dropping them, his one hand still on the lever. Below him, Ralph was a shock of hair and Piggy a bag of fat" (180). This is how we are to understand Roger's murder of Piggy. From his vantage point (literally and figuratively), he is able to take away Ralph and Piggy's humanity. He reduces them to "hair" and "fat," and once their identity is gone, his action no longer constitutes murder in his mind.
There is a very large amount of symbolism surrounding their societal decline. The symbol that we are first introduced to is that of Piggy's glasses, which are essential to him for any hope of sight. Golding writes, "He took off his glasses and held them out to Ralph, […] an expression of pain and inward concentration altered the pale contours of his face" (9). They use these very glasses to create the first fire, and sequentially all others (40). Piggy's glasses strongly symbolize Piggy's ability to "see"–both literally and figuratively. Without them, he is helpless and blind. He is unable to serve as well as Ralph's right-hand man and voice of logic. As Piggy is "blinded," it symbolizes the blindness of Jack's tribe to the evil to which they are succumbing.
As one critic points out, "The dead parachutist shows man's inhumanity to man; he is a legacy of barbarism in both ancient and contemporary civilization who, Golding says, represents history; thus he haunts the boys, a haunting appropriately represented by his uncanny position and motion: the figure sat on the mountain-top and bowed and sank and bowed again (119)" (Martin 52) A second extremely important symbol is that of the "beasty." As the body of the parachutist looms on top of the island, the boys are struck with fear and dread. Despite their best efforts at staying civilized, this "beasty," has assisted in driving them mad. They are surrounded by war and savagery, it is impossible for them to get away.
A third and final symbol within the novel is that of the conch shell. It is used for to call assemblies, and to signify who is allowed to speak. At first, the boys only express their opinions when they are in possession of this simple shell. This ritual causes the boys to be selfish, grasping the conch from each other as often as they can (125). Jack refuses to wait his turn to speak, and civilization suffers a bit more. Eventually the conch seems meaningless to the boys, causing Piggy to scream for their attention (180). Once the conch has shattered, all hope of civilization is symbolically lost. The boys destroy the direct means by which they have authority and order.
The entire novel seems to call out a warning to us all, heeding us from losing our civilization. Although the young castaways make their best efforts at some sort of normalcy, they continually revert to savage ways and never seem to learn from their mistakes.
Works Cited
Bloom, Harold. William Golding's Lord of the Flies. Philadelphia: Chelsea House, 2004. Print.
Epstein, Edmund Lloyd. Biographical and Critical Note by E. L. Epstein. Capricorn Books: New York, 1959. Print.
Golding, William. Lord of the Flies. New York: Penguin, 2003. Print.
Martin, Stewart, and Steven Croft. Lord of the Flies. London: Letts and Lonsdale, 2004. Print.
Tiger, Virginia. William Golding: The Dark Fields of Discovery. London: Calder & Boyars, 1974. Print.
Ventura, Michael. "The True Roots of Littleton." Weekly Wire. Austin Chronicle, 1 Jan. 99.Web. 02 Dec. 2011. .
Related Topics