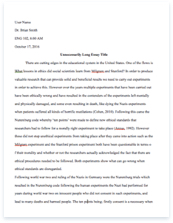 The whole doc is available only for registered users
A limited time offer! Get a custom sample essay written according to your requirements urgent 3h delivery guaranteed
Order Now
Children of all ages have been forced to fight in wars. Wars of all kinds, fought for different reasons, but if you look back on all of them you'll see children. They may or may not know why they are fighting; they simply do as they're told. Everywhere around the world, there is always a war of some kind going on. This global issue needs to be resolved so that children of all ages don't end up being on the battlefield.
A child defines someone who shouldn't be involved in warfare. In the last decade alone there has been an upwards of two million children that have died due to war (Sutten-Redner). This outstanding number raises a huge red flag something needs to be done to stop this from happening. Whether these children were involved or not, they didn't need to die. Even though so many children's lives have been taken due to war; the remaining children that have been affected physically and psychologically require long-term recovering (Sutten-Redner).
The international minimum age for children in armed conflict is 15 years old. In my honest opinion this is unacceptable and the fact that children even younger than that go to war is hard to stomach. Not every child entering the fighting force is voluntary; some are forced to join without any say in the matter. Some join for reasons such as security, food, and shelter. These reasons draw people into volunteering because they tend to come from poorer communities.
There is also the constant threat of kidnapping children; then forcing them to being soldiers. One terrorist movement for example that is notorious for kidnapping is the Lord's Resistance Army in Uganda. As stated by Jane Stutton-Redner in her article Children In A World of Violence, "Its leaders have been known to kidnap thousands of children, some as young as 8, from their homes and schools. They beat and abuse their captives into submission and turn them into merciless killers, fighting against the Ugandan government or in neighboring Sudan." This heart wrenching fact is hard to let settle in knowing that something like this can happen in today's world. The trauma inflicted upon these children doesn't end after the war is over; Killing becomes the only thing they are good at and aren't fit for everyday life in society. Even long after the war is over there are still constant threats that people such as children may forget or not even know exist; land mines. This hidden and undetectable equipment can not only claim someone's limbs, but their lives as well.
When a war ends, both sides don't go back and dig up and remove the land mines from the battlefield. These land mines can last as long as 50 years and no one may even know about them until it's too late. Casualties from these devastating devices can potentially ruin a child's life even if they do not die. The surgeries and the fact that they are now disabled can lead to future problems such as difficulty in finding marriage and work. Knowing the problem is only half the battle. Experiencing this situation hands on can make the difference that helps you make a difference. One thing you can do to see it yourself is to travel. Children of all countries are affected by war and the children are the main victims whether they were soldiers or not. The chance to study abroad can open up windows of hope and opportunity for the children. Whether you're helping to educate, rebuild communities, or simply devoting time to a child can make a large impact. You yourself can make a difference, but what does the government we live in do to stop this global concern? They do nothing.
Jane Stutton-Redner states in her article that "The U.S. government has not ratified the Convention on the Rights of the Child, nor has it endorsed the Ottawa Treaty, and it resists international efforts to enact an 18-year minimum on the age of people admitted into armed forces." The Ottawa Treat is a treaty that bans all anti-personnel landmines. The fact that the U.S. government one of the two countries left in the world to not endorse this treaty is almost as outrageous as them not enacting an 18-year minimum on people joining the armed forces. These children that endure the war lifestyle at such a young age miss out on many things that are necessities for life ahead. They don't experience a real childhood or a proper education that can hurt someone psychologically as they proceed through life even after the war is long over. This can cause the individual to have more violent behavior problems in their future. The children that are involved in the war physically aren't the only ones affected; the simple bystanders get affected as well in a similar manner. Schools get closed all over, you lose your friends, and some lose their homes. All of these things can affect someone and change them permanently.
Work Cited Page
Sutten Redner, Jane. "Children In A World Of Violence." Children In Need Report: Children In a World of Violence. Children In Need Inc., 01 Feb. 2001. Web. 01 Oct. 2013.
Related Topics