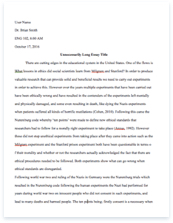 The whole doc is available only for registered users
Pages: 5
Word count: 1079
Category: Computers
A limited time offer! Get a custom sample essay written according to your requirements urgent 3h delivery guaranteed
Order Now
I attained my secondary School education between 1984 and 1990. During this period, I came out with first position in old Bendel State in an essay competition organised by the Federal Government of Nigeria with the theme 'A sure Way to Nigeria Greatness' in the year 1987 having undergone an intensive study through the supervision of my English Teacher who is now a Professor in the University of Abuja and most essentially through my personal assertion. I proceeded to the University of Benin to do a diploma certificate course in the department of computer science (996-1998) during which I gained the basic knowledge in computer applications. The writing skills I acquired as stated earlier, couple with the basic knowledge in computer application galvanised into what I will call a master piece. Though, I could not complete the Diploma in data processing program due to some uncontrollable financial circumstances but what I have benefitted as a result of putting the acquired basic computer knowledge coupled with my writing skills which I put to work cannot be quantified as you will later get to know.
However, I was able to secure a job with the Eleganza Group as a computer based inventory officer due to my proficiency in the use of computer after going through an in-house induction program. It was during this period that I learnt about some accounting software like Peachtree and enterprise resource planning system (EPRS). I later find my duties and task boring due to sitting in an office desk with my eyes glue to the computer for almost eight hours a day. For this reason, I left Eleganza in the year 2000 to join a construction firm as a site store-keeper and time-keeper. I began to have an on- the- job experience by careful observation of site operations and technicalities which I later garnished with my sound knowledge in Chemistry, Physics and mathematics (calculations of concrete volumes, areas, linear meters, ratios, the use of dumpy level to establish heights, cube tests, cone tests, structural integrity test etc. just to mention but a few) leading to an immense display of construction activities which my line manager got to know through the site supervisor.
I was given additional responsibilities as I was promoted severally through being a site foreman, site Engineer to a project Manager due to my continuous display of acumen – I got better with each project knowing that there is always something new to learn and improve upon. In the year 2004, I joined Chesdon Engineering Limited as a Senior Project Manager a position I hold for a year. Having becoming aware of my managerial ability and tendencies, I was motivated to register Pristine Engineering Limited. As a senior Project Manager with Chesdon Engineering Limited, I built a number of Base Transceiver Stations (BTS) for MTN Nigeria/AlanDick West Africa through subcontracting to Chesdon Engineering Limited before I Joined Income Eletrix as a Regional Project Manager overseeing four Niger-deltan states in Nigeria on Telecommunication Infrastructures. As a regional Project Manager, I attend project meetings with other project managers of MTN Nigeria usually twice in a month on how to improve on timely projects deliverability, quality and within budget.
Feedbacks where passed unto the top management of Income Eletrix for appraisal and vetting. As I become aware of my managerial ability and tendency with time and having gained an in-depth experience on the job over the years, I left Income Eletrix and I decided to float Pristine Engineering Limited in 2006. As the Managing Director and Chief Executive Officer, I immediately put my lifelong experience and skills to work as I package an outstanding corporate profile for Pristine Engineering limited using my computer base skills and my project oriented experience which was quite irresistible to many. In 2007, Pristine Engineering Limited got her first BTS site build contract from MTN Nigeria/AlanDick West Africa and earns the best performing subcontractor award for early delivery of project and this again brought more BTS site build contracts thereafter. In 2008, Pristine Engineering Limited secured a Pile Load Test Contract for high rise building (Rainbow Project Trans Amadi Industrial Layout) from Rivers State Government/Cityscape International – a contract which big names like Trevi Construction failed to secure.
Due to my display of technicality in a national competitive bidding for project, Pristine Engineering Limited won a contract from the Federal Government of Nigeria in the Ministry of Power to build the Regional Headquarters of the Transmission Company of Nigeria in 2011. Having been the best performing company among other four companies that got similar contracts in the whole federation, Pristine engineering Limited was further awarded another contract in the Re- construction of the Perimeter block wall fence of Port Harcourt Regional Transmission Substation and switchyard in 2012. Both contracts from the ministry of power are on-going and will soon be completed.
In conclusion, being the founder and the Chief Executive Officer, I look forward to seeing Pristine Engineering Limited metamorphose into a large corporation with a global standing through lifelong learning which I am already imparting unto every member of Pristine Engineering Limited personnel all through from the top managers to the least personnel in the lower cadre believing that the immense and quality contribution from individual personnel through lifelong learning will be a determining factor in achieving the company's goals and objectives. I will continue to strive to do the best in the journey of life. I am fully aware that there is always something new to learn and improve upon which in turns brings about greater efficiency and more productivity with time in the course of life.
Knowing is never enough as I must continue to strive for constant improvement and application of new concepts. The earlier we are engage in the journey of lifelong learning with respect to our core value and objective, the better the resultant effect it will have on our general wellbeing and the society at large. The younger generation need to be engrafted and awareness created in their minds the benefits of lifelong-learning since the earlier, the better the results. Pristine Engineering Limited will enlighten the much younger generation on programs that are tailored towards her goals and objectives and engage them in elementary activities through which they will grow to maturity and constant improvement with a view to preparing them for greater exploits in line with their core values so as to achieve her global mission.
Related Topics