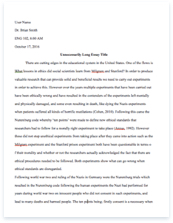 The whole doc is available only for registered users
A limited time offer! Get a custom sample essay written according to your requirements urgent 3h delivery guaranteed
Order Now
The Kansas-Nebraska Act was introduced by Stephen A Douglas with the aim of mandating popular sovereignty in territories and allowing the settlers of a new state to either accept or reject slavery at will. The Kansas-Nebraska Act was a pro-slavery bill which gave Nebraska and Kansas the power to open to and practice slavery. The Act created a great division in Senate between anti-slavery and pro-slavery extremists and later led to a period of violence following its passage called Bleeding Kansas (Blue 6). Charles Sumner was a key figure and an eloquent member of the Senate during the passage of the Act. However, he was extremely against its passage since he supported abolitionist ideologies. He was also a social reformer and advocated meticulously and candidly for liberal causes. Charles Summer was, on the other hand, an outspoken supporter of the emancipation of the blacks and championed the call for their rights. His support for abolition was a definitive stand that Charles Sumner embraced to ask and promote justice. This paper seeks to outline the life of Charles Sumner, his political alignment, and values that could have motivated his stand against the Kansas-Nebraska Act.
Charles was born on 6th January 1811 in Boston in a family of nine. He was the eldest son in his family and he had a close relationship with his father. His early life and close interaction with his father, Charles Pinckney Sumner who was an educated lawyer from Harvard Law School played a key role in shaping his values and ideological standing since his father was an abolitionist (Sumner 2). This developed and nurtured Sumner's zeal for law and shaped his passionate abolitionist values and dislike for slavery. Pinckney also taught Sumner that it was pointless to have freedom without justice. Later, younger Sumner joined the Harvard Law School to pursue law and started practicing law in Boston after graduating in 1833. He spent the remaining part of the decade studying in Europe.
In 1840, Sumner returned home and became a lecturer and an editor. His outspoken opinions were well complemented by his powerful voice, oratory skills, and physical appearance to shape his career. Although he resumed practicing law, he had more interest in social issues which led to his unwavering support for reforms by crusading for many causes such as educational reforms, world peace, and prison reforms (Sumner 4). As a social reformer, Sumner used his commanding and influential voice with excellent orations to create awareness about the social issues ailing America. Resultantly, Sumner became a household name which saw him frequent different gatherings and give speeches to supporters hence moving crowds with his sonorous voice and rhetorical style (Sumner 5). These platforms solidified his antislavery opinions and values and transformed him into a radical abolitionist. For instance, he was part of the "Conscience Whigs" which was instrumental in opposing the Mexican American War publicly due to its possibility of expanding slavery.
Sumner played a significant role in making slavery an important topic in American politics. However, he was personally dissatisfied with the conciliatory position held by Whigs on slavery. In 1848, Sumner helped the formation of the Free Soil Party which pushed for his election to the US Senate in 1851 representing Massachusetts (Sinha 243). Once in the Senate, Sumner continuing spreading his antislavery sentiments and expressing his public opposition for slavery and bills promoting its spread such as the Fugitive Slave Act and Compromise of 1850. When the Kansas-Nebraska Act was passed by Congress in 1854, Sumner rebuked it and its supporters for propagating and supporting the spread of slavery (Sinha 253). Sumner believed that the Act was a crime against Kansas and denounced it as a swindle whose supporters including its authors, Senators Stephen A. Douglas, and Andrew P. Butler were slavery myrmidons. Two years later, the rivalry between the anti-slavery and pro-slavery proponents which was sparked by the bill resulted in violence in Kansas which was called Bleeding Kansas.
It is through these monumental contributions of Sumner in crusading and championing for the abolition of slavery and the promotion of equal rights for the Black Africans that he can be termed as a social reformer and an abolitionist. His anti-slavery sentiments which were developed since his childhood days were publicly expressed. Other than his father's influence in shaping the anti-slavery opinions and radical abolitionist values, Sumner's education in the Harvard Law School also played an instrumental role in shaping his astute nature (Donald 9). This shaped his interest in social reforms including prison reforms and educational reforms. His exposure to the world complemented his anti-slavery values which became apparent in his firm stand against the vice. Notably, Sumner's outspoken nature was explicit in his public denouncement and rebuke of pro-slavery bills and slavery myrmidons like the Kansas-Nebraska Act.
In conclusion, it must be appreciated that Sumner was an outspoken opposer of slavery. Since his childhood days, his father developed and shaped his anti-slavery ideologies and values that saw him hate and abhor slavery. His educational background in the Harvard Law School also helped him to become an astute crusader of anti-slavery and social reforms. Essentially, propelled his political career as a Senator where he continued to fight slavery and publicly oppose pro-slavery bills such as the Fugitive Slave Act, Compromise of 1850, and the Kansas-Nebraska Act.
Related Topics