Centers for Medicare and Medicaid Services and Reimbursement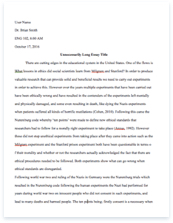 The whole doc is available only for registered users
A limited time offer! Get a custom sample essay written according to your requirements urgent 3h delivery guaranteed
Order Now
1. The Question
I believe national certification is important with respect to billing and reimbursement. National certification is often required in order to acquire proper credentials. For example, certification is now required to acquire a credential from Medicare, Medicaid, and the Department of Veteran Affairs. Health insurance companies also require certification for credentialing. APNs who are Medicare providers must be a participating provider, which means they will "accept assignment;" the allowable charge determined by Medicare. As of May 2007, APNs need the following qualifications to be a Medicare Provider: a state registered nurse (RN) and advanced practice registered nurse (APRN) license, national certification in an advanced nursing specialty, a master's degree in nursing, and a national provider identifier (NPI) number. Clearly, APNs should be paid for services rendered for health care whether they work independently, share a joint practice with a physician colleague, or are employed with an institution or provider network.
However, there are some barriers and issues that prevent APNs from receiving reimbursement. To increase the likelihood for reimbursement, our APNs must unite , consolidate, and take some measures. I would like to discuss some issues and steps APNs must take regarding reimbursement as followed. First, why do APNs not receive equal reimbursement? The Medicare Payment Advisory Commission examined the payment differentials between the clinicians and physicians. Since the nature of billing codes is imprecise, the Center for Medicare and Medicaid Services was not able to distinguish the different categories of clinicians who provide similar services. They have this assumption that physicians are better prepared to diagnose and treat patients that have severe illnesses. Contrary to this, anecdotal reports stated that other clinicians sometimes spend more times in checking and treating patients with severe illnesses or who are in critical conditions, which made the physicians care for a greater number of patients with lower acuity. Whenever a physician and clinician bill for the same service, it is very difficult to tell if the physician saw a more complex patient.
Due to these uncertainties in comparing their services, the Commission is reluctant in altering the payment differential. From that discussion, every provider must be familiar with some fundamentals about Medicare. First and foremost, there is Medicare Part A, which actually covers skilled nursing home, hospital, and home health charges; and then there is Medicare Part B, which then envelops most outpatient services, the care that patients in particular obtain from a doctor's office (Fishman, 2002). When it comes to the "incident of billing," the Commission decided to consider that services rendered by clinicians who are not physicians but billed as "incident to" must be paid 100% of the physician fee schedule. The Commission stated that the incident care fee is predicated upon the care or service provided by the team, with the non-physician giving the direct patient care services and the physician taking responsibility to the overall welfare of the patient. They concluded that the team approach to care provided value which warrants payment at the full rate (Edmunds, 2002). 2. General Issues
APNs should first begin with comprehending their involvement contracts with health care plans to ascertain the following items: if a health care plan will give credit to the nurse practitioner involved and will consequently assign a provider number, if there are any appeals procedures for denials of claims, if claims such as billing under the administering physician's name or direct billing ask for requirements to be submitted with a specific timeframe, and if all specific services are covered. On another note, nurse practitioners familiar with various requirements when it comes to documentation to sustain appropriate CPT coding should refer themselves to the HCFA rules and the Federal register for guidelines. The nurse practitioner should actively participate on internal audit of documentations that support the CPT code billed. 3.Medicare Reimbursement Process Issue
Many APNs inaccurately presuppose that receiving an APN license eliminates all obstructions to getting reimbursements for all their services by the insurance companies. The primary goal obviously is to achieve "direct reimbursement," which basically means being able to bill in the APN's exact name and not that of or under the physician. This is because being billed under a doctor's name austerely propagates the invisibility of the nurse practitioners. The frequent misconception of many APNs about Medicare is that if a contributor gets a Medicare number, he or she will be reimbursed mechanically by every other insurance corporation, including PPOs and HMOs. That is very wrong since insurance companies create their own precise policies. It can be said that what one company permits, another one might not. To accomplish this goal of straightforward reimbursement, APNs have to be "empanelled" by a reimburser or have to get a "provider status." The methodology for Medicare had primarily implicated achieving a PIN or a Provider Identification Number, which has now transformed into the new NPI. 4.Medicaid Reimbursement Process Issue
The lack of consistent progress in the Medicaid hospital reimbursement processes has left the nurse practitioners confused and disappointed over the past few years. Progress towards simplifying the Medicaid reimbursement process has been slowed by the absence of relevant policies in hospital reimbursement, memberships, and the level of access for the members. The lack of priority and actions from the leaders of healthcare to implement the policies for the Medicaid hospital reimbursement processes resulted in the decline in the productivity of the program and posed major setbacks for nurses. With the necessary improvements not being achieved, the government is left with nothing to use in integrating the needed reforms in the Medicaid hospital reimbursement processes. 5.Conclusion
Reimbursement issues have become challenging to APNs among the critical areas that NPs should know in the following areas: the reimbursement process and the contracts and documents required. They are expected to take possession and responsibility of the procedure on reimbursement. To increase the likelihood for reimbursement, some steps APNs must take. First, if the APN decides to become directly involved in reimbursement procedures, it is strongly urged that a professional billing advisor be contracted or hired. This advisor serves to provide the APN with the latest and most accurate information regarding this vital process to ensure the APN's financial viability.
Second, payment for performance; in the future, APNs may find themselves being reimbursed under a pay-for-performance plan (P4P). NPs must be in on the ground floor to include nursing measures in the variety of methods used to reward providers financially for achieving targets. It is clear that payment will be linked to measures of performance and APNs are not present at the table, as federal and private programs such as P4P are being developed to link quality improvement to payment. Third, using information systems and telehealth to enhance reimbursement is very important. Information technology (IT) is an APN's responsibility that is steadily increasing in importance. Electronic budgeting assists APNs in planning and managing cost and running a business from day to day. Electronic billing and coding is very useful application in IT. The ability to track reimbursement and to interface with payers electronically is exceedingly time advantageous and cost effective (Miniclier, 2000).
References
Hanson, Charlene. (2009). National Provider Identifier Number: Medicare/Medicaid Provider Numbers, Reimbursement. In Hamric, A., Spross, J., & Hanson, C., Advanced Practice Nursing: An Integrative Approach (pp. 616-617). St. Louis, MI: Saunders Elsevier. Hellier, Susan., & Ramponi, Denise. (2012). What NP Graduates Need to Know About Certification. In http://nurse-practitioners-and-physician-assistants.advanceweb.com/Student-and-New-Gra d-Center/Student-Top-Story/What-NP-Graduates-Need-to-Know-About-Certification.aspx . In NPs and PAs.
Related Topics