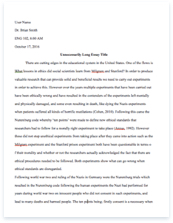 The whole doc is available only for registered users
Pages: 3
Word count: 668
Category: Airline
A limited time offer! Get a custom sample essay written according to your requirements urgent 3h delivery guaranteed
Order Now
1. What are the most strategically important internal resources and capabilities? JetBlue's internal resources and strategy has set them apart from the major airline companies as well as regional airline companies. JetBlue uses a Hybrid Carrier model that gives the airline company a niche in the industry by allowing low cost to the customers without depriving them of a full service flight. JetBlue's has differentiated themselves by providing travelers with snacks and beverages free of charge, most airline companies today now charge a fee for any snacks given on board. While soft drinks and juices are usually complimentary on most flights, most airline companies will add the price of beverages into the customer's plane ticket so it seems complimentary. They also provide services such as extended legroom and priority boarding to frequent flyer customers.
The low cost fare is mixed with the feel of flying with a major airline. JetBlue also uses a single-type of aircraft in order to reduce costs. Airbus A320 planes are less expensive than a Boeing plane and they can hold more people. The quality of the human capital the JetBlue entails, exceed many other airline companies. The pilots are knowledgeable and helpful enough to get aircraft's off the tarmac as soon as possible and will even help clean up planes in between flights. JetBlue also has one of the lowest incidents of delayed flights, and mishandled or lost baggage.
2. How can these assets and capabilities be leveraged most effectively? With the upper hand of having to deal with only one aircraft, it allows training costs to low and increase personnel utilization. This also keep maintain the aircraft very easy since every aircraft has the same parts that are in the same place. With not having the strain of being merged with another airline company JetBlue has free ability to fly where they want at the cost they want. JetBlue has taken the regional airline flying experience to a new level by transporting in and out of hubs that are less busy but still close to where the customer needs to go. With this ability JetBlue has grown from having 12 destinations in 2000 to 75 destinations in 2012 that include Puerto Rico and 12 countries in the Caribbean and Latin America.
3. What are the key forces in JetBlue's external environment that shape its strategy? Competition: 18 Major airline companies, and six regional airline companies, at the end of 2012. Many of these companies have consolidated or merged with other airline companies. JetBlue has worked with international companies and has sold some shares of their common stock to airlines such as Lufthansa, a German airline. However, JetBlue has yet to merge with an American airline, which gives them the ability to stick to their low-cost fares with the feeling of flying on a full service flight. Recent increases in fuel costs have pushed JetBlue to increase their fare prices from an average in 2006 of $119.73, to $157.11 in 2012.
The average cost of fuel per gallon has gone up by $1.13 in the last 6 years. Although the fuel costs have risen JetBlue has continued to expand their operation by increasing the number of departures and the number of employees. Even though JetBlue had a net loss in both 2006 and 2008, the main reason behind the net loss being the rising fuel costs, JetBlue's net income from 2011 to 2012 had increased by 42 million. This also increased their shares from $.31 to $.45 per share. Although JetBlue has hit a recent snag since the economic downfall of 2008 and the incident on Valentine's Day 2007, which cost the airline about $30 million as well as loyal, trusting customers, JetBlue seems to be out of the woods. The "JetBlue Experience" combined with their recent cooperation with international carries such as Lufthansa, and LAN as well as Virgin Atlantic, these partnership look to be taking JetBlue to the next level in flying around the world.
Related Topics