Career Services Focus on Soft Skills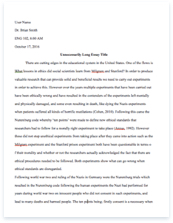 The whole doc is available only for registered users
A limited time offer! Get a custom sample essay written according to your requirements urgent 3h delivery guaranteed
Order Now
Soft skills are personal attributes that enhance an individual's interactions, job performance and career prospects. It focuses on personality traits, social graces, communication, language, personal habits, friendliness, and optimism, which characterize relationships with other people. Soft skills relate to a person's ability to interact effectively with coworkers and customers and are broadly applicable both in and outside the workplace. They are important in my HR career field because person's soft skill is an important part of their individual contribution to the success of an organization. Especially those dealing with customers face-to-face like HR managers/specialists. Companies tend to be more successful, if they train their staff to use these skills. Screening or training for personal habits or traits such as dependability and conscientiousness can yield significant return on investment for an organization.
For this reason, employers in addition to standard qualifications increasingly seek soft skills out. Soft skills may be more important over the long term than occupational skills because, just like in the HR field, the ability to deal with people effectively and politely, more than their mere occupational skills (code of ethics, projects, meetings, benefits, pay etc.) can determine the professional success of an HR. It doesn't matter how good you are at what you do in your field, if you cant get along with others, if you cant communicate properly with other, in the end you are hurting the company you work for. In the field of HR, soft and hard skills are prioritized.
Hard skills (your actual job in your field) are a priority for being an HR specialist or manager. These include being organized, multitasking, discretion, business ethics, dual focus (considering the needs of both employees and management), employee trust etc. But since you have to deal with people, soft skills are also enforced, because to build trust you need to be able to communicate and show people skills. Employers value them so highly because soft skills determine whether recruits can get along with co-workers, articulate ideas, engage in critical thinking and solve problems on the fly. Employers have a hard time trying to find that right combination of hard and soft skills.
Sources
"Employers Look for 'soft Skills'" The Journal Gazette – Fort Wayne, IN. N.p., 30 June 2013. Web. 12 Aug. 2013.
Schleifer, Jay. "The 9 Essential Skills of Human Resources Management – How Many Do You Have?" HR Daily Advisor. N.p., 18 July 2006. Web. 12 Aug. 2013.
"Why Soft Skills Matter." Mind Tools – Essential Skills for an Excellent Career. N.p., n.d. Web. 12 Aug. 2013.
Related Topics