California Sutter Health Systems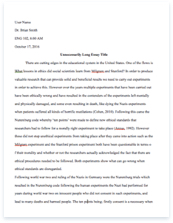 The whole doc is available only for registered users
A limited time offer! Get a custom sample essay written according to your requirements urgent 3h delivery guaranteed
Order Now
This paper will provide a brief description of the critical problems and issues California Sutter Health Systems has faced. It will also include supported data, the solution implemented within the organization, and, finally, the results achieved through the process. Lastly, there will also have a few organization to show similarity in their health facilities and the strategies in which they attempted to take on the contrast to the methods used by California Sutter Health Systems.
California Sutter Health Systems In 2006, The California Sutter Health Systems, who was labeled as one of the largest non-profit community-based healthcare organizations in the Northern California, identified a concerning shift of an increase of days in Accounts Receivable (A/R) that coincided with the decrease of amounts that should have been collected from patients or were patients' responsibility. After researching the trends that cause the issue, it was determined that the results show an increase in higher deductible health care plans provided to patients through the jobs. There was also an increase in the unemployment rate due to the decline in the local economy also played a part.
After recognizing that there is issue with collections of patients' dues, the California Sutter Health Systems decided to review the policies and producers they currently had in place and was determined to find a suitable shift to make changes within the old trends. California Sutter Health first wanted to make changes that would not affect their capital expenditures, such as new accounting system or the need to restructure exiting revenue or collections departments. The article shared that "in analyzing its revenue management cycle prior to implementing the new program, California Sutter Health was able to identify several problems" (Souza, 2007).
California Sutter Health Systems were able to identify three main struggles by reviewing and reorganizing. The main objective was to overcome and accomplish these issues with limited changes to the organizational current structure. The first step was to have Patient Financial Services (PFS) to obtain the information in real-time which meant to receive payments from patients when services are rendered, not having on-hand information to give estimated this restricted the organization ability to collect. Due to the lack of ability to collect, or ask for money, led to very low collection percentage. The second problem that accord was there was no access to financial and operational benchmarks, which included the accounts received and the cash collections.
This created limitation results needed to set goal, monitor progress, or manage individual departments or the organization as a whole. Certain methods are used to obtain information required to make special request which resulted in programmers having to gather data and utilize complicated codes to generate these specific reports. It was unfortunate, the time these reports were created, data was not update. Therefore, the report was not beneficial (Souza, 2007). The third problem was identified once again, is real-time information, this time in the Central Business Office (CBO). Within the current state, CBO staff only access information on outstanding accounts assigned to them, restricting them from being able to work according to priority, plus they couldn't ensure that they are on task in relation to their department goals or benchmarks (Souza, 2007).
With the revelation of these two very significant issues came the need for California Sutter Health Systems to pursue a method to improve their collection issue and significantly decrease the number of days accounts were in A/R. By first understanding was identifying other ways for managers and leadership to obtain the necessary information to determine the target goal, oversee department objectives, and make executive decisions promptly and ensure action when necessary. This results in the creation of specific reports that focused on the managers/leaders and their responsibilities inside the organization. These reports were the implemented into the manager's dashboard they could access, providing them accurate, to-date information on billed and unbilled A/R, A/R percentage in aging categories, and A/R days in accordance to significant payers.
This dashboard also allowed managers to keep up and monitor individual and team progress, as well as create problematic reports as needed. The next step for California Sutter Health Systems was too sure that their front office staff, or admissions staff, were adequately educated on how to collect payment for services rendered. SHS also needed to implement training for all staff (PFS, front-end, admissions, and CBO) The first shift in the California Sutter Health Systems' culture was a change in mentality form merely "working for the organization" to "assuming responsibility" for the accounts they managed. In other words, "each person in the central business office owns his or her own business, complete with a customized dashboard to track progress in meeting individual and team targets" (Souza, ).
This dashboard, similar to the one the managers had access to, allowed staff members the tools needed to improve the way the worked and managed accounts. Through the management of their staff, California Health was able to improve their ability submit "clean claims" for payment as well as provide training for staff on how to collect fees deemed patient responsibility from the point of admissions or prior to the services being rendered. This tree hour, hands-on, participant-driven training resulted in an online competency that had to be completed in order to receive a production user ID. Ultimately, a production user ID was required for employment, so if an individual were unable to finish, they would not be considered employed. The result of this training was fully engaged, competent staff that could accomplish all job responsibilities without significant turnover or adjustments in salary according to skillset.
The results of this project were providing for California Sutter Health Systems. After the first several months of implementation, Sutter Health reported days in A/R outstanding as 59, a significant decrease from 65 days. With each of these days estimating at 13 million dollars, this gave a recorded increase in total collections as $78 million. These totals were the sum of the nine hospitals in the California Sutter Health Systems region (Souza, 2007). Methodology Comparison The approach by California Sutter Health Systems is similar to that utilized by the Greenville Hospital System (GHS) University Medical Center. Powell, Hindman & McMillan authored an article, title Responsibility-based A/R Reporting: How one Health System Drove Performance with Analytics, where they gave a detailed account of how GHS decreased their reported days in A/R from 66 to 57 days I 9 months. Greenville Hospital Systems in that their A/R timeframe and patient collections were not coinciding with the goals they had for their organization.
Parallel with the obstacles faced at Sutter Health Systems, Greenville Hospital had significant barriers when it came to their reporting systems (for both management and staff) as well as the skillset of their employees. GHS also conducted an internal review, determined that they needed a department redesign for their financial services (including patient financial services, centralized billing offices, revenue cycle divisions, etc), combining them all into one business office. They also determine that, like SHS, they needed to promote a responsibility-based A/R culture in their staff. While the timeframe for the Greenville Hospital System's transformation was lengthened compared to that of Sutter Health, the results were similar. Greenville Hospital System documented $2 billion in annual revenue, and as result of the conversion to their new processes, they reported a reduction in A/R days by a total of 9 days.
With each of these day estimating at 24 million dollars, this gave an estimated increase in total collections as $45 million (Powell, 2009). In regard to revenue cycle, healthcare organizations are faced with more obstacles than ever before. Between "stricter regulations and billing requirements, more thorough preauthorization and precertification, underpayments and greater delays in payments" management of revenue cycles are becoming a measure the financial service teams playing significant focus (Rauscher, 2008). Ensuring that teams dealing with these functions and series in healthcare had adequate information and tools at their disposal in order to complete these tasks would be a priority.
A dashboard system, like that implemented at Sutter Health and Greenville Hospital Systems seems like a promising and appropriate tool for this method. With the concept of A/R responsibility, each member "understanding his or her own responsibility with respect to collecting cash and managing a slice of A/R" (Powell, 2008). While the push was to collect funds in quantity and speed, here it is essential to identify that while Rauscher, suggested that there was a negative relationship between rate of revenue collection and the amount of revenue collection, statistics do not support that. However, within their study, there was the revelation that healthcare systems that reported higher speeds of collections also reported higher totals related to charity care (Rauscher, 2008). While for taxation purposes, this may seem like a useful statistic, it must be questioned if it was the financially appropriate adjustment to make on the part of the healthcare organization.
If alternate payment options were available, such as third- party payers or local/regional organizations that would assume payment, it might be beneficial to ensure they were also considered. Another method that would be beneficial is the fact that collections do not always happen in once place and that consistent attempts could provide a higher chance of collecting for services rendered. With changers in the economy, the integration of plans through the Affordable Care Act, high-deductible plans, and the rise in in uninsured/underinsured individuals, out of pocket costs for patients is increasing steadily. DeSoto shares that there are five beneficial periods in which to attempt to collect balances: pre-registration/scheduling, admissions, time of service, discharge, and post-billing. Incorporating this mentality into a Patient Financial Services Center it would potentially increase the collections rate.
When considering the fact that "collecting dollars from third-party payers typically is easier than collection from patients" it is vital that staff are appropriately trained and persistent in their attempts to obtain payments (DeSoto, 2016). The employment of a dashboard system and integrating an updated training strategy for staff member is ideal. Not only does this provide real-time, accurate data for staff members to utilize when interacting with patients, payers, organizations, and alternate healthcare entities, it also ensures appropriate individuals and departmental goals that are accessible to the associate. By ensuring that staff members not only have the tools they need to perform the job duties assigned to them but also by guaranteeing a high level of competency within departments and specific job roles is a benefit to the organization as a whole.
Opinion of Approach on Sutter Health System Upon review of the process taken by California Sutter Health Systems, it seems they took appropriate steps in remedying the issues they identified. By determining that there was an increase in the number of days accounts were in A/R and noticing that there was a significant decline in the number of dollars collected by patients for the total deemed their responsibility, it was an accurate observation for SHS to make adjustments to these areas. Integrating the new reporting system allowed for all staff, including management, to have real-time information, which held everyone accountable for not only their own accounts, but kept the team focused on specific benchmarks and goals set forth by the organization.
Furthermore, by ensuring each staff member had the same approach and competency when dealing with patients not only created an overall flow within the department, but also was consistent patient experience. This would in turn, provide a repetitive culture of returning patients to experience. Conclusion The California Sutter Health Systems, while being large in nature and size, allowed for its revenue to match its stature. This larger than life organization shifted its culture from passive to aggressive when it came to the number of days accounts were in A/R and in regard to, the amounts that fell under patient responsibility. Focusing on empowering staff to "own" accounts and ensuring staff had all the appropriate and possible tools and reference needed to their job effectively became a priority, one that became apparently over a period of three months. California Sutter Health Systems transition is an example that shows the benefits of integrating new policies and procedures in the field of healthcare, thus resulting in promising accounting practices.
Related Topics