Burberry's Resources and Capabilities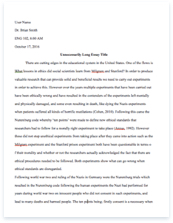 The whole doc is available only for registered users
A limited time offer! Get a custom sample essay written according to your requirements urgent 3h delivery guaranteed
Order Now
Burberry is a British luxury brand founded by Thomas Burberry in 1856, which design, sources manufactures and distributes high quality apparel and accessories for men, women and children. Burberry "has been defined by an overt Brutishness, a trio of instantly recognizable icons (the trench coat, the trademark check, and the 'prorsum' knight logo), and a deft creativity that ensure its designs are timeless." (Vollmer and Premo, 2012) In 1998, Burberry has been described as "an outdated business with a fashion cachet of almost zero." (Strategic Direction, 2005, P22) the product of trench coat of Burberry is a fashion classic, almost every designer tried to imitated, but still remind people about Burberry.
Furthermore, the check pattern has become Burberry's own signature, it use as the lining for the trench coats and scarf's pattern for men and women. (Sanghvi, 2011) In 1891, Burberry opened the first store in London and international store was opened in Paris by 1910. In 1920 Burberry entered Japan market and cooperated with local retailers. In the past years, Burberry was quite successful, various resources and capabilities having been invested and improved, also different kinds of strategy were applied for its business. In this essay, three main points will be discussed as follows: * Identifying Burberry's resources and value
* Appraising Burberry's resources and capabilities to analyse organisational competence * Finally, developing Burberry's strategies.
Identifying resources
"Resources are the productive assets owned by the firm." (Grant, 2005) There are three types of resource: Tangible, Intangible and Human resource. Tangible resource is quite easy to identify, which includes financial resources and physical asserts. It can be seen from Burberry's Balance sheet, from 2008 to 2012, the net asset of Burberry increased each year and Total Equity achieved £891.40 million in 2012 March. (London Stock Exchange, 2012) According to Thomson (2012), Burberry has 443 stores including 56 franchises in 80 countries and Europe is its biggest market with 34% of sales, and Asia follows with 33% of sales. Furthermore, Burberry got two London lines, which support Span and Japan market. Intangible resource is difficult to indentify, which more valuable than tangible resource and including technology, reputation and culture. In Burberry stores, every salesman has an ipad orders and checks product online for customer and "Burberry's use of digital technology is trailblazing." (Thomas, 2012)
Moreover, Burberry got good reputation and brand image, since it was established, which provided high quality products and got own unique style that be easily identified. Human resources "comprise the expertise and effort offered by employees." (Grant, 2005) Burberry has a design term and provides their design for the Burberry London line and control the design direction of other lines. Christopher Bailey, as a design director takes the responsibility for the design of the Burberry prorsum collection. (Moore and Birtwistle, 2004) Burberry also focuses on employing and tries to find the very best people work for them. Burberry has a long history, and its process of establishing luxury brand image is a long term task, which are Burberry's significant value and its value base on the resources and Capabilities. Grant said (2005), "individual resource do not confer competitive advantage alone, they must work together to create organisational capability, and which is what the firm can do." (p114)
Appraising Resources and Capabilities
Organisational capabilities offered the dynamic for firms' continuing growth, the "industries which they dominated and the national economies in which they operated." (Chandler, 1992, P84) In Burberry group, modularity and co-operative strategy is an internal organisational capability was using for decompose and collect effort to gain sustainable competitive advantage. The architecture could be separated into four business models: Product, Manufacturing, Distribution, Merchandising and Marketing.
Product:
Product is core competence of Burberry, because all the investments (resources and capabilities) were using to produce products and distribute to users, which is the key point of making profit. The standard of Burberry is high quality, unique style and fashion. Burberry has a very clear and unique positioning as the authentic British luxury brand, which is one of the key success factors of Burberry. A unique position is very important for a firm, because other competitors cannot easily copy it and different new products were launched at different time by Burberry, which can always keep its brand unique and competitive advantage. Burberry launched 6 new brand levels—Burberry prorsum, Thomas Burberry, Burberry accessorise, Burberry London, Burberry Blue and Black. Different brand levels focus on different target customers, which can increase the sales. Burberry owned a London line, which is the most core ready-to-wear range of Burberry, and more than 450 lines provide womenswear each season, also more than 330 lines offered menswear. Both womenswear and menswear gained a huge of turnover. The Burberry London line also supported Spanish and Japanese market, in 2002, 40% of Burberry's wholesale customers were from Spain or Portugal. (Birtwistle, 2004) Apart from apparel, other products also contributed to Burberry's turnover, such as, accessories and childrenswear. (Moore and Bietwitle, 2004)
Manufacturing:
"Capabilities depend heavily on the skills and efforts of employees." (Grant, 2005) In a fashion brand firm, design term is an important human resource; furthermore, the knowledge from designer is the key capability. The first step of manufacturing process was implemented by design term, they not only design product for next step, which is the Burberry London range, but also monitor other Burberry lines' design direction and make sure which is right. So, the design group can improve efficiency of manufacturing process and influence on Burberry's fashion trend. The fabric of Burberry differs from other brand, which was weatherproof but breathable as well. (Burberry, 2002) Because of the change of fabric, Burberry's reputation has been enhanced. Using this kind of fabric is one of benefit, but also is a weakness.
Burberry purchased the fabric from a limited number of European suppliers, which means the cost of fabric is quite high and difficult to purchase. In addition, before buying initial fabric, sales forecasts have to ensure product availability and further purchase are based on the extrapolation of early orders received. (Burberry IPO prospectus, 2002) Hence, Burberry has to undertake some risk while they purchase materials. In order to expand Burberry's market and allocate the risk and pressures of manufacturing, Burberry granted few of licences to Japanese companies that must know specialist expertise. The way of interface between Burberry and Japanese companies is signing licences agreements, which can be used to control the firms and interact with each other. (Moore and Bietwitle, 2004)
Distribution:
Burberry sells its product in company-owned stores, also co-operates with third-party stockists and Japanese firms, which managed by licence agreements. Burberry has three distribution channels; the first one is retail distribution, and it included four formats. Since Burberry has been established, different flagship stores were opened in London, New York city, Barcelona and Tokyo. Burberry owned a flagship store in New Bond street, London, where has a few of luxury brand stores, such as, Gucci, Prada and Dior, which means Burberry under high stress from competitors and has to invest more resources and capabilities to keep its competitive advantage. In September, 2012, Burberry opened the biggest store in Regent Street. Burberry CEO Angela said that: "Burberry Regent Street bring our digital world to life in a physical space for the first time, where customers can experience every facet of the brand through immersive multimedia content exactly as they do online." (Retail design blog, 2012)
Using flagship store as a kind of advertising seems become an important strategy of luxury brands. Other retail distribution are regular price retail store, department store and designer outlet stores over the world and made a huge of profit every year. Another channel is wholesale distribution, which includes prestigious department stores, speciality fashion retailers and duty- free retailers, "17% were in the USA, 40% were in Spain and Portugal, 37% in the rest of Europe," and others in Asia. (Moore and Birtwistle, 2004) The third channel is licensee distribution in Japan market, they provide product to department stores and speciality stores. Burberry's distribution network is very wide, it covered a large number of country and online order also be provided around the world. According to Moore (2004), Burberry got lots of benefits from the model of distribution, such as, turnover and reputation. (Moore and Bietwitle, 2004)
Merchandising & Marketing:
As Burberry IPO prospectus (2002) said, Burberry thinks marketing communication is significant. All marketing activities are managed by London market term; this term also determines the development direction for Burberry term in the world. The marketing communication includes three main models: Advertising, Fashion Shows and Editorial placement. Advertising:
Burberry usually launches twice advertising each year, which focus on leading fashion and lifestyle publications. Advertising plays an important role in marketing strategy, which can inform customers Burberry's products and philosophy of the company, in addition, it can improve firm's image and reputation, and lifestyle association. Fashion Shows:
Fashion show is a distinct element between luxury brand and lower brand, which usually hold by luxury brand to display its new products. Fashion show can gather lots of well-know designer, celebrities and retailers from the world. Burberry's fashion shows for womenswear and menswear hold twice in Milan every year. Moreover, Burberry London line hold shows at London Fashion Week every season. Fashion show also is a type of luxury advertising, and may be able to increase the number of order from retailers. Editorial placement:
Burberry offers brochures about its new product for VIP customer and operators every new season. It can help Burberry create brand awareness and built it luxury positioning, which aim to maximise world-wide editorial coverage. (Moore and Bietwitle, 2004) The four models seem like focus on different tasks, actually worked together and supported each other. Every signal competence is indispensable in Burberry. The Architecture of Burberry not only based on investment of resources and capabilities to make profit, but also required to achieve sustainable competitive advantage. Hence, dynamic capability is very important.
Dynamic capability is "the firm's ability to integrate, build, and reconfigure internal and external competences to address rapidly changing environment." (Teece, Pisano and Shuen, 1997, P516) In fashion market, the trend of fashion changed very fast, such as, style, colour and fabric. The dynamic capability of Burberry is carrying out by design term, which create fashion trend every new season and own style, but do not follow other brand. In other words, Burberry's dynamic capability is to create new fashion trend to against the changing environment or just make sure can follow the trend. (Moore and Bietwitle, 2004)
Developing strategy implications:
After identifying and analysing the resources and capabilities of Burberry, it is important that to know what its strengths are affecting the company became stronger than other brands. Firstly, it can be seen from the balance sheet, Burberry has adequate financial resource to support its development and investment. The quality of product is quite, which is Burberry's strategic capability. Furthermore, Burberry has a clear positioning, which is a strategy to guide its business activity and avoid other competitor to copy. In addition, the distributions network is quite wide, and the product can be distributed over the world. What is more, as a luxury brand, Burberry gain good company image and reputation, this strength can attract more customers. On the other hand, Burberry should identify its weaknesses as well, and think about how Burberry can upgrade existing resources and capabilities to deal with its weaknesses and problems to improve its firm performance. The weaknesses of Burberry can be identified into three aspects: high costs and limited target customers.
As before mentioned in manufacturing process, Burberry is buying the fabric from a limited number of suppliers from Europe, the suppliers do not need to reduce the price of fabric to attract buyer, what worse is they might increase the price, because demand more than supply, as consequence, the cost of material is quite high. Moreover, establishing a luxury brand, a huge of investment is usually required, such as, advertising, Fashion show and other marketing communication activities. Another weakness is Burberry do not have as much customer as other lower brand. The price of Burberry's products are quite high, which means not every customer can accept the price, but price is a main point affect buyer behaviour, so Burberry focus it target customer on the people who got higher income.
As a result, Burberry should build relationships with customers and develop more loyalty customer, which is important to increase an organisation's sales. Burberry can establish a database system for customer, and then send email or brochure to them every new season. Burberry's products can be easily indentified because of its style and check pattern. So there are lots of fake products in the market, which is decreasing Burberry's value, because some customer will buy the fake product to replace the real product, the image of Burberry is also reduced. In 2005, Burberry Cracked down on the fake goods, but it has had unexpected result. (Programme, 2005) So, the capability of cracking down the fake product should be improved.
Conclusion:
In conclusion, Burberry is a successful luxury brand, its business based on two basic and important resources, which are finance resource and human resource. In human resource, designers play a key role. Furthermore, those two resources worked together created other tangible and intangible resources, also capabilities were carrying out by them. All resources and capabilities contributed to competitive advantage, but dynamic capability is the main element to establish sustainable competitive advantage, so the knowledge and innovation of designer is very important. Although the resources and capabilities gained a few of strengths, the weaknesses still need to be improved; Burberry should deal with the problems of material shortage, limited customers and improve the capability of cracking down fake products.
Reference:
Moore, C and Birtwistle, G, (2004), "The Burberry business model: creating an international luxury fashion brand", International Journal of Retail & Distribution Management, Vol.32 Iss: 8 pp.412-422 Burberry IPO Prospectus (2002), "Burberry group global offer of share", Burberry IPO Prospectus, summer. Burberry (2002), Burberry PLC Annual Report and Accounts 2002-2003, Burberry, London. Anon. (2005), "Bravo for Burberry: From bust to boom- creating a luxury fashion brand", Strategy Direction, Vol. 21 Iss: 1 pp. 22 Thomson, R. (2012). Burberry: A great British success. Available: http://www.retail-week.com/burberry-a-great-british-success/5034635.article. Last accessed 10th Dec 2012. Teece, D, Pisano, G and Shuen, A. (1997).
Dynamic Capabilities and Strategic Management. Vol:18 Iss: 7, p516. Retail Design Blog. (2012). Burberry flagship store, London. Available: http://retaildesignblog.net/2012/09/17/burberry-flagship-store-london/. Last accessed 10th Dec 2012. Vollmer, C and Premo, K. (2012). From Campaigns to Capabilities: The Impact of Social Media on Marketing and Beyond. Available: http://www.booz.com/media/uploads/BoozCo-Campaigns-Capabilities-Social-Media-Marketing.pdf. Last accessed 10th Dec 2012. Sanghvi, V. (2011). The Burberry Story of Luxury. Available: http://www.hindustantimes.com/Entertainment/Fashion/The-Burberry-story-of-luxury/Article1-759494.aspx. Last accessed 10th Dec 2012. Grant, R.M.. (2005) Analyzing Resources and Capabilities. Contemporary Strategic Analysis. Vol: 5 Iss: 5, p114. Chandler, A. (1992) Organizational Capabilities and the Economic History of the Industry Enterprise. Vol:6(3) p84. London Stock Exchange. (2012) http://www.londonstockexchange.com/exchange/prices/stocks/summary/fundamentals.html?fourWayKey=GB0031743007GBGBXSET1 Accessed 11st Dec 2012
Related Topics