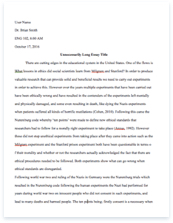 The whole doc is available only for registered users
Pages: 2
Word count: 418
Category: Airline
A limited time offer! Get a custom sample essay written according to your requirements urgent 3h delivery guaranteed
Order Now
1)Discuss the nature of the market structure and demand for the Dreamliner. What are the implications of this for Boeing and its customers? The demand for the Dreamliner. In today's competitive marketplace, many businesses strive to cut costs. Boeing try to design a new aircraft can use less fuel, that's what buyer want. Thus, the manufacture have to figure out what kind the product is customer want.
2)What examples of the major types of buying situations do you see in the case? Discuss the implications of each in terms of marketing strategy. Boeing design a new plane which is customer want, and Boeing got many orders in a short time, but they delayed the order, Boeing could not give the plane that customer ordered on time, and the delay is at least over 15 month. Boeing's marketing strategy is good, they find the produce that customer want, and they can get order very soon, but they ignore the process of production, that's why they delay the order so long time.
3)Discuss the customer buying process for a Boeing airplane. In what major ways does this process differ from the buying process a passenger might go through in choosing an airplane.  The buying process are eight stages: problem recognition, general need description, product specification, supplier search, proposal solicitation, supplier selection, order-routine specification, and performance review. The reason for passenger choose an airplane could be how comfortable of this plane, how is the quality of the service, and the price of ticket.
4)What marketing recommendations would you make to McNerney as he continues to try to resolve the problems with the 787 Dreamliner program? Reputation is most important in business in the world, if a manufacture delay the order too many times, then his reputation is failed, then the customer don't have any loyalty in this company. The recommendation for McNerney is make sure the process of production is no problem for all the order before accept the order.
4.Recommendations and Conclusion
Boeing is a famous aircraft manufacture in the world, and also the largest plane manufacture in the world. Thus reputation is very important for them, even more important than technique. If a company have a good technique, and their product is high quality, but they always delay customer's order, no more customer will order the order by this manufacture. Thus, my recommendation is the manufacture must to make sure the maximum of the output in the company, do not over output.
Related Topics