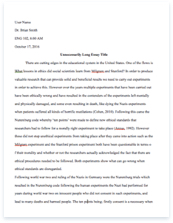 The whole doc is available only for registered users
A limited time offer! Get a custom sample essay written according to your requirements urgent 3h delivery guaranteed
Order Now
God created humans in his image, with his law embedded in our hearts. Therefore humans are the Image of God, and must live life according to his plans and purposes. His law was created for the wellbeing, peace and harmony of mankind. Living in his Image is very important; this would help each other to have a better life by not doing sinful acts like lying and stealing from each other. In the profession of Accounting living in an the Image of God allows me to provide an honest services, by providing financial reliable information for clients that then will make important decisions based on the information provided. Example 1
Working in the accountant field allows me to work with clients and organizations that have many different needs of accounting services, like taxes, auditing, working for the accounting department of a nonprofit organization and the government. The accountants have a lot of pressure in providing accurate information; by living in the image of God an accountant will not allow to be tempted by sin and issue financial reports or statements that are misstated. The Bibles teach us that it is prudent to have good behavior doing what is right, just and fair. As mention in the book of (Proverbs 10:9) New International Version (NIV) "Whoever walks in integrity walks securely, but whoever takes crooked paths will be found out" as stated in the book of Proverbs we are expected to honest provide honest services and do what is right and if we don't we will face the consequences of our deeds being the punishment of God.
The accounting professional has a great responsibility with those who rely on his work and a greater responsibility with the society due to his work could affect a whole economy by not issuing the right opinion on financial matters, that would allow corporations and other business entities commit fraud. Bible mentions on the book of Deuteronomy 25:15 (New International Version) "You must have accurate and honest weights and measures, so that you may live long in the land the Lord your God is giving you. As the book of Deuteronomy explains is prudent to make our work in an accurate honest way so humanity will have a long and prosperous life. By doing what is correct we are following the law of God and living accordingly his Image.
Example 2
Genesis 1:27 New International Version (NIV) states "So God created mankind in his own image, in the image of God he created them; male and female he created them. As stated in Genesis 1:27 God created the man. He created me and by me choosing to be an accounting professional I have to live by his image and do what is right .As an accounting professional is important that have morals and be unbiased. Is necessary that accountants do this to have an independent opinion on the work they are performing. Accountants being created in the image of God would provide a service that will help society in achieving the goals they want to fulfill. The accountant has to have integrity strong moral principles and being honest. When god created men; he brought it to existence having moral aspect. "The unperverted image of God within Adam also endowed him with the ability to properly discern between right and wrong". (Towns, Elmer, 2002). No matter the situation you have to fallow the law of God.
"If anyone, then, knows the good they ought to do and doesn't do it, it is sin for them" (James 4:17, New International version). Even though you work with friends of family you have to what's right in the eyes of God. Lest say that John is an outside auditor and is auditing a company belonging to Dusty, his childhood best friend. John has to be unbiased and give an opinion that is fair. Bible mentions on the book of 1Peter 1:17 (NIV), "17 since you call on a Father who judges each person's work impartially, live out your time as foreigners here in reverent fear." As the book of 1Peter explains, it is reasonable that we perform our work free of unfairness and favoritism.
Conclusion
We are the image of god and should live by his law, in the course of our profession we could encounter situations where we could be tempted to disobey god. But you always have to remember that Christ was tempted but he did not sin as the book of Hebrews explains "For we do not have a high priest who is unable to empathize with our weaknesses, but we have one who has been tempted in every way, just as we are yet he did not sin" (Hebrews4:15 New International Version). The image of God is present in all of us and we should always think of Christ and that he died for us to take all of our sins.
Reference
Towns, Elmer. Theology for Today. Belmont, CA: Wadsworth Group, 2002.
Related Topics