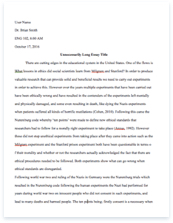 The whole doc is available only for registered users
A limited time offer! Get a custom sample essay written according to your requirements urgent 3h delivery guaranteed
Order Now
This has been the fourth year in a row where Fortune Magazine has ranked Google as the best company to work for. After reviewing a description of their work environment, the elements that I identify that appear to foster employee motivation and group cohesion among employees are as follows: First of all the company has been known for maintaining a laid back and easy going corporate environment. This company believes that you do not necessarily have to be wearing a suit in order to be taken seriously. Also known as "Googleplex", the website points out that they have a bowling alley, bocce courts, and twenty-five cafes company- wide so that their employees are never over one hundred and fifty feet away from a well stocked pantry. Even if you are not at the top of this company, you are still able to benefit success financially, for example Google software engineers are paid above any average software engineers at other companies. "Google insists that its employees feel part of the organization, and make that clear by emphasizing its innovations, from its health and retirement plans, to its flexible and generous scheduling options for vacation and maternity leave, and even free laundry facilities.
Google's workers consistently point out how much time they spend at work, but just as consistently identify it as one of the best companies to work for in the United States". (Losh, 2011) Another company listed as one of the best companies to work for was Microsoft. It has been said that Microsoft might be doing too good of a job of motivating its employees because each group is given a morale budget to do whatever they want with it. Some groups go skiing, bowling, or have cookouts. Some groups rent private theatres to watch their favorite movies, while others make t-shirts. Like Google, Microsoft also plans to install a washer and dryer in the facility so that their employees would not have to go home to do their laundry. It is clear that employees at this company find it normal to work from 10 to 18 hours a day comfortably, even living in their offices for weeks at a time. Microsoft also trusts their employees to recruit other employees that they deem to be the best people possible to shape their company. "Microsoft is a company with a lot of trust they put into their employees to make them feel needed, and it's really simple. A simple idea that creates one of the top companies in the world the best place to work for". (Fisher, 2011) Another company rated as one of the best companies to work for is Deloitte.
This consultant firm that offers audit, tax, and risk management services to customers around the world employs over 56,000 workers. Deloitte empowers its employees through creative and tax effective compensation plans and benefits that are key to the motivation and retention of employees. Deloitte has a roll out plan and retirement plans coupled with pensions that are key to the quality of life during the retirement years. According to Fortune, which rates Deloitte as one of its 100 Best Companies to Work For,"the average pay for a Senior Consultant, the most common position at the company, is more than $86,000. The company has received accolades for military hiring, LGBT equality and women's advancement" ( Fortune Magazine article, 2012). One factor these companies have in common is that they have been able to BEST PLACES TO WORK 5 market themselves as very innovative and they have highly regarded workplace environments.
REFERENCES
Fisher, K.(2011) Article Motivational Strategies of Microsoft. http://www.oppapers.com/essays/Motivational-Strategies-Microsoft/163367?topic Fortune Magazine Article (2012) http://money.cnn.com/magazines/fortune/best-companies/ Losh, S. (2011). Group Behavior in Organizations. San Diego, Ca. Bridgepoint Education Inc.
Related Topics