Best Fit, Best Practice and Resource-Based View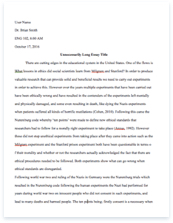 The whole doc is available only for registered users
A limited time offer! Get a custom sample essay written according to your requirements urgent 3h delivery guaranteed
Order Now
Strategy is the skill and planning that are involved in governing resources. In a business sense this relates to "a set of ideas, policies and practices which management adopt in order to achieve a people management objective" in studying Human Resource Management it is important to differentiate between the 'operational' and the 'strategic' methods of managing a workforce. A Strategic focus will require operating HR initiatives with an eye to long term corporate strategies and objectives. To focus on strategy would mean tackle and solve business problems through efficient people management policies and strategies. An operational focus is one that has an eye to the everyday management of a firm's workforce to comply with legal regulations regarding employment. To compare these three HR practices it is important to first outline and evaluate each approach to human resource management.
HRM Strategy
The four HRM strategies are the;
Classical Approach- a comprehensive examination of the internal resources and external environment. Stressing the importance of "long term, formal and analytical planning" (Wilton, N., 2011). Flawed on the basis of over simplifying strategic decision making, separating "operational practices for higher level strategy information" (Wilton, N 2011). As a result the classical approach can lead to the over simplification of processes and inflexibility.
Evolutionary Approach- advocates the use of analysing the competitive environment to look for competitive opportunities and warning signs, also stating that thought out plans can only lead to short run advantage. Lots of information is considered in the evolutionary approach (more so than the classical) and its strengths come through flexibility to the changing business environment both internally and externally, as well as being able to be adapted to new business decisions.
Processual Approach- "achievement of business objectives, rather than as conscious, fully-formed managerial plans" (Wilton, N., 2011). The processual approach regards the transferability of strategies to be of high importance, resulting in greater flexibility due to its ability to be applied to all areas of the organisation.
Systems Approach- emphasises planning ahead strategically, also considers the external environment of high importance, "strategic choices are shaped not only by market context but the cultural and institutional interests of broader society" (Wilton, N. 2011). The systems approach is therefore the most flexible and takes all aspects of the other approaches and enhances the effectiveness, by being more in depth and focusing on the "wider external context" (Wilton, N 2011).
Organisational Performance
According to Richard et al. (2009) organizational performance encompasses three specific areas of firm outcomes: (a) financial performance (profits, return on assets, return on investment, etc.); (b) product market performance (sales, market share, etc.); and (c) shareholder return (total shareholder return, economic value added, etc.). The most common measure of organisational performance is the balanced scorecard. The tool is used by managers to monitor and track the execution and effectiveness of activities by staff activity and to monitor the consequential effect of these actions on the firm. The balanced scorecard operates on the basis that for an organisation to be successful it must satisfy the requirement of key stakeholders (Kaplan and Norton., 1992). . The balanced scorecard measures the financial perspective, customer perspective, internal business process perspective and learning and growth perspective.
The measures within the balanced scorecard are presented as the strategic objectives of the organisation. It recognises the close link between HR and performance, "impact that HR can have on business performance, by emphasising the importance of providing employees with opportunities for personal development and growth… allows employees to contribute to the achievement of organisational objectives" (Wilton, N., 2011).
Best Fit
The "best fit" approach to managing workers assumes that the managers and workers share a commonality; to work together for a common goal, which is the survival and prosperity of the organisation. For this strategy to work the employees must be able to convey the behaviours and ideas of the management in charge. The best fit approach understands that to manage employees effectively each organisation must be seen as a separate entity and managed accordingly, each business is to be understood as different and is to be managed in a different way.
With the best fit model of HRM in place, the strategies of managing the firm's workforce should reflect that of the organisation's mission and corporate objectives, which reflects the classical approach to strategic planning, an approach which became popular during the industrial revolution and was used to tell workers how to do their job in a way that resulted in the most productivity and efficiency. The classical approach to strategy saw that employees were trained only in working their jobs in the most efficient way possible. The view of workers as machines rather than human beings is flawed as it leads to the de-motivation of employees who feel little self worth within the organisation due to having little responsibility and being asked to perform such mundane tasks.
The 'best fit' approach is subject to failure due to its inability to consider the relationship between HR strategy, competitive strategy and the organisational environment. An age old criticism of the classical approach applies also to 'best fit' strategy making in that the importance of being 'dynamic' is not stressed greatly enough, as well as flexibility to react to changes in the working environment. Fluctuations in market stability and performance leave the benefits of 'best fit' short lived as reaction to change is slow. This emphasises the strategic strain between performance in the present and having an eye towards the future and what lies around the corner, which needs to be analysed when deciding on the strategy to undertake.
To match corporate strategy and HRM strategy the organisation can not underestimate the extent of the complex nature of organisations, emphasising an evolving relationship between HRM strategy and business strategy with a strong focus on the re-evaluation of both horizontal and vertical integration
Best Practice
Best Practice is a prescriptive approach to people management; it differs from the best fit model as it refers to "high commitment or high-performance HRM"
Unfortunately there is no universal definition of 'best practice' but several definitions encompass the essence of this particular HRM strategy; "best practice or high performance work practices are described as HR methods and systems that have universal, additive, and positive effects on organisational performance". The difficulty lies in finding the purposes and benefits of these practices to the organisation and each ones effect on the employees. Delaney and Huselid (1996) said that the organisations commitment to the employee in terms of training and guidance will be reciprocated by the employee to the business in terms of their commitment and loyalty to the firm and their efficiency increases as their capability and skill increases, resulting in somewhat of a win-win situation.
Pfeffer (1998) proposed that firms can gain a sustainable competitive advantage through implementing the "seven areas of people management";
Employment security and internal labour markets
Selective hiring and sophisticated selection
Extensive training, learning and development
Employee involvement, information sharing and worker voice
Self-managed teams/team working
High compensation contingent on performance
Reduction of status differentials/harmonisation
There is great diversity in the best practice model which will result in a move away from uniformity with in the business, as it is not appropriate to employees from all the different sectors within one business. Using the best practice method of HR conflict can arise between the worker and the organisation; the workers attempts to progress and rise vs. the organisations goal of higher profitability and shareholder satisfaction. 'Best Practice' is a focus that primarily relies on the employee's responsiveness to training and the quality of staff that are hired. Taking a soft approach to HRM can benefit an organisation in that its employees are taken care of and valued but a great amount of care must be taken in ensuring that they aren't given too much in terms benefits or else the cost of the workforce could negate the organisations competitive advantage.
Similar to the best fit model, one of the main characteristics of the best practice model is the "implementation of integrated and complementary bundles of HR practices" (MacDuffie, 1995). This is illustrated in this model for best practice, The High Performance Work System (Appelbaum et al., 2000)
The figure above shows how the organisation is set up to ensure relationships and communication remain strong within the business. This is intended to keep the organisation harmonised with a team of employees who know and trust each other. This strategy leaves little room for bad decision making as the organisation is well connected through multiple layers with everyone knowing what to expect from their colleagues and the management above them. While the techniques are nothing new and revolutionary, the benefits of using many HR practices together is stressed by Wilton (2011) "when used _together_ each practice has a far more powerful effect on employee and organisational performance than when used independently". The resulting benefit to both employee and employer is said to create "high employee commitment and job satisfaction; low stress; and enhanced organisational performance" (Stavrou and Brewster, 2005).
As with all HR practices 'the best practice' method has its disadvantages. The main drawback of implementing this practice is the high cost of increasing training, selective employment and offering increased employee benefits. The significant investment in employees might not be a luxury affordable to all firms suggesting that 'the best practice' model of HR management isn't suitable to smaller firms who do not have the spending power of larger rival firms. Models of 'best practice' strategy tend to discount the influence of external factors that an organisation can face, for example the organisations strategic goals and differences in national context and industry sector. MacDuffie (1995) listed the three organisational circumstances that may oblige a business to undertake 'the best practice' approach to HRM:
"Employees possess knowledge and skills that managers lack
Employees need to be motivated to apply this skill and knowledge through discretionary effort
The organisation's business strategy can only be achieved when employees contribute such discretionary effort".
Resource Based View
The Resource Based View of HR management is a tool used to determine the resources that are available to a company that can be used to gain a competitive edge. The elementary principal of adopting a resource based view is that the basis of being more competitive than a rival lies primarily in the pool of resources that are available to a business and how they are applied, rather than the external environment.
The resource based view of HR has many ideas around ensuring that the organisation is equipped to compete with its main rivals on all fronts. One way in which the 'resource based view' strives to achieve this is through developing precious firm associated features from within the organisation. To do this firms go about creating unique clusters or 'bundles' of both technical and human resources, which comprise of proficiencies or capabilities.
The key points of the 'resource based view' are to identify the resources that are available. After identification the organisation must then evaluate whether the resources fit Barneys (1991) framework of criteria:
Valuable, the resource must be a source of greater value, (in terms of the relative costs and benefits) than competing firms.
Rare, this implies that the resource is rare in terms of rarity in relation to demand usage or what it in fact produces.
Inimitable, the resource is difficult to imitate.
Non-substitutional, other resources cannot be used as substitutes.
As with all of the HR strategies that have been discussed, the 'resource based view' has criticisms which bring the capability of the strategy into question. The largest criticism is that the 'resource based view' is too concerned with looking introspectively, a view point that was shared by McKenna and Beech (2008), saying that the 'resource based view' "tends to be too introspective, giving insufficient attention to the socio-political and economic context in which the organisation operates". Another criticism of this strategy is that it is not applicable to all sectors of business, suggesting that the conditions of the 'resource based view' are not suited to certain sectors; such as the public sector.
Conclusion
From the points discussed in this essay the evidence recommends either the evolutionary approach to decision and business strategy. The reason that this approach succeeds above the others is that is does not over simplify or complicate the already complicated field of the strategic process. The evolutionary approach better accommodates small and medium sized businesses who do not have the sheer volume of
information to make sure that the process that they undertake is rational and ensure there is enough evidence to back up the decision. Large companies on the other hand are better suited to the system approach due to the resources they have at hand as well as the organisation that is required when there is such a large number of employees to consider in strategic decision making.
Taking this into account I believe that the 'best practice' approach is better suited to private sector firms who have the resources at their dispense to be able to execute it effectively. The 'resource based view' can be successful but consideration of the external environment in the decision making process is essential so that this model can be applied to all areas of business. The 'best fit' model simply does not contain the amount of knowledge that is required to ensure that a decision that is undertaken is though out enough.
REFERENCES
. 2012. . [ONLINE] Available at: http://www.iim.org.uk/wp-content/uploads/BrattonGold-ref-Devanna1.pdf. [Accessed 14 January 2012].
Johnson, E. (2000). The practice of Human Resource Management in New Zealand: Strategic and Best Practice? Asia Pacific Journal of Human Resources, 38(2),
69
Richard et al. (2009): Measuring Organizational Performance: Towards Methodological Best Practice. Journal of Management.
Bratton, J (2007). Strategic Human Resource Management
Mess, H (2004). 'HRM Best Practice' Otago Management Graduate Review Volume 2
Balanced Scorecards explanation, examples, aims, implementation and teaching aid diagram for the concept.. 2012. _Balanced Scorecards explanation, examples, aims, implementation and teaching aid diagram for the concept._. [ONLINE] Available at:http://www.businessballs.com/balanced_scorecard.htm. [Accessed 16 January 2012].
. 2012. . [ONLINE] Available at:http://www.mbatools.co.uk/Revision%20Sheets/OMP/BEST%20PRACTICE.pdf. [Accessed 14 January 2012].
Balanced Scorecard. 2012. _Balanced Scorecard_. [ONLINE] Available at:http://www.maxi-pedia.com/balanced+scorecard+method+what+is. [Accessed 16 January 2012].
Price, A (2003). Human Resource Management in a Business Context (2nd Edition)
. 2012. . [ONLINE] Available at: http://www.cipd.co.uk/NR/rdonlyres/7FE8ADEB-EA96-4836-83DD-2E95FD309B15/0/samplech3.pdf. [Accessed 16 January 2012].
2012. . [ONLINE] Available at:http://www.mbatools.co.uk/Revision%20Sheets/OMP/BEST%20PRACTICE.pdf. [Accessed 16 January 2012].
Boxall, P and Purcel J, (2003) Strategy and Human Resource Management
Wilton, N. (2011). An introduction to Human Resource Management
VRIN Framework. 2012. _VRIN Framework_. [ONLINE] Available at:http://createadvantage.com/glossary/VRIN-Framework. [Accessed 16 January 2012].
Related Topics