Bertrand Russell: A Free Man's Worship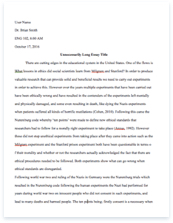 The whole doc is available only for registered users
A limited time offer! Get a custom sample essay written according to your requirements urgent 3h delivery guaranteed
Order Now
This essay will explain the beliefs and philosophies of Bertrand Russell. He was the author of, "A Free Man's Worship". In Betrand's essay, he presents an atheistic perspective on morality. He clearly believes that there is no God and that eventually the human race will rid itself. In this essay, why Bertrand concludes there can be no God will be explained.
Bertrand writes that a God that was good could not possibly have created a world of such cruel and evil people. He says that humans create God based on their own reflections of power in the world. Russell writes that the human race is only in existence due to an accidental collocation of atoms. All effort of heroism, devotion, inspiration, and worship will not matter beyond the grave. Humans are afraid of this being true and therefore we create our own paradise.
To Russell, if power is bad we should reject it from our hearts. The determination to worship only the God created by us is mans true freedom. In action, in desire, we must submit to the ruling of outside forces; but in thought, in aspiration, we are free from mans rules. Not only in life but in death, due to the fact that we are preserved by our memory therefore, almost as if we are immortal. The fact that we are free to know, to learn, to criticize, and to imagine is how we can preserve our aspirations without them being tarnished. Bertrand make a very compelling statement went he writes, "To abandon the struggle for private happiness, to expel all eagerness of temporary desire, to burn with passion for eternal things-this is emancipation, and this is the free man's worship." This sentence is a key point in Russell's ethics.
On the subject of resentment, Russell has many opinions. He writes that indignation is a burden. Indignation is an oppression because it induces our thoughts to think of evil things in the world. Rebellion is the consequence of indignation in which according to Bertrand, we must overcome in order to become wise. Bertrand writes that even though resentment is a submission of our thoughts, freedom and wisdom comes from the submission of our desires. In the submission of our desires comes forth, the acceptance of virtue, art and philosophical viewpoints.
According to Benedict, the explanation on heaven is simple. He writes that we create our own views of heaven through our imagination, music, architecture, in reason, and in lyrics. Humans want to believe that a place of beauty exists and that there, in that place of beauty is everything a person could ever want. Due to this want, we create heaven as a space untouchable by sorrow, far away from mans fear of change, and a place completely incapable of the failures and disappointments of this world. This belief is what Bertrand views to be the inspiration people must have in order to deal with all the mishaps of society.
Russell writes that among all the arts, tragedy is the most protruding. Tragedy is present in every part of society. In death, in intolerable pain, and in the past the person suffering is constrained to the world by links of sorrow. Russell makes a very imperative statement when he writes, " In these moments of insight, we lose all eagerness of temporary desire, all struggling and striving for petty ends, all care for the little trivial things that, to a superficial view, make up the common life of day by day..". In that statement, Russell backs up his viewpoint of why the art of tragedy is the most protruding of all the arts.
I was able to consider many things in this essay that I would not have considered were it not presented to me as Russell did. Russell offered in his writing many arguments that other authors do not approach. I found his essay to be enlightening and worthy of consideration. To me, Betrand's most important statement, and a statement that I consider to be the entire backbone of the essay is as followed, "To abandon the struggle for private happiness, to expel all eagerness of temporary desire, to burn with passion for eternal things-this is emancipation, and this is the free man's worship." That opinion is why I have chosen to agree with the overall essay even though I do not agree with his standpoint on religion. I do although, believe that Bertrand was not entirely atheistic because he was able to consider heaven and also was able to see the importance of religion existing. For these reasons stated above, I believe that Bertrand has wrote an impressively educational essay.
Related Topics