Assignment: Infection Control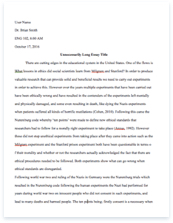 The whole doc is available only for registered users
A limited time offer! Get a custom sample essay written according to your requirements urgent 3h delivery guaranteed
Order Now
Infection control refers to policies and procedures which are used to minimize the risk of spreading infections, especially in hospitals, community and human or animal health care facilities. Nosocomial infection is infections contracted in hospital. It usually occurs in approximately 5% of all patients in hospital. There are many common reasons in nosocomial infections, one of which is weakened immune system of hospital patients which makes them more susceptible to infections and also caused either by the patient's diseases or by treatments given to the patient. Second, while introducing equipments during medical procedure can also risk of infections. Topic for search strategy to obtain literature/evidence was Infection prevention and control in clinical practice. Information for this literature search was gathered using the university digital library which gave access to electronic journals. Key terms used were infection control, qualitative research, quantitative research, research sampling methods and data collection methods.
Textbooks to research methodology were obtained from university library and relevant website of university and further information was gathered from lectures reference recommended by other articles. The qualitative study was conducted by Chia-Jung et al (2009) using the article of "Taiwanese nursing student's knowledge, application and confidence with standards and additional precaution in infection control" aimed was too point on the nursing students' capacity to handle standard and additional infection control precautions in terms of their knowledge, application skills and confidence. The qualitative study by Chia-Jung et al (2009) was conducted between the Taiwanese nursing student's knowledge, application and confidence with precaution in infection control. All the participants were recruited from University of Taiwan therefore they were familiar with the environment where the study was being conducted. The study had included about the Taiwanese students knowledge.
It should be conducted in different country because all of them have different knowledge level. In the study ethical approval was gained from the research ethics committee, anonymity was granted to the participants and privacy, confidentiality protection was ensured throughout the study. In this article convenience sampling a type of non-probability sampling was appropriated for the study. Convenience sampling would have given minimal control of the sample and can introduce bias. It is however possible that another sample would have produced different results. This would have limited the generalizability of the results. For data collection in this study self administered questionnaire was used with 200 student's age range between 17-20 years were ensured. Data were analyzed using the program SPSS 13 developed by the Chicago based SPSS Inc (SPSS is a software package used by researchers for management, documentation, data analysis or statistical analysis). It was written in 1986 by Stanford doctoral candidate Norman Nie.
The quantitative study conducted by Engstrom, M et al (2011) "Deficient knowledge of Multidrug-resistant bacteria and preventive hygiene measures among primary Health care personal" aims was to describe primary healthcare personals knowledge about multi-drug resistant and preventive hygiene measures. Questionnaire was used to collect data and convenience sampling was used where result were analysed by using a statistical software package SPSS 15.0 (SPSS icl, Chicago, 1L USA). Ethical approval was gained from each director of operation; all the participants receive both the written and oral information about the study aim, procedure, confidentiality and their right. For the study on audit on infection control Slyne, H. et al (2012) study 'Saving lives audits: Do they improve infection prevention and control practice?
Related Topics