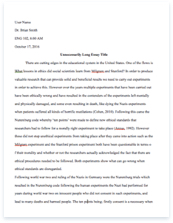 The whole doc is available only for registered users
OPEN DOC
Pages: 2
Word count: 291
Category: Artists
A limited time offer! Get a custom sample essay written according to your requirements urgent 3h delivery guaranteed
Order Now
I create art because this passion and curiosity has been with me ever since I was a toddler, running around and doodling on any surface possible. In this course I wanted to learn techniques that would help me improve my style. I wanted to broaden my creativity by creating abstract works and designing dresses that mimic Alexander McQueen's. And also to learn new mediums to create mixed media art because I find those artworks to be unusual. This's why I love art, because on rare ccasions I discover a piece that's unique and sparks my creativity so I can produce my own.
Each piece I make starts out from an Intriguing event or experience then extensive research on my Idea until It's possible for me to see how the pieces come together. Then I select mediums that would give my art unusual textures. Also, nature Is my theme because the majority of my everyday experiences involve being around the elements of water, fire, earth, and air. For my future works, I plan on designing more dresses made from unusual aterials or designed after animals, because I want to apply my creativity to more 3D pieces.
I also want to be able to display my art pieces not in a room, but for it to be able to be worn by others so that they can express their own style too. I also would like to try creating large scale art pieces such as a mural or an installation piece because when I normally make art, it's usually as big as a poster. I know that both of these types of artworks would be a challenge to make but with enough time, determination, and creatMty I will be able to accomplish what I envision.
Related Topics