Artificial Intelligence and the Retail Revolution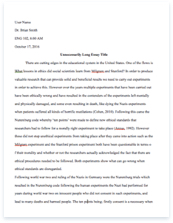 The whole doc is available only for registered users
A limited time offer! Get a custom sample essay written according to your requirements urgent 3h delivery guaranteed
Order Now
Introduction
AI is rebuilding retailing industry in important ways, giving retailers an opportunity gains more market shares. To understand artificial intelligence and how it works for changing retailing or customer experience, we can view AI system, especially computer systems as part of a larger framework including big data, machine learning, natural language processing and machine vision (Shankar, 2018). Using AI technology, it is more effective for retailers to connect or communicate with their customers by providing targeted information and offering. AI is already changing different aspect of retailing such as logistics, marketing strategy, and self-service. This article presents a framework for understanding customer's needs, having a good prediction on customer's buying behavior, strengthening the retailer's decision-making ability, ultimately improving consumer's shopping experience.
Literature review
(1) understanding what customers want and need.
Artificial Intelligence enables retailers to get better understand customer's behavior, which is using deep learning networks. When the data is getting more and more, AI algorithm can be more accurate- make sure what the consumer is thinking. According to a research conducted by Whitler (2016), AI is changing retail industry how retailers generate insight about customers to offer more contextual relevance. AI can identify different factors like consumer behavior insight, movement, weather, social profiles so that AI can help retailers understand more what customers want and need.
In flat, every purchase provides the marketer with much useful information, including transaction, price paid, gender, age and environmental data. The marketer can draw useful insights from big data and do better predictions about customer behavior, provide more attractive products or appealing offers, better target their consumers and encourage customers to purchase. (Grewal, Roggeveen & Nordfalt, 2017). Technology can help marketers efficiently to target potential consumers. Meanwhile, Guo, Wong, Leung, Ys & Min (2011) discovered that using AI forecasting model( historical sales, color, and size) as inputs can generate better forecasting customer behavior and performance than traditional mathematical methods. Furthermore, the result of the research done by Shankar (2018), marketers use AI to analyze customer's behavior by identifying customer's shopping journey. For instance, L'occitane used AI technology to understand where customers were getting dissatisfied on its mobile website and made improvement to its mobile website and application program. Finally, it resulted in a 15 % increase in mobile website. Furthermore, Shankar also indicated that Amazon greatly enhanced its business by using data on its over 100 million customers, which can make personalized recommendations. This AI system realizes what a consumer will purchase or require. And it shows that the mobile channel enhances overall sales and profit. In Particular, mobile apps have positive effects on consumer behavior. The maturity of using smartphone, it provides useful information such as past behavior, individual's location and personal preferences (Lutz, 2018). Therefore, the cycle of constant data collection, AI can provide the most accurate results possible based on customer's needs, wants and behavior.
(2) Improving consumer's shopping experience.
The application of AI would be greatly helpful to improve customer service. Customer experience is important for retailers because over half of all customers suffer from bad customer service. Shankar (2018) stated that Chatbots and AI in voice platforms have been incorporated into websites to provide immediate service to customers. They operate 24/7 service and reduce wait times, improving customer experience. For this reason, retailers are going to use text-and voice-based and speak recognition system that can discover customer sentiments of products and services. Nevertheless, the study done by Lutz (2018) demonstrated that AI technology gives a variety of benefits to consumers and retailer, which can improve better service, faster checkouts, and enhance productivity which can allow retailers delivering products via drone, receiving payment by customer's smartphone and reducing queue times. Consequently, the maturity of smartphone in AI technology is helping to drive this, using real-time data and expert system to make a targeted recommendation based on customer's past behavior, location and personal preferences. Besides, more and more online retailers realize that the smart chatbot is very important for providing customers experience whenever the time of morning or evening. According to a research conducted by Peterson (2019), AI is ready to become an important element in physical shops. It can create a closer relationship between business to customers by personalizing the customer experience, which is smart mirror technology. When the customer is in the changing room, the smart mirror would show the suitable clothes based on personal preferences such as sizes, colors, and items. In that process, retailers can receive customer's information and shopping habits so that the company enables to provide better service.
Also, there are 40% of UK consumers indicated that they gave up on a purchase because the retailer provided poor service. In contrast, 84% of customers will turn to competitors if a retailer does not provide them with the information they are looking for (Gauvrit, 2018). For this reason, the self-service system is set up. It is easy and convenience for customers when they want to ask detailed questions because the system replies fast and accurate answers that customers can have a good shopping experience and continue along the buying journey. Not only it boosts the customer experience but also increases sales as well. Therefore, the application of AI provides customers personalized offerings, customized style and solving problems quickly and accurately so that it greatly enhance the customer shopping experience, which is also beneficial to both customer and retailer.
(3) Technology and tools facilitate retailer's decision making and efficiency
In the rapidly evolving retail industry, retailers always need to catch their customer preferences by using different technologies and tools. Different technology and tools can help retailers target appropriate consumers. It also enables customers to make a suitable decision about which products or services to have. The study done by Grewal, Roggeveen and Nordfalt (2017) demonstrated that technology helps customers to make more appropriate decisions, accept more special beneficial offers, and get faster service. Meanwhile, it is effective and cheap for retailers in reaching potential customers. Inman and Nikolova (2017) discovered that both retailers greatly improve the business profitability by using self-check-out technology mobile apps. Many and many retailers are going to provide self-service. The buying process of customers will accelerate since the customer is easy to control. This technology helps customers scan bag, and pay for products. There is no need for any interaction with a cashier. This new technology is changing the customer's shopping decision. Nonetheless, the research conducted by Grewal et al. (2016) revealed that retailers can use mobile technology such as Google maps to make business strategy decisions based on locational information, time of day and weather. When the weather is bad, retailers can promote effectively feel-good products. Similarly, retailers can offer location relevant promotions according to customers positioning information. For this reason,
These personalizing technologies provide customers specifically and clear information so that retailers enable to promote appropriate strategy decisions and reduce operation costs. According to Rouse (2010), deep learning AI technology is quickly and efficiently evolving, mainly because AI can analyze a large number of data and then processes quickly to provide suggestions than humanly possible. Retailers find the good result is using AI technology, which makes customers aware of additional services and promotions. Nonetheless, Whitler (2016) indicated that the "GWYN" (Gifts When You Need) system is a tool in which retailers help the customer choose the right gift. It is like your assistant, and it will learn through your preferences, behaviors and a series of questions. GWYN enables to interpret the customer's question and analyze the data, and then make sure it shares the appropriate gift for somebody. For this reason, AI understands about customer's contextual relevance- goes through the process of reasoning and adapting insight. Further, in that process, the system learns a lot more information so that retailer can provide more customized decisions. Therefore, because most customers have started with using mobile, technology and tools enhances for overall retailing purchases, in particular, big data system have interesting effects on decision making. Retailers can use different tools to analyze these data for improving decisions.
Conclusion
In conclusion, these AI technologies can have a huge positive impact on retailers and customers. They can collect information about customer's profiles or behavior, answer questions about the characteristic of products, and make suggestions about what other items work well in combination. These factors will influence how customers chose products and services. Therefore, recognizing how AI technology is going to impact customers is important for the future of retailing. It is likely to increase customer's satisfaction. Customers will feel less time to make decisions.
The further of AI in retailing, AI will be the foundation of technology in retail industry. Retailers will have more time due to AI automatically solving different daily tasks, which allows them to make more business strategies. AI will make retailers better understand customer's psychology and customer needs by getting us closer to what the human brain is thinking. It will assist retailers and customers in making decisions, increase their relationship, and it allows retailers to create efficient processes.
Related Topics