Are garment workers' deaths on our hands?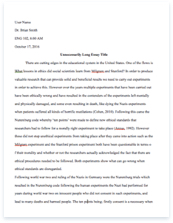 The whole doc is available only for registered users
A limited time offer! Get a custom sample essay written according to your requirements urgent 3h delivery guaranteed
Order Now
By doing efforts in the cost of clothing and the salary of garment workers, the goal of poverty reduction will be achieved. This is the precondition Saunders Doug wants to emphasize in his article "Are garment workers' deaths on our hands? no." Most important of all is to globalize the standardization of work, which the author highlighted the concept by means of raising the safety awareness of garment factories. First of all, the fact from two examples of 1911 Triangle Shirtwaist Factory fire and the collapse in Dhaka indicates workers in garment-factory of developing countries are always in the lower income group and their security is in jeopardy, but they are willing to be in this industry so as to have a path to the western consumers. In addition, the author points out Bangladesh should learn the success of the improvement of security facilities and equipment from North American due to their horrible experience. Moreover, it is significant to raise living standards like China so that the number of poverty in Bangladesh is reduced and the status of women is upgraded. In terms of building codes, safety standards and hygiene, it is difficult to solve these underlying problems. As the world is changing, it is believed that companies will be forced to treat garment workers fairly and give safety guarantee to them. In conclusion, the truly measurement of rescuing garment workers from dangerous situation is able to make the globalization come true by attracting the public eyes on the safety, living condition and the result of workers' labor.
Related Topics